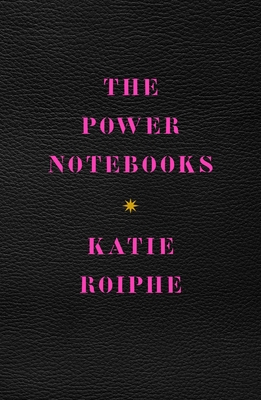 The Power Notebooks
Hardcover

* Individual store prices may vary.
Other Editions of This Title:
Digital Audiobook (3/2/2020)
Paperback (3/2/2021)
Compact Disc (3/3/2020)
Description
Katie Roiphe, culture writer and author of The Morning After, shares a timely blend of memoir, feminist investigation, and exploration of famous female writers' lives, in a bold, essential discussion of how strong women experience their power.

Told in a series of notebook entries, Roiphe weaves her often fraught personal experiences with divorce, single motherhood, and relationships with insights into the lives and loves of famous writers such as Sylvia Plath and Simone de Beauvoir. She dissects the way she and other ordinary, powerful women have subjugated their own power time and time again, and she probes brilliantly at the tricky, uncomfortable question of why.

In these informal musings and notes, Roiphe delves into treacherous, largely untalked about, contradictions of contemporary womanhood, going where few writers dare. The Power Notebooks is Roiphe's most vital, thought provoking, and emotionally intimate work yet.
Praise For The Power Notebooks…
PRAISE FOR THE POWER NOTEBOOKS

"Roiphe's larger goal here is to investigate the lived reality of her romantic dynamics, not to get on a soap box and opine. The result is a beautifully written and thoughtful book." —Lauren Elkin, The New York Times Book Review

"Roiphe seems incapable of writing a bland sentence…[her] exploration of women's complicated relationship with power — including her own — is sharp, smart, and literate." —NPR Book Reviews

"Quietly revelatory…Although Ms. Roiphe seems to be exposing her vulnerabilities here, she is actually, once again, demonstrating her unique brand of fearlessness." —Emily Bobrow, The Wall Street Journal

"In her most confessional work yet, the feminist bete noire muses on her restless inner life, blending shrewd observations about motherhood and the pitfalls of dating with paeans to influences such as Joan Didion and Mary McCarthy." —O, The Oprah Magazine

"As she works her way through complex, conflicting ideas, Roiphe demonstrates the very human conundrum of searching for answers in a world without them." —Elle

"Katie Roiphe is famous for being very sure of herself, for stating unpopular positions with great force and for not caring if people hate her…In her latest work, "The Power Notebooks," she seems as surprised as we are to find herself taking a break from the role of steel-sided contrarian…An exercise in the redemptive power of admitting weakness and error." —The Washington Post

"Roiphe's astute memoir reverberates with rich prose, crisp pacing, and self-compassion."
—Publisher's Weekly

"Katie Roiphe's gaze is always fierce, merciless, funny, tender, and frank, but never more so than when she turns it on the paradoxes between the public and private lives of strong women, beginning with her own. A moving and brilliant book about the still insoluble equation of women and power."
—Nicole Krauss, New York Times bestselling author of History of Love

"This brave, richly imagined, unlikely book appears fragmentary at first glance, but it achieves an astonishing coherence that encompasses Roiphe's own experience and the experience of women she admires and considers. Her prose is sharp, her insights sudden and gratifying, her way of telling stories deeply engaging. Her investigation of the internal and external lives of women who grapple with power is itself an act of great power."
—Andrew Solomon, New York Times bestselling author of Far From the Tree

"An intriguing examination of the complexity of female power in a variety of relationships."
—Kirkus Reviews

"[An] arrestingly intimate and cathartic work…Seeking guidance and inspiration, Roiphe delves into the lives of women writers, from Edith Wharton to Mary McCarthy, praising Simone de Beauvoir as a "brilliant elucidator," which Roiphe is, too, to deeply clarifying and affirming effect."
—Booklist

PRAISE FOR KATIE ROIPHE

"Katie Roiphe does not so much explode pieties as slice them open and prod their strands apart apart with equal parts rigor and transfixed curiosity."
—Alison Bechdel, New York Times bestselling author of Fun Home

"Ms. Roiphe's are how you want your essays to sound: lean and literate, not unlike Orwell's, with a frightening ratio of velocity to torque."
—The New York Times

"Roiphe has always seemed to me a writer to envy. No matter what the occasion, she can be counted on to marry ferocity and erudition in ways that nearly always make her interesting."
—The Wall Street Journal
Free Press, 9781982128012, 256pp.
Publication Date: March 3, 2020
About the Author
Katie Roiphe is an author and journalist writing about feminist issues. She is best known for writing The Morning After: Sex, Fear, and Feminism, and In Praise of Messy Lives, as well as The Power Notebooks, and has contributed articles to prominent publications like The New York Times, The Washington Post, Harper's Magazine, Esquire, The Paris Review, Vogue, and Slate. She has a PhD in literature from Princeton University and is the director of the Cultural Reporting and Criticism program at New York University's Arthur L. Carter Journalism Institute. She lives in Brooklyn with her husband and children.
or
Not Currently Available for Direct Purchase