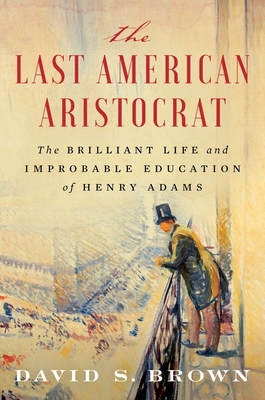 The Last American Aristocrat
The Brilliant Life and Improbable Education of Henry Adams
Hardcover

* Individual store prices may vary.
Other Editions of This Title:
Compact Disc (11/24/2020)
Paperback (11/9/2021)
Description
A New York Times Book Review Editors' Choice

A revelatory biography of literary icon Henry Adams—one of America's most prominent writers and intellectuals of his era, who witnessed and contributed to the United States' dramatic transition from a colonial society to a modern nation.

Henry Adams is perhaps the most eclectic, accomplished, and important American writer of his time. His autobiography and modern classic The Education of Henry Adams was widely considered one of the best English-language nonfiction books of the 20th century. The last member of his distinguished family—after great-grandfather John Adams, and grandfather John Quincy Adams—to gain national attention, he is remembered today as an historian, a political commentator, and a memoirist.

Now, historian David Brown sheds light on the brilliant yet under-celebrated life of this major American intellectual. Adams not only lived through the Civil War and the Industrial Revolution but he met Abraham Lincoln, bowed before Queen Victoria, and counted powerful figures, including Secretary of State John Hay, Senator Henry Cabot Lodge, and President Theodore Roosevelt as friends and neighbors. His observations of these men and their policies in his private letters provide a penetrating assessment of Gilded Age America on the cusp of the modern era.

The Last American Aristocrat details Adams's relationships with his wife (Marian "Clover" Hooper) and, following her suicide, Elizabeth Cameron, the young wife of a senator and part of the famous Sherman clan from Ohio. Henry Adams's letters—thousands of them—demonstrate his struggles with depression, familial expectations, and reconciling with his unwanted widower's existence.

Presenting intimate and insightful details of a fascinating and unusual American life and a new window on nineteenth century US history, The Last American Aristocrat shows us a more "modern" and "human" Henry Adams than ever before.
Praise For The Last American Aristocrat: The Brilliant Life and Improbable Education of Henry Adams…
"Marvelous…provides a compelling account of America's transformation in the space of one man's lifetime, from a Republic where the Adams name meant everything, to an industrialized behemoth that had left him behind." —The New York Times Book Review

"Thoroughly researched and gracefully written…[Henry Adams] was more comfortable on the sidelines than he ever would have been in the arena. And, as Mr. Brown reveals, Adams was a brilliant observer." —The Wall Street Journal

"The book proceeds less day by day than idea by idea, theme by theme, and this approach works particularly well." —Boston Globe

"I vicariously enjoyed the varied life of Henry Adams, America's greatest memoirist." —Ed Glaeser, The Wall Street Journal's "Books of the Year"

"[Brown's] excellent biography of this flawed but fascinating thinker, descended from two U.S. presidents, illuminates an extraordinary life and the period of great change it spanned." —The Christian Science Monitor, Best Books of November

"The fully fleshed-out Adams that emerges in these pages is irascible, self-contradictory, and always fascinating. Readers will be thrilled by this standout portrait of the man and his era." —Publishers Weekly (starred review)

"A fresh, top-notch biography . . . A splendid addition to the shelf of books about a distinctive, ever elusive figure in American history." —Kirkus Reviews (starred review)

"Brown, who expertly places Adams in the context of his time, shows how Adams shaped his distinctively detached and ironic point of view. He tracks Adams' developing conviction that industrial modernism would cause the decay of western civilization and deconstructs Adams' nineteenth-century attitudes." —Booklist

"What a wonderful book! With graceful but urgent prose, David Brown holds Adams to account, asking hard questions about his life and work with empathy and deep insight. Here is Henry Adams in the round: a long American life filled with achievement and failure, pleasures and sorrows. This beautifully constructed narrative manages to be both timeless and timely all at once." —Natalie Dykstra, author of Clover Adams: A Gilded and Heartbreaking Life

"For general readers and scholars alike, The Last American Aristocrat will be the defining biography of Henry Adams for many years to come." —William Merrill Decker, author of The Literary Vocation of Henry Adams

"The Last American Aristocrat is a merciless, searing—and yet touching and sympathetic—biography of a brilliant man who rarely mustered sympathy for others. Henry Adams was convinced that he was living at the end of the world that produced him, and with finesse and skill David Brown makes him a flawed but revealing subject who resonates with our times. A fascinating book." —Richard White, professor emeritus of American history, Stanford University, and author of The Republic for Which It Stands: The United States during Reconstruction and the Gilded Age, 1865–1896

"One of the most important critics of industrial capitalism and American modernity gets his due (warts and all) from a superbly talented historian. David Brown has written a terrific book about the fascinating character of Henry Adams. He not only gets at the heart of Adams's rich ideas but also the context in which they emerged, making the book a great work of American history and a great biography too. Just as important, The Last American Aristocrat is beautifully written and a fun read." —Kevin Mattson, author of We're Not Here to Entertain and Connor Study Professor of Contemporary History at Ohio University
Scribner, 9781982128234, 464pp.
Publication Date: November 24, 2020
About the Author
David S. Brown teaches history at Elizabethtown College in Pennsylvania. He is the author of several books including The Last American Aristocrat; Paradise Lost: A Life of F. Scott Fitzgerald; and Richard Hofstadter: An Intellectual Biography.