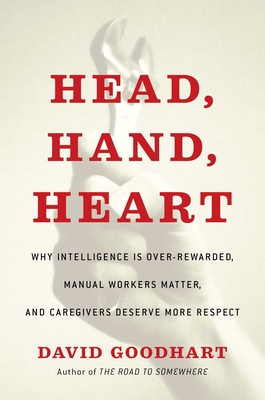 Head, Hand, Heart (Hardcover)
Why Intelligence Is Overrated, Manual Workers Matter, and Caregivers Deserve More Respect
Free Press, 9781982128449, 288pp.
Publication Date: September 8, 2020
* Individual store prices may vary.
Description
A provocative argument from leading British political analyst David Goodhart about the imbalanced distribution of status in Western societies—far too much reward and prestige has been allocated to the Head (cognitive ability), while the Hand (manual-technical abilities), and the Heart (caring and emotional abilities) have been marginalized.

Much has been said about the causes of discontent in today's western societies—from economic inequality, to disconnected political elites and educational divides. But there is an explanation hiding in plain sight. One form of human aptitude—cognitive ability—has become the gold standard of human esteem. Consequently, people with cognitive ability—the cognitive elites—now shape society, largely in their own interests. To put it more bluntly: smart people have become too powerful.

In this follow-up to the bestselling The Road to Somewhere, David Goodhart divides society into people who work with their Heads (cognitive work), with their Hands (manual work), and with their Hearts (caring work), and considers each group's changing status and influence over recent decades. Today the "brightest and the best" trump the "decent and hardworking." Other qualities like character, craft, integrity, courage, and willingness to toil command less respect.

How did we get here? David Goodhart, one of the boldest thinkers on the political shocks of recent years, reveals the story behind this imbalance across education, the economy, and politics. He shows how we may be reaching "peak Head" as the knowledge economy turns out not to need many knowledge workers and Hand and Heart push back.

A healthy democratic society must respect and reward a broad range of achievement, and must provide meaning and value for people who cannot—or do not want to—achieve in the classroom and professional career market. This is the story of the struggle for status and dignity in the 21st century.
About the Author
David Goodhart is one of the most distinctive and influential contemporary political analysts. He worked for the Financial Times for twelve years before founding Prospect magazine in 1995. He now leads the demography unit for the Policy Exchange think tank. His book The British Dream: Successes and Failures of Post-War Immigration was runner up for the Orwell book prize. In bestselling book The Road to Somewhere: The Populist Revolt and the Future of Politics, Goodhart identified the value divisions in western societies that help explain Brexit, Trump, and the global rise of populism.