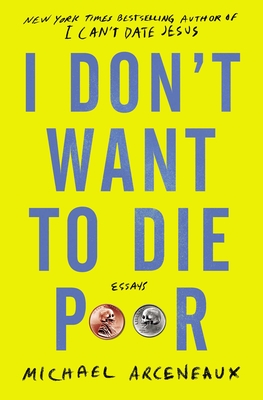 I Don't Want to Die Poor
Essays
Paperback

* Individual store prices may vary.
Other Editions of This Title:
Digital Audiobook (4/6/2020)
Compact Disc (4/7/2020)
Description
One of NPR's Best Books of 2020
One of Time's 100 Must-Read Books of 2020

From the New York Times bestselling author of I Can't Date Jesus, which Vogue called "a piece of personal and cultural storytelling that is as fun as it is illuminating," comes a wry and insightful essay collection that explores the financial and emotional cost of chasing your dreams.

Ever since Oprah Winfrey told the 2007 graduating class of Howard University, "Don't be afraid," Michael Arceneaux has been scared to death. You should never do the opposite of what Oprah instructs you to do, but when you don't have her pocket change, how can you not be terrified of the consequences of pursuing your dreams?

Michael has never shied away from discussing his struggles with debt, but in I Don't Want to Die Poor, he reveals the extent to which it has an impact on every facet of his life—how he dates; how he seeks medical care (or in some cases, is unable to); how he wrestles with the question of whether or not he should have chosen a more financially secure path; and finally, how he has dealt with his "dream" turning into an ongoing nightmare as he realizes one bad decision could unravel all that he's earned. You know, actual "economic anxiety."

I Don't Want to Die Poor is an unforgettable and relatable examination about what it's like leading a life that often feels out of your control. But in Michael's voice that's "as joyful as he is shrewd" (BuzzFeed), these razor-sharp essays will still manage to make you laugh and remind you that you're not alone in this often intimidating journey.
Praise For I Don't Want to Die Poor: Essays…
"I Don't Want to Die Poor is somehow funnier, darker, and actually more incredibly well-written than I Can't Date Jesus. And I have no clue how Arceneaux managed to do that. This book is further proof Michael should replace Ben Carson as director of HUD." —Kiese Laymon, author of Heavy: An American Memoir

"In his brilliant I Don't Want to Die Poor, Michael Arceneaux is both witty and wise, always a difficult mix, in his nervy and provocative tale of his life a young, gay black man in a country that is crushing him with debt. Over and over again, he crawls out from under it reenergized with good humor and inner strength. He shares a very authentic and relatable story of how hard it is to be poor and still pursue your dreams as he fields calls from debt collectors even as he travels to prestigious speaking engagements. The essays in this book will make you laugh until you cry and cry until you laugh." —Soledad O'Brien, Host of Matter of Fact with Soledad O'Brien

"Listen to me. Michael is a genius B. Anybody that can make me cackle out loud like a drunk uncle about student loan debt (ugh) and general brokenness, a topic that was the theme of my (and a lot of yall's) youth, is a wordsmith par excellence. In other words, this n**** is smart and funny as f***! You'd be doing yourself a disservice not picking this up." —The Kid Mero, co-host, Desus & Mero

"Michael Arceneaux is one of the foremost humor writers of this generation, but his brilliance lies in how quietly he leads us to our own empathy — forcing us to examine what it means to exist in a world that makes it increasingly difficult. On the surface, I Don't Want to Die Poor is about one man's struggle to pay off his student loans, but it's also about paying off emotional debt, how expensive it is to choose your safety and well-being and peace of mind. I found myself laughing and nodding — standard for Michael's work— but also deeply moved by the undertones of his story." —Bassey Ikpi, New York Times-bestselling author of I'm Telling the Truth, but I'm Lying

"Since his days of blogging on The Cynical Ones, Michael Arceneaux has consistently kept me thinking and laughing with his witty musings on life and pop culture. That famous wit is on full display in I Don't Want To Die Poor, a collection of essays that is simultaneously hilarious, sharp, relatable, and enlightening. Fans of I Can't Date Jesus will be thrilled to know that Arceneaux has knocked it out of the park again, proving that people who stan for Beyoncé always prosper in the end." —Crissle, Host, The Read

"Michael Arceneaux has succeeded in capturing a fear that many Americans are likely gripped by. The mighty dollar, or the lack of such might, can be the source of shame. And it's not easy admitting that truth. But Arceneaux, writing with dazzling wit and keen wisdom, invites the reader to consider the economics at the heart of his Black queer life. In his singular voice, he riffs on sex, dating, his career, and much else in a way that will have you giggling and scratching your head at the same damn time." —Darnell L. Moore, author of No Ashes in the Fire: Coming of Age Black & Free in America

"Like no one else, Michael Arceneaux lets us into the money realities of what it takes to try to live the dream. He doesn't flinch from the indignities of debt, unaffordable health care, and having more bills than money to cover them, and he shows us how these personal money shames are connected to systems, policy choices, and history. And somehow, it's still really fun to read! This book will make you laugh, sigh and curse capitalism all at the same time." —Anna Sale, host and creator of the podcast Death, Sex & Money

"Throughout these essays, Arceneaux passionately and candidly displays his political and racial awareness alongside sharp opinions on popular culture, marijuana use, Instagram, and depression….Anyone who struggles with debt and lives in what Arceneaux calls the 'United States of Wage Stagnation and Economic Inequality' will relate to his predicament." — Kirkus Reviews

"By turns angry, hilarious, and introspective, this should strike a chord with millennials." —Publishers Weekly

"The thing that makes I Don't Want to Die Poor an outstanding read is Arceneaux's voice. He writes like he's telling you, his friend, a story. That makes you want to spend more time with him, listening to his stories and marveling at the way people can share so much simply because demographic factors put you in the same situations. For Arceneaux, life hasn't been easy, and his writing shows that. Luckily for readers, every painful detail he shares is balanced out by a superb critique, a masterful turn of phrase, a funny use of popular culture or a couple of sentences that cut to the bone of a social issue and expose the core of it with unbending honesty. . . . Heartbreaking, hilarious, unapologetic and smart, this collection of essays shows a talented young voice that can attack racist nonsense while discussing The Real Housewives of Atlanta. It's also a warning to future generations and a literary hug to those who have fallen into the unforgiving claws of student loan debt." —NPR

"Another unflinchingly smart and wickedly funny collection of essays. . . . Arceneaux's writing is meticulously researched, gut-bustingly funny, and rich with niche cultural references ready to surprise and delight his audiences at every turn." —Booklist (starred review)

"Arceneaux takes an emotional look at how debt has impacted his life—from dating to health to career—and exposes the toll it takes on his mental health, all while delivering his signature wit along the way." —Paper

"Though their subjects vary, the essays all point to a larger question about the true cost of higher education in the United States. Like in his debut I Can't Date Jesus, Arceneaux's voice is both enraged and humorous as he tackles the anxieties of financial insecurity." —TIME

"His latest essay collection brims with humor and pathos, as Arceneaux explores how a scarcity mindset combined with another looming recession permeates every aspect of his life." —The A.V. Club

"Remarkably, [I Don't Want to Die Poor] captures the economic stress of our current moment with prescient precision. . . . With humility and ample (and often self-deprecating) humor, the excavation of artifice—even his own—is a theme that looms large in I Don't Want to Die Poor, whether Arceneaux is hilariously musing over the "thot" he could have been or more seriously reckoning with the repercussions of his choices and shortcomings." —The Root
Atria Books, 9781982129309, 256pp.
Publication Date: April 7, 2020
About the Author
Michael Arceneaux is the New York Times bestselling author of I Can't Date Jesus: Love, Sex, Family, Race, and Other Reasons I've Put My Faith in Beyoncé. He has written for The New York Times, The Washington Post, Essence, Esquire, Ebony, Elle, Rolling Stone, and many other publications on and off Al Gore's internet. He's ran his mouth on MSNBC, NPR, VH1, Viceland, Comedy Central, SiriusXM, and elsewhere. His second book is I Don't Want to Die Poor. He's working very hard to avoid such fate.
Coverage from NPR