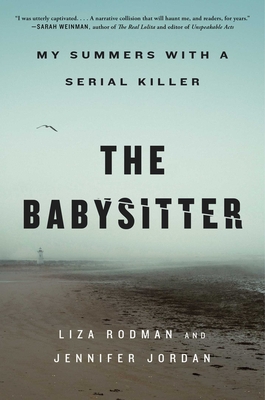 The Babysitter
My Summers with a Serial Killer
Hardcover

* Individual store prices may vary.
Other Editions of This Title:
Digital Audiobook (3/1/2021)
Library Binding, Large Print (4/1/2021)
Compact Disc (3/2/2021)
Description
#1 of 10 Best True Crime Books of the Year by Marie Claire
Named Most Anticipated Crime Book of the Year by CrimeReads

​​​A chilling true story—part memoir, part crime investigation—reminiscent of Ann Rule's classic The Stranger Beside Me, about a little girl longing for love and how she found friendship with her charismatic babysitter—who was also a vicious serial killer.

Growing up on Cape Cod in the 1960s, Liza Rodman was a lonely little girl. During the summers, while her mother worked days in a local motel and danced most nights in the Provincetown bars, her babysitter—the kind, handsome handyman at the motel where her mother worked—took her and her sister on adventures in his truck. He bought them popsicles and together, they visited his "secret garden" in the Truro woods. To Liza, he was one of the few kind and understanding adults in her life. Everyone thought he was just a "great guy."

But there was one thing she didn't know; their babysitter was a serial killer.

Some of his victims were buried—in pieces—right there, in his garden in the woods. Though Tony Costa's gruesome case made screaming headlines in 1969 and beyond, Liza never made the connection between her friendly babysitter and the infamous killer of numerous women, including four in Massachusetts, until decades later.

Haunted by nightmares and horrified by what she learned, Liza became obsessed with the case. Now, she and cowriter Jennifer Jordan reveal the chilling and unforgettable true story of a charming but brutal psychopath through the eyes of a young girl who once called him her friend.
Praise For The Babysitter: My Summers with a Serial Killer…
"An emotional tour-de-force...heart-pounding, gut-wrenching...will thrill True Crime and memoir fams alike."
— Shondaland

"Fascinating...captivating...gripping, tense, harrowing, and balanced....The authors move it beyond mere entertainment and toward a challenging exploration of family and dysfunction. In the end, this is a story of Liza Rodman's survival and strength."
— The Bookreporter

"Haunting...chilling...This enthralling memoir deftly intertwines the stormy childhood of one of the authors and the life and brutal acts of the serial killer who often watched over her."
— Shelf Awareness

"Continues a tradition started by Ann Rule's The Stranger Beside Me...and is a compelling, sensitive hybrid of memoir and true crime...straightforward, unwavering in its clarity."
— The Independent

"I was utterly captivated by The Babysitter, a hybrid memoir & true crime investigation of the heinous crimes of a Cape Cod serial killer who also happened to be the only adult young Liza Rodman felt safe with. Rodman and Jordan's book skillfully weaves a suspenseful portrayal of murderous madness in tandem with a child's growing loneliness, neglect, and despair, a narrative collision that will haunt me, and readers, for years."
— Sarah Weinman, author of The Real Lolita and editor of Unspeakable Acts: True Tales of Crime, Murder, Deceit and Obsession

"The Babysitter is a gripping read that's impossible to put down: a string of gristly murders, a cast of charismatic, often abusive, and occasionally pathological characters, a comically incompetent police force, and an astute child's perspective on the adults in her life. More profoundly, it raises questions about how children manage to adapt and survive in a world in which love, attention, and violence are inextricably intertwined."
— Helen Fremont, bestselling author of The Escape Artist and After Long Silence

"Like a real-life horror movie, The Babysitter is a harrowing account of the evil that can lurk around the edges of girlhood."
— Carolyn Murnick, author of The Hot One

"Brilliantly researched and hauntingly rendered, The Babysitter is a deeply inquisitive examination of what it means to live and grow on the outside of violence, of danger. As generous as it is chilling, this impressive and startling narrative orbits the realms of meditation, fact, and memory."
— Amy Butcher, author of Visiting Hours

"Eerily compelling."
— The Provincetown Independent

"Engrossing...a page-turner."
— Publishers Weekly

"The intimate details and easy-to-read style will keep readers glued to the page."
— Booklist

"The Babysitter vividly describes how brokenness begets brokenness, how the lives of girls and women are inherently perilous, and how dangerous it can be to presume that children's capacity for resilience is limitless."
— Winnipeg Free Press
Atria Books, 9781982129477, 352pp.
Publication Date: March 2, 2021
About the Author
Liza Rodman attended the University of Massachusetts/Amherst and received her Bachelor of Arts with a concentration in Creative Writing from Vermont College. She has balanced life as a mother, stepmother, writer and tax accountant for more than thirty-five years. In 2005, she began researching the story of Tony Costa when she realized her personal connection to the infamous Cape Cod killer. She has gathered thousands of documents, testimonies, and interviews, perhaps more than any other investigator or journalist who's worked on this case. She and her husband live outside Boston and have three children and five grandchildren. The Babysitter is her first book.

Jennifer Jordan is an award-winning author, filmmaker, and screenwriter with decades of experience as a news anchor and investigative journalist. She has worked for NPR and PBS, and her work has also appeared in a variety of national and international newspapers and magazines. She has directed and produced several documentaries, including 3000 Cups of Tea, which revealed the flawed 60 Minutes report on renowned philanthropist, Greg Mortenson. In addition to her own books Savage Summit and Last Man on the Mountain, she has ghost written two others. The Babysitter is her fifth book.