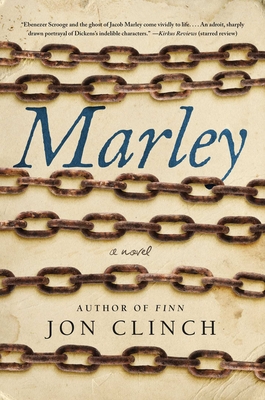 Marley
A Novel
Hardcover

* Individual store prices may vary.
Other Editions of This Title:
Digital Audiobook (10/7/2019)
Digital Audiobook (10/7/2019)
Paperback (11/3/2020)
Compact Disc (10/8/2019)
Description
"By some uncanny act of artistic appropriation, [Clinch] has, without imitating Dickens, entered into the phantasmagoric realm that is the great novelist's quintessential territory…Startling and creative…Remarkable… Masterly." —The New York Times Book Review

From the acclaimed author of Finn comes a masterful reimagining of Dickens's classic A Christmas Carol with this darkly entertaining exploration of the relationship between Ebenezer Scrooge and Jacob Marley.

"Marley was dead, to begin with," Charles Dickens tells us at the beginning of A Christmas Carol. But in Jon Clinch's ingenious novel, Jacob Marley, business partner to Ebenezer Scrooge, is very much alive: a rapacious and cunning boy who grows up to be a forger, a scoundrel, and the man who will be both the making and the undoing of Scrooge.

They meet as youths in the gloomy confines of Professor Drabb's Academy for Boys, where Marley begins their twisted friendship by initiating the innocent Scrooge into the gentle art of extortion. Years later, in the dank heart of London, their shared ambition manifests itself in a fledgling shipping empire. Between Marley's genius for deception and Scrooge's brilliance with numbers, they amass a considerable fortune of dubious legality, all rooted in a pitiless commitment to the soon-to-be-outlawed slave trade.

As Marley toys with the affections of Scrooge's sister, Fan, Scrooge falls under the spell of Fan's best friend, Belle Fairchild. Now, for the first time, Scrooge and Marley find themselves at cross-purposes. With their business interests inextricably bound together and instincts for secrecy and greed bred in their very bones, the two men engage in a shadowy war of deception, false identities, forged documents, theft, and cold-blooded murder. Marley and Scrooge are destined to clash in an unforgettable reckoning that will echo into the future and set the stage for Marley's ghostly return.

Meticulously crafted and beguilingly told, Marley revisits and illuminates one of Charles Dickens's most cherished works to spellbinding effect.
Praise For Marley: A Novel…
"[Clinch] brilliantly captures the wit and irony of Dickens' prose as he unfurls a tale of greed, cruelty, and passion…. An adroit, sharply drawn portrayal of Dickens's indelible characters." —Kirkus Reviews (starred)

"Clever...Jon Clinch has revived the life behind the famous ghost in a prequel that fleshes out the early relationship between the two old misers in A Christmas Carol...Clinch creates wholly original stories that snap together with the edges of classics we all know." —The Washington Post

"It's one thing to come up with a brilliant premise, but it's another thing to know what to do with it, how to realize its potential. As he did with Finn, Jon Clinch digs down to the bones of a classic and creates must-read modern literature."—Charles Frazier, New York Times bestselling author of Cold Mountain and Varina

"By some uncanny act of artistic appropriation, [Clinch] has, without imitating Dickens, entered into the phantasmagoric realm that is the great novelist's quintessential territory. . . Startling and creative. . . Remarkable. . . Masterly." —Simon Callow in The New York Times Book Review

[A] gripping tale...If A Christmas Carol tugs at the heartstrings, Clinch's novel deepens the story to eviscerate the whole heart." —Publishers Weekly

"Jon Clinch is a brilliant stylist, effortlessly capturing Dickensian locales and characters with a precision that is both evocative and a joy...Read through to the last page of this brilliant book, and I promise you that you will have a permanently changed view, not just of Dickens's world, but of the world we live in today...Delightful, disturbing, and deeply profound." —Elizabeth Letts, New York Times bestselling author of Finding Dorothy

"In Marley, again Jon Clinch shows his genius, taking Dickens' A Christmas Carol, and turning it inside out, revealing its contemporary wonder, making the characters and actions of both Scrooge and Marley entirely modern, without losing a beat of Dickens' Victorian music. Here is a favorite wrapped in brand new paper, to unwrap with delight and everlasting, compassionate and charming music all its own." —Robert Goolrick, New York Times bestselling author of A Reliable Wife and The Dying of the Light

"This smoothly written, insightful tale should prompt people to reread its inspiration with fresh eyes."
— Booklist

"[A] lively imagined prequel." —People

Praise for Finn

Named a best novel of the year by the Washington Post, Chicago Tribune, and Christian Science Monitor

"Haunting...strikingly original...nothing short of revelatory."
— Washington Post

"Ravishing…a stand-alone marvel of a novel. Grade: A."
— Entertainment Weekly

"Shocking and charming, A folk-art masterpiece."
— New York Post

"Every fan of Twain's masterpiece will want to read this inspired spin-off, which could become an unofficial companion volume."
— Kirkus (starred review)
Atria Books, 9781982129705, 304pp.
Publication Date: October 8, 2019
About the Author
Jon Clinch's first novel, Finn—the secret history of Huckleberry Finn's father—was named an American Library Association Notable Book and was chosen as one of the year's best books by The Washington Post, the Chicago Tribune, and The Christian Science Monitor. It won the Philadelphia Athenaeum Literary Award and was shortlisted for the Center for Fiction's First Novel Prize. His second novel, Kings of the Earth, was named a best book of the year by The Washington Post and led the 2010 Summer Reading List at O, The Oprah Magazine. In 2008, he organized a benefit reading for the financially ailing Twain House, an event that literally saved the house from bankruptcy. A native of upstate New York, Jon lives with his wife in the Green Mountains of Vermont.