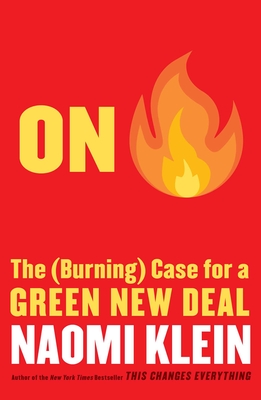 On Fire
The (Burning) Case for a Green New Deal
Hardcover

* Individual store prices may vary.
Other Editions of This Title:
Digital Audiobook (9/16/2019)
Digital Audiobook (9/16/2019)
Paperback (9/1/2020)
Paperback, Chinese (7/7/2020)
Compact Disc (9/17/2019)
Description
#1 international and New York Times bestselling author Naomi Klein, author of The Shock Doctrine and This Changes Everything, makes the case for a Green New Deal—explaining how bold climate action can be a blueprint for a just and thriving society.

For more than twenty years, Naomi Klein has been the foremost chronicler of the economic war waged on both people and planet—and an unapologetic champion of a sweeping environmental agenda with justice at its center. In lucid, elegant dispatches from the frontlines of contemporary natural disaster, she pens surging, indispensable essays for a wide public: prescient advisories and dire warnings of what future awaits us if we refuse to act, as well as hopeful glimpses of a far better future. On Fire: The (Burning) Case for a Green New Deal gathers for the first time more than a decade of her impassioned writing, and pairs it with new material on the staggeringly high stakes of our immediate political and economic choices.

These long-form essays show Klein at her most prophetic and philosophical, investigating the climate crisis not only as a profound political challenge but as a spiritual and imaginative one, as well. Delving into topics ranging from the clash between ecological time and our culture of "perpetual now," to the soaring history of humans changing and evolving rapidly in the face of grave threats, to rising white supremacy and fortressed borders as a form of "climate barbarism," this is a rousing call to action for a planet on the brink.

With reports spanning from the ghostly Great Barrier Reef, to the annual smoke-choked skies of the Pacific Northwest, to post-hurricane Puerto Rico, to a Vatican attempting an unprecedented "ecological conversion," Klein makes the case that we will rise to the existential challenge of climate change only if we are willing to transform the systems that produced this crisis.

An expansive, far-ranging exploration that sees the battle for a greener world as indistinguishable from the fight for our lives, On Fire captures the burning urgency of the climate crisis, as well as the fiery energy of a rising political movement demanding a catalytic Green New Deal.
Praise For On Fire: The (Burning) Case for a Green New Deal…
"Naomi Klein is the intellectual godmother of the Green New Deal —which just happens to be the most important idea in the world right now"—Bill McKibben

"Naomi Klein's work has always moved and guided me. She is the great chronicler of our age of climate emergency, an inspirer of generations."—Greta Thunberg, climate activist

"If I were a rich man, I'd buy 245 million copies of Naomi Klein's 'On Fire' and hand-deliver them to every eligible voter in America. . . . Klein is a skilled writer."
—Jeff Goodell, The New York Times

"[In On Fire] Naomi Klein makes a keenly argued, well-researched and impassioned case. . . . [Y]ou need to read this book."
—David Grinspoon, The Washington Post

"A critically important thought-leader in these perilous times, a necessary voice as a courageous movement of movements rises from the ashes."—Michelle Alexander, author of The New Jim Crow

"Naomi is like a great doctor—she can diagnose problems nobody else sees."—Alfonso Cuarón, Academy Award-winning director of Roma

"Naomi Klein applies her fine, fierce and meticulous mind to the greatest, most urgent questions of our times. . . . I count her among the most inspirational political thinkers in the world today."—Arundhati Roy, Man Booker Prize-winng author of The God of Small Things

"Naomi Klein is a precious gift: every time I read her words, my heart leaps from sadness and anger to action. She takes us deep, down to the roots of what is wrong—and then up, up to a height from which we can see what must be done. Everything we love is at stake now: these writings are our best and brightest hope."—Emma Thompson

"The greatest theorist of climate change."—Amitav Ghosh, author of The Hungry Tide

"Masterful. . .What separates Klein from many other advocates for a Green New Deal is her balanced combination of idealism and politics-based realism. . .Another important addition to the literature on the most essential issue of our day."—Kirkus Reviews

Klein's passion for action reflects the political, social, and scientific gridlock that makes such sweeping, transformational legislation imperative. Her zeal and eloquence will inspire, engage, and motivate those who are concerned about the planet's future to become even more involved in taking any and all possible steps to curb or reverse further disruption and destruction."—Booklist

"For a quarter century, now, Naomi Klein has been an outspoken and fearless voice on that which late-stage hyper-capitalism has wrought upon the world: income inequality, overreaching corporate power, for-profit empire building and, of course, the consequent climate crisis. Honestly, we don't deserve her, and looking back at her seven books one can't help but think of Cassandra, her warnings ever accurate yet unheeded… with her eighth book, On Fire, Klein collects her longform writing on the climate crisis—from the dying Great Barrier Reef to hurricane-ravaged Puerto Rico—and somehow manages to strike a hopeful note as she calls for a radical commitment to the Green New Deal, the kind of collective mobilization that saved us from the brink in WWII, and might be our only hope now."—Lit Hub
Simon & Schuster, 9781982129910, 320pp.
Publication Date: September 17, 2019
About the Author
Naomi Klein is an award-winning journalist, columnist, and author of the New York Times and international bestsellers The Shock Doctrine, No Logo, This Changes Everything, and No Is Not Enough. A Senior Correspondent for The Intercept, reporter for Rolling Stone, and contributor for both The Nation and The Guardian, Klein is the inaugural Gloria Steinem Endowed Chair in Media, Culture, and Feminist Studies at Rutgers University. She is cofounder of the climate justice organization The Leap.