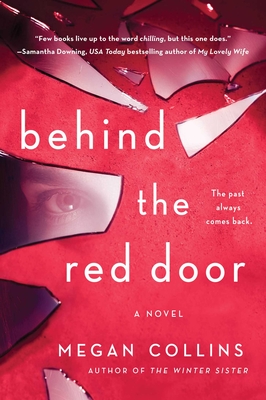 Behind the Red Door
A Novel
Hardcover

* Individual store prices may vary.
Other Editions of This Title:
Digital Audiobook (8/3/2020)
Paperback (5/18/2021)
Library Binding, Large Print (7/8/2021)
Compact Disc (8/4/2020)
Description
The author of the "suspenseful, atmospheric, and completely riveting" (Megan Miranda, New York Times bestselling author) debut The Winter Sister returns with a darkly thrilling novel about a woman who comes to believe that she has a connection to a decades old kidnapping and now that the victim has gone missing again, begins a frantic search to learn what happened in the past.

When Fern Douglas sees the news about Astrid Sullivan, a thirty-four-year-old missing woman from Maine, she is positive that she knows her. Fern's husband is sure it's because of Astrid's famous kidnapping—and equally famous return—twenty years ago, but Fern has no memory of that, even though it happened an hour outside her New Hampshire hometown. And when Astrid appears in Fern's recurring nightmare, one in which a girl reaches out to her, pleading, Fern fears that it's not a dream at all, but a memory.

Back at her childhood home to help her father pack for a move, Fern purchases a copy of Astrid's recently published memoir—which may have provoked her original kidnapper to abduct her again—and as she reads through its chapters and visits the people and places within it, she discovers more evidence that she has an unsettling connection to the missing woman. With the help of her psychologist father, Fern digs deeper, hoping to find evidence that her connection to Astrid can help the police locate her. But when Fern discovers more about her own past than she ever bargained for, the disturbing truth will change both of their lives forever.

Featuring Megan Collins's signature "dark, tense, and completely absorbing" (Booklist) prose and plenty of shocking twists and turns, Behind the Red Door is an arresting thriller that will haunt you long after you turn the last page.
Praise For Behind the Red Door: A Novel…
"In Behind the Red Door, Megan Collins has achieved something remarkable—a dark, disturbing story that is both elegant and fascinating. Exquisite writing, compelling characters and a story so captivating I finished it in a weekend. Few books live up to the word chilling, but this one does."
—Samantha Downing, USA Today bestselling author of My Lovely Wife

"[A] haunting thriller."
—PopSugar

"Spellbinding, poignant and atmospheric, Behind The Red Door is one of those rare stories you can get utterly lost in. With writing so richly evocative I could vividly imagine every detail, this is a mesmerizing tale in which family bonds are broken, lifelong secrets are exposed, and a woman who suffers a debilitating anxiety disorder must find the truth about her connection to a decades-old kidnapping. Intensely moving, beautifully written and thoroughly enjoyable, I can't recommend this highly enough!"
—Christina McDonald, USA Today bestselling author of The Night Olivia Fell

"Behind the Red Door isn't just a gripping, finely-tuned thriller, it's a masterful meditation on fear. Dark forests, crumbling cabins, and mutating nightmares all populate this New England landscape where one woman may hold the key to saving a kidnapping victim. But in order to do so, she'll have to confront a lifetime of terror, including the ultimate fear: not knowing who can be trusted or where the monsters live. I was hooked from the first page."
—Mindy Mejia, author of Strike Me Down

"Collins nimbly orchestrates Fern's growing sense of terror as she slowly sifts in echoes of long-repressed sounds and sights…a tricky mystery. Even in the final pages, Collins avoids any expected resolution, leaving the reader deliciously unsettled and disturbed. A dark psychological thriller riddled with twisted family dynamics."
—Kirkus Reviews

"Megan Collins is the master of emotionally resonant, deeply personal suspense fiction where the small details are just as chilling as the dramatic turns. Behind the Red Door is gripping and gorgeously-written and, like her stellar debut The Winter Sister, I'm certain this book will haunt me for years to come."
—Layne Fargo, author of Temper

"Behind the Red Door by Megan Collins is a chilling psychological drama as disturbing as it is mysterious… Megan Collins has created a suspenseful novel that is ultimately haunting—it lingers, asking questions about our experience as human beings in relationship with others, about our expectations of ourselves and each other, responsibilities we take on, and the legacy of our actions."
—New York Journal of Books

"Taut, provocative, disturbing—Megan Collins' sophomore novel is more than a thriller; it's a dark and deeply compelling examination of the knife's edge between trust and fear. With muscular prose and richly wrought characters, Behind the Red Door grabbed me, startled me, and didn't let go until I'd torn through every chilling word."
—Andrea Bartz, author of The Lost Night and The Herd

"Atmospheric and haunting, Behind the Red Door is at once a chilling tale of complicated family dynamics and a riveting mystery. Elegant prose, intriguing characters and taut pacing make this book unputdownable."
—Daniela Petrova, author of Her Daughter's Mother

"[H]arrowing... Collins plays her cards carefully to maximize suspense."
—Publishers Weekly

"Behind the Red Door is stunning in every way. Fern Douglas digs her fingers into your brain until you're hooked and want more. I'm still reeling from this. Megan Collins is a masterful writer and this novel is full of twists you didn't expect. It will leave you breathless and shaking in the best way."
—Amina Akhtar, author of #FashionVictim

Collins has delivered an intensely well-plotted mystery, with every character under suspicion as we plunder the depths of memory in BEHIND THE RED DOOR. Fern, whose emotional fragility never feels forced or cliché, sees a familiar-looking woman on TV, a former kidnapping victim, and realizes she maybe can't trust her own childhood recollections of those events. Enter a sadistic psychologist father, a mother who builds a floor out of the fragments of broken pottery, and a slew of suspicous hometown acquaintances, and you have a mindbending psychological thriller that asks questions of identity, of morality, and of the trustworthiness of our own experiences. It's a book to read and then read again.
—Wendy Heard, author of Hunting Annabelle and The Kill Club

"An absorbing psychological thriller."
—Booklist

"Collins proves herself a skilled storyteller."
—Journal Inquirer

"Megan Collins takes a walk on the dark side . . . . The book ticks off all the elements one could want for a psychological thriller."
—Ridgefield Press

"Haunting and compelling."
—The Strand

"A dark yet elegant crime thriller" —Business Insider
Atria Books, 9781982130398, 320pp.
Publication Date: August 4, 2020
About the Author
Megan Collins is the author of Behind the Red Door and The Winter Sister. She has taught creative writing for many years at both the high school and college level and is the managing editor of 3Elements Literary Review. She lives in Connecticut.
or
Not Currently Available for Direct Purchase