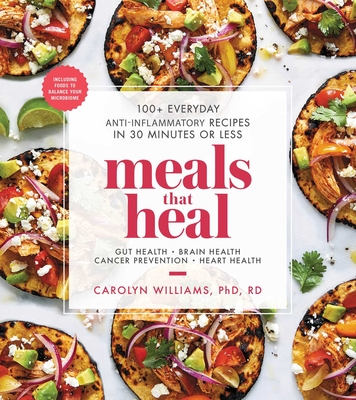 Meals That Heal (Paperback)
100+ Everyday Anti-Inflammatory Recipes in 30 Minutes or Less
Tiller Press, 9781982130787, 320pp.
Publication Date: June 25, 2019
* Individual store prices may vary.
Description
100+ delicious, quick, and easy anti-inflammatory recipes to make for the whole family—all ready in 30 minutes or less!

Low energy. Bloating or other digestive issues. Inability to focus or memory loss. Eczema or skin irritations. Arthritis, joint pain, or onset of autoimmune issues. Any of these symptoms sound familiar? These conditions are more common than you think, and recent research suggests that chronic inflammation caused by unhealthy food choices could be the culprit. Here's the good news though: you can prevent future diseases, as well as heal or improve most conditions by making a few simple changes to your diet, and Meals that Heal can show you how.

These 100+ quick and tasty recipes feature fresh, healthy ingredients that have researched-backed abilities to cool inflammation, balance gut health, and detox the body. Featuring a complete list of anti-inflammatory foods (including the top inflamers to avoid) as well as on-the-go eating guidelines, Meals that Heal can help you improve and maintain your overall health. Now you can gain more energy, improve concentration, eliminate headaches and skin conditions, slow the aging process, and much more! All recipes are backed by the latest research and reviewed by a James Beard award-winning registered dietitian allowing you to do the easy part: eat, enjoy, and feel your best!
About the Author
Carolyn Williams, PhD, RD, is a registered dietitian and culinary nutrition expert known for her ability to simplify the concept of healthy eating. She serves as a contributing editor for Cooking Light and Real Simple and won a James Beard Award for her 2016 article "Brain Health." She also develops content for a variety of media outlets and lifestyle brands such as Real Simple, Parents, Rally Health, Eating Well, eMeals, and Health. Other work includes nutrient analysis, recipe development, and writing, including her newest cookbook Meals That Heal which focuses on using the healing aspects of food with a quick, easy and practical approach. Carolyn is also a tenured faculty member at a local college teaching culinary arts and nutrition classes.
Praise For Meals That Heal: 100+ Everyday Anti-Inflammatory Recipes in 30 Minutes or Less…
"In my former role as Executive Editor at Cooking Light magazine, I had the pleasure of working with Carolyn numerous times. Her work was always pristine—thoroughly researched and insightful, breaking down complicated nutrition concepts into easy-to-understand language for our readers. Meals That Heal is, not surprisingly, no different. It clearly defines chronic inflammation, details why it's harmful and potentially detrimental to health, explains the role food plays, and empowers people to take control of their own health through better eating habits. Most importantly, as a busy mom herself, she has created easy, delicious recipes that real people can quickly make at home to improve their health. Because it's one thing to tell people about chronic inflammation; it's another thing to help them reverse or prevent it through recipes they'll actually make." —Ann Taylor Pittman, food writer and recipe developer

"Award-winning author Carolyn Williams, PHD, RD, seems to have a book for almost every health problem." —Las Vegas Tribune