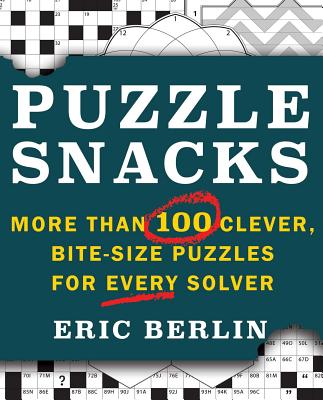 Puzzlesnacks
More Than 100 Clever, Bite-Size Puzzles for Every Solver
Paperback

* Individual store prices may vary.
Description
From puzzlemaster Eric Berlin, a collection of more than 100 small yet satisfying puzzles that go way beyond the crossword.

There are few things more satisfying than solving a tricky puzzle. Even when you don't know the answer right away and consider giving up, you persevere, filling in letters, and then—A-HA!—your brain lights up with joy. But just as you might not want a big, heavy meal, you may also not want to spend hours on a complex puzzle. Sometimes, you just want a bite-size brainteaser.

In Puzzlesnacks, you can choose from 39 different types of puzzles—from quick and easy to a bit more challenging. Featuring a stimulating collection of conundrums, including hints to get you started on solving many of them (and answers provided at the back of the book), this is the perfect book for satisfying your puzzle craving at any level.

Puzzles are the pathway to clearer, more logical thinking, as well as better problem-solving skills. So find your new favorite type of puzzle with this ultimate collection that provides hours of brainteasing fun!
Praise For Puzzlesnacks: More Than 100 Clever, Bite-Size Puzzles for Every Solver…
"Mr. Berlin gives solvers access to a wide range of brain teasers in varying degrees of difficulty and time investment, so if you'd rather have a bite-sized "snack" than a long, full meal, you're covered. This sounds like a great way to spend time with children or grandchildren, not only to share the book, but to share the joy of that "Aha!" moment."
—Deb Amlen, New York Times

"Eric's "Winston Breen" puzzle series for children has garnered a ton of critical acclaim from puzzle solvers all over, so you can expect good things from Puzzlesnacks."
—Evan Birnholz, The Washington Post Magazine

"Newer puzzlers will find these puzzles approachable. Experienced puzzlers will find them quick, yet elegantly satisfying."
—Room Escape Artist

"A book of over 100 different kinds of mini, but challenging, puzzles [for] when you want to work your brain a bit but not sit frustrated for hours and hours."
—BuzzFeed
Tiller Press, 9781982131562, 160pp.
Publication Date: July 30, 2019
About the Author
Eric Berlin is the author of the Winston Breen series of mysteries for children: The Puzzling World of Winston Breen, The Potato Chip Puzzles, and The Puzzler's Mansion, which together have been nominated for more than a dozen state reading awards. He has talked about the joy of puzzles and creative thinking to thousands of kids across the country. Eric has had dozens of crosswords and other puzzles published in The New York Times, The Wall Street Journal, and The Los Angeles Times, among many other places. He has created live puzzle events for the American Crossword Puzzle Tournament, the Connecticut Library Association, the Trivia Championships of North America, and New York City's Museum of Mathematics.