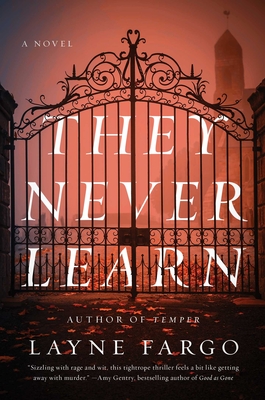 They Never Learn
Hardcover

* Individual store prices may vary.
Other Editions of This Title:
Digital Audiobook (10/12/2020)
Paperback (4/20/2021)
Compact Disc (10/13/2020)
Description
From the author of the "raw, ingenious, and utterly fearless" (Wendy Walker, USA TODAY bestselling author) Temper comes a dynamic psychological thriller about two women who give bad men exactly what they deserve.

Scarlett Clark is an exceptional English professor. But she's even better at getting away with murder.

Every year, she searches for the worst man at Gorman University and plots his well-deserved demise. Thanks to her meticulous planning, she's avoided drawing attention to herself—but as she's preparing for her biggest kill yet, the school starts probing into the growing body count on campus. Determined to keep her enemies close, Scarlett insinuates herself into the investigation and charms the woman in charge, Dr. Mina Pierce. Everything's going according to her master plan…until she loses control with her latest victim, putting her secret life at risk of exposure.

Meanwhile, Gorman student Carly Schiller is just trying to survive her freshman year. Finally free of her emotionally abusive father, all Carly wants is to focus on her studies and fade into the background. Her new roommate has other ideas. Allison Hadley is cool and confident—everything Carly wishes she could be—and the two girls quickly form an intense friendship. So when Allison is sexually assaulted at a party, Carly becomes obsessed with making the attacker pay...and turning her fantasies about revenge into a reality.

Featuring Layne Fargo's trademark "propulsive writing style" (Kirkus Reviews) and "sinister, of the moment" (Chicago Review of Books) suspense, They Never Learn is a feminist serial killer story perfect for fans of Killing Eve and Chelsea Cain.
Praise For They Never Learn…
Praise for They Never Learn

"Searing . . . . Fargo shocks and entertains while delivering a scathing take-down of campus rape culture. Fans of Chelsea Cain will appreciate this fiercely feminist twist on serial killer fiction."
— Publishers Weekly

"Layne Fargo's They Never Learn isn't chilling. No, it's a sparking fuse leading to an explosion of feminist rage...Fargo's prose is propulsive, her short chapters urging us into a breakneck pace. They Never Learn isn't so much a book as it is an experience, darkly hypnotic and intensely compulsive. This is a psychological thriller of the highest order, a story that seeps into your thoughts like blood through floorboards. If you read this at night, be prepared to sleep uneasily—or not at all."
— Criminal Element

"Will satisfy [Fargo's] fans and delight revenge aficionados everywhere . . . Intense is the key word here."
— Booklist

"Compelling...[An] entertaining, funny, and sexy thriller."
— Bookreporter

"Sizzling with rage and wit, Layne Fargo's They Never Learn will delight fans of Karin Slaughter, Dexter, and Killing Eve with its deftly drawn portrait of a woman on fire and her unquenchable lust for revenge. Addictive, sensual, breathlessly plotted, and thoroughly unputdownable--this tightrope thriller feels a bit like getting away with murder."
— Amy Gentry, bestselling author of Good as Gone and Last Woman Standing

"They Never Learn is a fierce, provocative thriller that grabs you by the throat and doesn't let go. A twisty book with a razor-sharp edge, revenge has never looked so good—or so appealing!"
— Samantha Downing, USA Today bestselling author of My Lovely Wife and He Started It

"Dark, shocking, and utterly satisfying! I'm a big fan of Layne Fargo's Temper, and somehow she topped herself with this one, channeling even more feminist rage into her complicated, magnetic-but-terrifying characters."


— Kathleen Barber, author of Truth Be Told and Follow Me

"Layne Fargo has created an instantly iconic character in Dr. Scarlett Clark, a serial killer who takes out abusive men and rapists at the college where she teaches. With stunning, dagger-sharp prose and a deliciously satisfying plot, They Never Learn is the feminist revenge thriller we need and deserve."


— Megan Collins, author of The Winter Sister and Behind the Red Door

"As utterly wicked as it is empowering, They Never Learn shows Fargo at the top of her game. I can't wait to see what she delivers next."
— Allison Dickson, author of The Other Mrs. Miller

"A gorgeously-written ragestorm of a thriller. They Never Learn is a feminist powerhouse that will shock readers as much as it satisfies them."
— Wendy Heard, author of The Kill Club

"They Never Learn by Layne Fargo is a fierce, feminist suspense that gives power to the powerless and takes vigilante justice to a whole new, brilliant level. Fargo's protagonist is a woman hell-bent on righting the wrongs done to women, and I cheered her on through every raw, gripping word. My heart pounded, and like the main character, I was filled with rage and ultimately completely satisfied with each of her actions. Spectacular and propulsive, this is a powerhouse of a novel."
— Samantha M. Bailey, bestselling author of Woman on the Edge

"Layne Fargo...[has] been reinventing the vigilante genre for left-wing politics."
— CrimeReads

"With They Never Learn, Layne Fargo earns high marks for a cerebral plot about female rage . . . Highly entertaining . . . Skillfully keeping the surprises coming."
— Shelf Awareness

"They Never Learn is the perfect book to celebrate the spooky, fall season with. It's twisted in the best kind of way."
— Bust.com

"Layne Fargo has created an instantly iconic character in Dr. Scarlett Clark, a serial killer who takes out abusive men and rapists at the college where she teaches. With stunning, dagger-sharp prose and a deliciously satisfying plot, They Never Learn is the feminist revenge thriller we need and deserve."


— Megan Collins, author of The Winter Sister and Behind the Red Door

Praise for Temper

"[F]or potboilers, nothing comes close to Temper… There's violence here, but it's not only physical; it's emotional and psychological — even intellectual."
— The New York Times Book Review

"Temper is raw, ingenious and utterly fearless. I devoured every word as the story bent and twisted in ways I did not see coming. Layne Fargo delivers psychological suspense at its very best - without tricks or misdirections, just brilliant story telling and profoundly astute observations about human emotions and relationships. Temper is the real deal."
— Wendy Walker, USA Today bestselling author of The Night Before

"In her dark, sultry debut, Layne Fargo delves deep into the psychological war zone of the theater, perfectly capturing its hothouse world of rivalries, dalliances, and duels--both onstage and off. Toying with the line between victim and villain, real life and fantasy, Temper revels in its mind games, delivering twist after twist as it races toward a Shakespearian climax. The final page will leave you gasping."
— Amy Gentry, author of LAST WOMAN STANDING

"Twisty, sexy, and so believable it's scary, the pages of Temper bleed an irresistible blend of voice, subculture, and character. Compulsive reading for fans of Black Swan, Mozart in the Jungle, or (dare I say it?) real-life backstage theatrics."
— Jessica Strawser, bestselling author of Not That I Could Tell

"Utterly compelling. A fascinating look at our willingness to accept the destruction of others for the sake of artistic genius."
— Victoria Helen Stone, bestselling author of Jane Doe

"Temper is a completely compelling read in which anger and passion fizzes off the page. It is a strong and timely story, with two unflinching heroines whom I was totally rooting for, especially as they revealed their most unabridged selves."
— Araminta Hall, author of Our Kind of Cruelty

"Temper is a brilliantly paced thriller that gets under your skin in the best possible way. Zooming back and forth between two fierce and unforgettable narrators, this story digs its nails into you from the very first sentence and continues to leave its mark long after the final, jaw-dropping scene. With her exploration of ambition and obsession, pain and desire, Layne Fargo's debut proves that she is a blistering and crucial new voice in psychological suspense."
— Megan Collins, author of The Winter Sister

"The theater is a tempestuous, bloody place to be in Fargo's prickly debut. Fargo's propulsive writing style and Joanna's and Kira's dueling narratives drive the increasingly frenzied chain of events that play out… Fargo is an author to watch."
— Kirkus Reviews

"Temper is a dark and sexy ride, its characters' passion and rage snowballing in equal measure as the story builds to its shocking conclusion. This is the Black Swan psychological suspense novel we've all been waiting for."
— Wendy Heard, author of Hunting Annabelle

"Layne Fargo's theatre noir debut Temper is a suspense novel paced to make readers twitch in their seats waiting for the final curtain. Sexy and sinister."
— Lori Rader-Day, Edgar Award-nominated and Anthony and Mary Higgins Clark Award-winning author of Under a Dark Sky

"[An] intense psychological thriller... Fargo is definitely a writer to watch."
— Publishers Weekly

"A twisted tale of what happens when violence, ambition, and the taste for blood take center stage... [Temper] builds a sense of danger and suspense that will keep readers guessing, literally until the last page. Fargo's first novel features complicated female characters and will be well received by fans of Gillian Flynn and Tana French."
— Margaret Howard, Booklist

"Fargo maintains a scalpel-like control over her characters, even when they themselves are out of control."
— The Chicago Tribune

"This sinister, of-the-moment novel focuses on the power struggle between an ambitious actress and an abusive director, but you don't have to be a theater buff to enjoy it. The story brims with complex female characters, psychosexual manipulation, and plenty of drama on and off the stage."
— Chicago Review of Books

"Temper dances the reader through the tangled, incestuous and artistically volatile network of Chicago storefront theater with ferocity and ambition. Part noir, part mystery, part feminist manifesto . . . The result is a fast-paced, tempting, hard-to-put-down story with vivacious characters, an unpredictable plot and a narrative climax worthy of the stage."
— Newcity Lit

"Temper is the kind of debut people are going to remember: intense, well-crafted, and emotionally blistering."
— CrimeReads

"Ambitious women and behind-the-curtain theater drama? Sign us up!"

— BookRiot

"Addictive . . . The novel's violently sensuous suspense careens toward a chilling conclusion you'll never see coming."

— BookPage
Gallery/Scout Press, 9781982132026, 352pp.
Publication Date: October 13, 2020
About the Author
Layne Fargo is the author of the thrillers Temper and They Never Learn. She's a Pitch Wars mentor, Vice President of the Chicagoland chapter of Sisters in Crime, and the cocreator of the podcast Unlikeable Female Characters. Layne lives in Chicago with her partner and their pets.
or
Not Currently Available for Direct Purchase