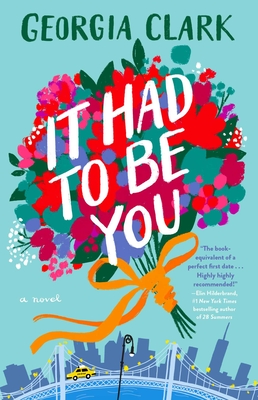 It Had to Be You
A Novel
Paperback

* Individual store prices may vary.
Other Editions of This Title:
Digital Audiobook (5/3/2021)
Library Binding, Large Print (9/1/2021)
Compact Disc (5/4/2021)
Description
"A wedding planner dies and leaves the business to his wife—and his mistress. What could possibly go wrong? A charming rom-com to kick off your summer."—People

An Elin Hilderbrand Entertainment Weekly Summer Reading Pick

"The book-equivalent of a perfect first date... Highly highly recommend." —Elin Hilderbrand, #1 New York Times bestselling author

"A heady kaleidoscope of romance, heartbreak, and healing that's both rich in insight and enchantingly funny." —Fiona Davis, New York Times bestselling author

The author of the "emotional, hilarious, and thought-provoking" (People) novel The Bucket List returns with a witty and heartfelt romantic comedy featuring a wedding planner, her unexpected business partner, and their coworkers in a series of linked love stories—perfect for fans of Christina Lauren and Casey McQuiston.

For the past twenty years, Liv and Eliot Goldenhorn have run In Love in New York, Brooklyn's beloved wedding-planning business. When Eliot dies unexpectedly, he even more unexpectedly leaves half of the business to his younger, blonder girlfriend, Savannah. Liv and Savannah are not a match made in heaven, to say the least. But what starts as a personal and professional nightmare transforms into something even savvy, cynical Liv Goldenhorn couldn't begin to imagine.

It Had to Be You cleverly unites Liv, Savannah, and couples as diverse and unique as New York City itself, in a joyous Love-Actually-style braided narrative. The result is a smart, modern love story that truly speaks to our times. Second chances, secret romance, and steamy soul mates are front and center in this sexy, tender, and utterly charming rom-com that is "so much fun" (Casey McQuiston, New York Times bestselling author).
Praise For It Had to Be You: A Novel…
"IT HAD TO BE YOU is the book-equivalent of a perfect first date. It's instantly engaging, fun, inclusive, big-hearted and most importantly, it's smart. Georgia Clark is a fierce talent and her storytelling powers are on full display here. I'm SMITTEN with this novel. Highly highly recommended!"
— Elin Hilderbrand, #1 New York Times Bestselling Author of 28 SUMMERS

"This ensemble rom-com explores the messy entanglements of a wedding crew in the alternating-POV style of Love Actually. At its center, though, is one of the most delightfully unlikely pairings I've read in a while: an exhausted wedding-planning widow and the chipper (and much younger) mistress of her decesed husband. So much fun."
— Casey McQuiston, New York Times bestselling author of RED, WHITE, & ROYAL BLUE and ONE LAST STOP

"Clark has concocted a heady kaleidoscope of romance, heartbreak, and healing that's both rich in insight and enchantingly funny. A magical set of intertwined stories that speaks to our times."
— Fiona Davis, New York Times bestselling author of THE LIONS OF FIFTH AVENUE

"Perfect for fans of Modern Love and Love, Actually, Georgia Clark's smartly mixed cocktail of intertwined romances also underscores the importance of resilience, self-discovery, and the transformative power of friendship."
— Heather Cocks and Jessica Morgan, bestselling authors of THE HEIR AFFAIR

"IT HAD TO BE YOU is a glorious love letter to second chances, taking risks, and following your heart. This romantic comedy is a tender reminder that vibrant, life-changing love is out there for all of us, even (and especially) when life has knocked us down. I adored each of these memorable characters and have missed them ever since I reached the final page. Georgia Clark has outdone herself!"
— Hannah Orenstein, author of HEAD OVER HEELS

"This beautiful compendium of love stories is a witty, sexy hybrid of Four Weddings & a Funeral and Love Actually. Georgia Clark cleverly illustrates how romance comes in all shapes and disguises in this warm and delightful romp of a novel that'll make you fall in love again and again!"
— Melanie Cantor, author of DEATH & OTHER HAPPY ENDINGS

"Reading Georgia Clark's IT HAD TO BE YOU feels much like attending a spirited, joyful wedding: you'll find a wild mix of guests, some unexpected drama, a whole lot of love, and that one gorgeous groomsman who gets all the attention. A delightfully festive romantic comedy!"
— Amy Poeppel, critically-acclaimed author of MUSICAL CHAIRS

"With a perfectly imperfect cast of characters, just the right mix of humor and heart, and a plot that will have you flipping the pages as fast as you can read, IT HAD TO BE YOU is unexpected in the best possible way. Georgia Clark just happens to be my new favorite writer."
— Camille Pagán, bestselling author of I'M FINE AND NEITHER ARE YOU

"The First Wives Club meets Love Actually in this entertaining story of friendship and second chances… Clark delivers a humorous, poignant story about rebuilding after tragedy…This is a charmer."
— Publishers Weekly

"Clark creates a quilt of diverse love stories, overlapping and meandering warmly throughout New York City . . . Each story Clark tells packs an emotional punch, but Savannah's and Liv's respective relationships, as well as their own evolution to friends and colleagues, are standouts."
— Library Journal

"Reads like a love letter to New York-set rom coms. Full of immersive details, rich characters, and great banter, Clark's latest perfectly balances sweetness with an edge of realism that will draw readers in."
— Booklist (starred review)

"When Liv's husband Eliot dies suddenly and leaves her to run their wedding-planning business, that's bad enough. Until she finds out he left his half of it to his young mistress, Savannah. Liv is, shall we say, less than thrilled. But over time, the two women form an unlikely friendship in a quirky, modern love story that will melt your heart like a popsicle."
— Good Housekeeping, "The 20 Best Beach Reads to Add to Your Summer Reading List"

"Clark's prose is engaging, her characters are likable, and the plot moves quickly… a fun bit of escapism."
— Kirkus Reviews

"Anyone else feeling desperate for an escape from reality in the form of a book? Same, which is why we're positively jazzed about Clark's latest, about a Brooklyn wedding planner who dies unexpectedly, and instead of leaving half of the business to his wife and business partner, leaves his share to…his much younger mistress. Chaos and hilarity ensue."
— PureWow, "10 Books We Can't Wait to Read in May"

"20 Best Beach Reads of Summer 2021."
— The Pioneer Woman

"Think of IT HAD TO BE YOU as the Love Actually of beach reads. Written in sparkly and entertaining prose, the novel follows a series of intertwined love stories that revolve around a wedding planner. The book will reaffirm that there's enough love to go around for everyone."
— Oprah Daily

"[Clark] takes every diverse coupling, professional nightmare and swoon-worthy love story in her arsenal and creates something deeply joy-filled, tender, sexy and charming."
— BookReporter

"IT HAD TO BE YOU . . . follows a rotating cast of characters whose love lives are as diverse as the city they all call home."
— The San Francisco Chronicle

"Books to Brighten Your Summer."
— The Washington Post

"Best Beach Reads of Summer 2021."
— PureWow
Atria/Emily Bestler Books, 9781982133191, 384pp.
Publication Date: May 4, 2021
About the Author
Georgia Clark wrote the novels It Had to Be You, The Regulars, The Bucket List, and others. She is the host and founder of the popular storytelling night, Generation Women. A native Australian, she lives in Brooklyn with her hot wife and a fridge full of cheese. Want more? GeorgiaClark.com.