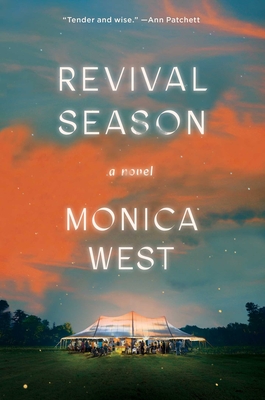 Revival Season
A Novel
Hardcover

* Individual store prices may vary.
Other Editions of This Title:
Digital Audiobook (5/24/2021)
Paperback (5/3/2022)
Compact Disc (5/25/2021)
Library Binding, Large Print (2/23/2022)
Description
The daughter of one of the South's most famous Baptist preachers discovers a shocking secret about her father that puts her at odds with both her faith and her family in this debut novel.

"Spellbinding…Revival Season should be read alongside Alice Walker's The Color Purple and Chimamanda Ngozi Adichie's Purple Hibiscus." —The Washington Post
A New York Times Book Review Editors' Choice

Every summer, fifteen-year-old Miriam Horton and her family pack themselves tight in their old minivan and travel through small southern towns for revival season: the time when Miriam's father—one of the South's most famous preachers—holds massive healing services for people desperate to be cured of ailments and disease. But, this summer, the revival season doesn't go as planned, and after one service in which Reverend Horton's healing powers are tested like never before, Miriam witnesses a shocking act of violence that shakes her belief in her father—and her faith.

When the Hortons return home, Miriam's confusion only grows as she discovers she might have the power to heal—even though her father and the church have always made it clear that such power is denied to women. Over the course of the following year, Miriam must decide between her faith, her family, and her newfound power that might be able to save others, but if discovered by her father, could destroy Miriam.

Celebrating both feminism and faith, Revival Season is a "tender and wise" (Ann Patchett) story of spiritual awakening and disillusionment in a Southern, Black, Evangelical community.
Praise For Revival Season: A Novel…
New York Times Book Review Editors' Choice

"In "Revival Season," her atmospheric, layered debut, Monica West probes that annual rite, when evangelicals are called to go forth and preach to all nations. West steeps her tale in a rich broth of religious ardor and personal betrayal… West creates a vivid, intimate world on the page, dramatizing the compromises evangelical women must make."—New York Times

"Spellbinding…. It is nearly impossible to avoid falling in love with Miriam and becoming entranced by this family's story.... West's debut marks the entry of a stalwart new voice in American fiction. James Baldwin famously said that his debut novel was "the book I had to write if I was ever going to write anything else." We can only hope that West's literary launch will similarly be the first of many."—Naomi Jackson, The Washington Post

"A standout debut about spending summers on the road for revival season and learning that everything you've been told could be a lie, this is a smart novel about empowerment with a memorable character at its core."—Boston Globe


"Readers trust her ability to lead us on this breath-stopping journey… this is a remarkable book for this season, astounding in its power to transport the reader to another universe. "Revival Season" assures that Monica West is a writer to watch."—Seattle Times

"Explosive.... West does a fantastic job illuminating the struggles faced by women and girls in the Southern Baptist evangelical movement, and the change in Miriam is palpable and moving. West's deep understanding of her characters and community makes for essential reading."—Publishers Weekly (starred review)

"This propulsive story, narrated by a strong, young voice, is one of the most memorable and moving novels I have read in recent months.... [Miriam is] a fascinating character, and her transformation over the course of the story is impressive, especially as violence upends and reverberates throughout her world. The plot and characters of Revival Season are remarkably well rendered, but West's language is especially compelling, pulling readers into Miriam's most defining moments. The sentences are downright musical, and each chapter paints a picture, leaving the reader eager for all that awaits."—BookPage (starred review)

"Every year, the Horton family travels across the South for revival season, where the family patriarch, a prominent Baptist preacher, uses his healing powers. Young Miriam, his daughter, is thrown into crisis by something she witnesses on one of those trips in this intricate story of growing up."—NEWSWEEK

"The women of Baptist churches, tent revivals, and soul salvation are often relegated to silent, supporting roles, but in Revival Season, Monica West puts them at the center of her narrative... Walking with Miriam as she comes of age in Revival Season is a pleasure." —BUST

"West's debut is a bold insight into traditional southern Christianity and its contradictions to contemporary perspectives on gender equality. She writes with a melodic cadence that is honest and often heartbreaking. Her characters are three-dimensional people who tug at readers' emotions. West's refreshing literary voice and thought-provoking perspective hint at a wealth of stories to come.—Booklist

"Tender and wise, Revival Season explores a girl's faith in both her family and in God. Monica West's formidable talent is matched by her generosity of spirit, making the most winning combination a reader could wish for."—Ann Patchett

"There's a REVIVAL SEASON size gap in our current literature. This moving portrait of an Evangelical black family is generous and compassionate (even as it critiques the Church to which they are so loyal) when so often writing about such people tends to the cynical and derisive. This novel is ultimately about complicated familial love, a young girl's coming into herself, and the price, and beauty, of being among the community of the faithful." —Ayana Mathis, author of The Twelve Tribes of Hattie

"Monica West has given us a riveting tale full of deep wells of compassion even as it tangles with the complexities and flaws of this troubled Southern family. Compact, suspenseful, and written with incredible elegance, Revival Season is a highly rewarding, utterly original read -- one of my favorite debuts of the year." —Jami Attenberg, bestselling author of The Middlesteins

"REVIVAL SEASON is a novel about faith that keeps faith with the best traditions of the novel. Immersive, insightful, warmly affecting, Monica West's debut is one to cherish." —Peter Ho Davies, author of A Lie Someone Told You About Yourself

"In these wonderfully dramatic and gripping pages, fifteen-year-old Miriam finds herself fighting a duel with her powerful father. The stakes couldn't be higher: faith, family, money, power and the healing of a damaged child. I love how complicated these characters are and how intelligently West writes about the mysteries of the church. A brilliant debut."—Margot Livesey, author of The Boy in the Field

"A spectacular coming-of-age novel... Revival Season is not only an inner journey of the becoming of a young lady in the South, but also a precise geological picture of the Bible Belt and how faith shapes the community and the family."—The Millions
Simon & Schuster, 9781982133306, 304pp.
Publication Date: May 25, 2021
About the Author
Born and raised in Cleveland, Ohio, Monica West received her BA from Duke University, her MA from New York University, and her MFA from the Iowa Writers' Workshop where she was a Rona Jaffe Graduate Fellow. She was a Southern Methodist University Kimbilio Fellow in 2014, and she will be a Hedgebrook Writer in Residence in 2021. Revival Season is her first novel.