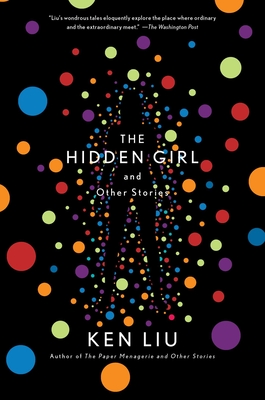 The Hidden Girl and Other Stories
Hardcover

* Individual store prices may vary.
Other Editions of This Title:
Digital Audiobook (2/26/2020)
Digital Audiobook (2/24/2020)
Paperback (1/26/2021)
Compact Disc (2/25/2020)
Description
Includes stories featured in Pantheon—now an animated series on AMC+

"I know this is going to sound hyperbolic, but when I'm reading Ken Liu's stories, I feel like I'm reading a once-in-a-generation talent. I'm in awe." —Jamie Ford, New York Times bestselling author

"Captivating." —BuzzFeed
"Extraordinary." —The Washington Post
"Brilliant." —The Chicago Tribune

With the release of The Paper Menagerie and Other Stories, Ken Liu's short fiction has resonated with a generation of readers.

From stories about time-traveling assassins, to Black Mirror-esque tales of cryptocurrency and internet trolling, to heartbreaking narratives of parent-child relationships, The Hidden Girl and Other Stories is a far-reaching work that explores topical themes from the present and a visionary look at humanity's future.

This collection includes a selection of Liu's speculative fiction stories over the past five years—seventeen of his best—plus a new novelette. In addition, it also features an excerpt from The Veiled Throne, the third book in Liu's epic fantasy series The Dandelion Dynasty.

Stories include:
Ghost Days; Maxwell's Demon; The Reborn; Thoughts and Prayers; Byzantine Empathy; The Gods Will Not Be Chained; Staying Behind; Real Artists; The Gods Will Not Be Slain; Altogether Elsewhere, Vast Herds of Reindeer; The Gods Have Not Died in Vain; Memories of My Mother; Dispatches from the Cradle: The Hermit—Forty-Eight Hours in the Sea of Massachusetts; Grey Rabbit, Crimson Mare, Coal Leopard; A Chase Beyond the Storms (an excerpt from The Veiled Throne, Book 3 of the Dandelion Dynasty); The Hidden Girl; Seven Birthdays; The Message; Cutting
Praise For The Hidden Girl and Other Stories…
"Several [stories] capable of piercing the heart."
— Kirkus Reviews

Liu's strong sentences and intelligent what-ifs will appeal to fans of Asimov-ian science fiction
— Publishers Weekly

A Most Anticipated of 2020 book for WBUR's The ARTery and LitHub

"The Hidden Girl and Other Stories explores ideas such as the intersection of tradition and progress, the fallibility of memory and the essence of what it means to be human."—WBUR

"Woah man, deep...Let the marble that is your (non-uploaded) brain roll around in that cosmic Klein bottle as you make your way through the book."—WIRED

"[O]ne of the best sci-fi writers around."—AUSTIN AMERICAN-STATESMAN

"[A]mong the most memorable creations of Liu's career...poignant and powerful."—AV Club

"Ken Liu is the kind of prodigious talent who makes mere mortals melt in despair at ever matching his accomplishments...including almost single-handedly launching a boom in Chinese SF translated for English-language readers. And now here he is with a magnificent new story collection."—LOCUS

"Like Octavia Butler, Liu probes our ethical wounds, examining injustice and oppression from some uncomfortable angles." —Nisi Shawl, The Seattle Times

"Discover one of science fiction's stars."—Charlie Jane Anders, Hugo Award–winning author of All the Birds in the Sky

"Liu's stories went deep into my marrow, laying bare painful truths, meticulously slicing through the layers of pearl to find the grain of sand at its heart."—NPR

"Ken Liu is among the most important figures to emerge in science fiction in the last decade or so."—Chicago Tribune

"Ken Liu's output is as amazing as his stories."—The Boston Globe

"Liu's writing...brims not only with literal spirits of the dead, but with ghosts in the machine, ghosts of our past selves, and ghosts of futures that never came to pass. Hidden Girl examines–through narratives full of magic, extant innovations, or technologies so speculative they may as well be magic–how we remain connected to ourselves during relentless change."—Harvard Magazine
Gallery / Saga Press, 9781982134037, 432pp.
Publication Date: February 25, 2020
About the Author
Ken Liu is an award-winning American author of speculative fiction. His collection, The Paper Menagerie and Other Stories, has been published in more than a dozen languages. Liu's other works include The Grace of Kings, The Wall of Storms, The Veiled Throne, and a second collection The Hidden Girl and Other Stories. He has been involved in multiple media adaptations of his work including the short story "Good Hunting," adapted as an episode in Netflix's animated series Love, Death + Robots; and AMC's Pantheon, adapted from an interconnected series of short stories. "The Hidden Girl," "The Message," and "The Cleaners" have also been optioned for development. Liu previously worked as a software engineer, corporate lawyer, and litigation consultant. He frequently speaks at conferences and universities on topics including futurism, cryptocurrency, the history of technology, and the value of storytelling. Liu lives with his family near Boston, Massachusetts.