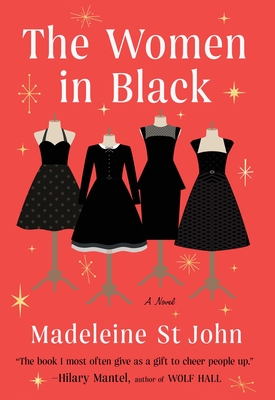 The Women in Black
A Novel
Paperback

* Individual store prices may vary.
Other Editions of This Title:
Digital Audiobook (7/25/2022)
Description
"The book I most often give as a gift to cheer people up." —Hilary Mantel

"Tart, beguiling, witty and compassionate, Madeleine St. John's novel is a literary boost for the spirits." —Maureen Corrigan, Fresh Air

"A deceptively smart comic gem." –The New York Times Book Review

"Witty and delicious." –People

The women in black, so named for the black frocks they wear while working at Goode's department store, are busy selling ladies' dresses during the holiday rush. But they somehow find time to pursue other goals…

Patty, in her mid-thirties, has been working at Goode's for years. Her husband, Frank, eats a steak for dinner every night, watches a few minutes of TV, and then turns in. Patty yearns for a baby, but Frank is always too tired for that kind of thing.

Sweet, unlucky Fay wants to settle down with a nice man, but somehow nice men don't see her as marriage material.

Glamorous Magda runs the high-end gowns department. A Slovenian émigré, Magda is cultured and continental and hopes to open her own boutique one day.

Lisa, a clever and shy teenager, takes a job at Goode's during her school break. Lisa wants to go to university and dreams of becoming a poet, but her father objects to both notions.

By the time the last marked-down dress is sold, all of their lives will be forever changed.

A pitch-perfect comedy of manners set during a pivotal era, and perfect for fans of The Marvelous Mrs. Maisel, The Women in Black conjures the energy of a city on the cusp of change and is a testament to the timeless importance of female friendship.
Praise For The Women in Black: A Novel…
"Department store particulars are part of the charm of The Women in Black, a deceptively smart comic gem that tracks four women through the pandemonium of one holiday season in 1950s Sydney. Laced with a fierce intelligence that captures the limited options for women and postwar xenophobia views, it's also a love letter to department stores of yore." --Susan Coll, New York Times Book Review

"When I need a mental escape from a stressful situation, I often fantasize about wandering around one of the grand department stores of my New York City childhood... Most of those palaces of consumption are gone but, fortunately, Scribner has recently published the first American edition of this tart, beguiling novel." -Maureen Corrigan, Fresh Air

"A witty novel set in a posh department store in 50s Sydney, where four women are at work in Ladies Dresses. The author unpacks their secret yearnings as they wake up to—and resist—the limitations of their lives. Delicious." –People Magazine

"Like the deceptively simple (but perfectly crafted) little black dress, this delicious and sly masterpiece works its magic from the very first sentence. Once you slip into its folds-- full of hope and new beginnings, of luck and laughter and love-- I dare you not to catch yourself smiling, and wanting to twirl, for days and days and days." –Sarah Blake, author of The Guest House and The Postmistress

"A little gem... shot through with old-fashioned innocence and sly humour."
—Vogue

"A highly sophisticated work, full of funny, sharp and subtle observations...a small masterpiece."
—Sunday Times (UK)

"There is something special about The Women in Black. St John's tone is a joy: brisk, perfectly managed and, in its disdain for clutter, oddly life-affirming. She casts an airy spell with the deftness of her prose, which moves gracefully, swiftly and with perfect manners... conjures a Sydney on the cusp of modern promise; a place where her characters can meet the future with a bright face and step out of the past like an old dress, where limits can be lightly shaken off."
—Delia Falconer, Australian

"Seductive, hilarious, brilliantly observed, this novel shimmers with wit and tenderness."
—Helen Garner, author of Monkey Grip and The Spare Room

"A delicious book. Funny and happy, it's like the breath of youth again."
—Jane Gardam

"A witty little gem of a tale... instantly transports readers back to a more genteel era." —Kirkus

"Funny and light, this story moves quickly as each character navigates the 1950s-era challenges of being a working
woman in a male-dominated society with limited options for the happily ever after they all strive for." —Booklist



"A striking debut novel of wit, charm, female friendships and universal dreams... a delightful and uplifting slice-of-life view." --Shelf Awareness, starred review
Scribner, 9781982134082, 224pp.
Publication Date: February 11, 2020
About the Author
Madeleine St. John was born in Sydney in 1941. In 1965 she moved to the United States and attended Stanford, and later moved to England to attend Cambridge University. In 1993, she published her debut novel in Australia, The Women in Black. She is author of three other novels including The Essence of the Thing, shortlisted for the Man Booker Prize. St. John was the first Australian woman to receive this honor. Madeleine St. John died in 2006.
Coverage from NPR