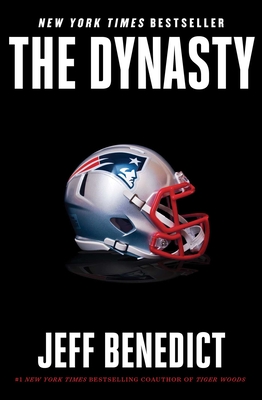 The Dynasty
Hardcover

* Individual store prices may vary.
Other Editions of This Title:
Digital Audiobook (8/31/2020)
Paperback (9/7/2021)
Compact Disc (9/1/2020)
Description
NEW YORK TIMES BESTSELLER

From the #1 New York Times bestselling coauthor of Tiger Woods comes the definitive inside story of the New England Patriots—the greatest sports dynasty of the 21st century.

It's easy to forget that the New England Patriots were once the laughingstock of the NFL, a nearly bankrupt team that had never won a championship and was on the brink of moving to St. Louis. Everything changed in 1994, when Robert Kraft acquired the franchise and soon brought on board head coach Bill Belichick and quarterback Tom Brady. Since then, the Patriots have become a juggernaut, making ten trips to the Super Bowl, winning six of them, and emerging as one of the most valuable sports franchises in the world. Today, the team's twenty-year reign atop the NFL stands as the longest in league history.

How was the Patriots dynasty built? And how did it last for two decades? In The Dynasty, acclaimed journalist Jeff Benedict provides richly reported answers in a sweeping account based on exclusive interviews with more than two hundred insiders—including team executives, coaches, players, players' wives, team doctors, lawyers, and more—as well as never-before-seen recordings, documents, and electronic communications.

Through his exhaustive research, Benedict uncovers surprising new details about the inner workings of a team notorious for its secrecy. He puts readers in the room as Robert Kraft outmaneuvers a legion of lawyers and investors to buy the team. We listen in on the phone call when the greatest trade ever made—Bill Belichick for a first-round draft choice—is negotiated. And we look over the shoulder of forty-year-old Tom Brady as a surgeon operates on his throwing hand on the eve of the AFC Championship Game in 2018.

But the portrait that emerges in The Dynasty is more rewarding than new details alone. By tracing the team's epic run through the perspectives of Kraft, Belichick, and Brady—each of whom was interviewed for the book—the author provides a wealth of new insight into the complex human beings most responsible for the Patriots' success. We watch the NFL's savviest owner treat Brady like a son, empower Belichick to cut and trade beloved players, and spend sleepless nights figuring out diplomatic ways to keep Brady and Belichick together for two decades. We come to understand how a genius head coach keeps his players at an emotional distance and blocks out anything that gets in the way of winning. And we experience the relentless drive, ferocious competitive nature, and emotional sensitivity that allows Brady to continue playing football into his forties.

The result is an intimate portrait that captures the human drama of the dynasty's three key characters while also revealing the secrets behind their success. This is perhaps the most compelling and illuminating book that will ever be written about the greatest professional sports team of our time.
Praise For The Dynasty…
"The Dynasty is Jeff Benedict's latest masterpiece. . . . It's a relationship book, it's a football book, it's a business book. . . . I was surprised at the level of detail in Robert Kraft's quotes and his willingness to allow [the book] to go to some pretty painful places. . . . If you love football the way I do, you'll just eat up these stories."
—Colin Cowherd, The Herd

"An epic business story . . . The Dynasty goes deeper than anyone has before on the Beatles-esque collaboration among an owner, a coach, and a star player."
—Bloomberg

"Most often in our business, there are writers and there are reporters, and rarely do the twain meet. In The Dynasty, Jeff Benedict shows he's masterful at both. His reporting on the very well-worn (trust me) earth of the Patriots' greatness is groundbreaking, starting with his illumination of the evening in the hospital in 2001 when Drew Bledsoe's life was in peril and going all the way through to previously unknown details of the emotional play-by-play of Tom Brady's departure from New England. The imagery and prose are just as strong. Such a great read from Benedict."
—Peter King, NBC Sports, author of "Football Morning in America"

"For two decades we've been peering up at the castle looming over the American sportscape with the same mixture of awe, suspicion, and envy with which peasants have peered up at palisades for millennia. So when a deft and lyrical serf named Benedict slips inside, lowers the drawbridge, and waves us in to see the ramparts, towers, turrets, and castle keep where the Brady-Belichick-Kraft trinity ruled . . . how can a peasant resist?"
—Gary Smith, longtime Sports Illustrated writer and author of Beyond the Game

"This is an extraordinary book. The narrative is comprehensive, intimate, and original. I've watched and written about the entire Patriots dynasty, and yet this epic story provides new insights and startling details that I didn't know. I can assure you that there's not another Patriots book like it."
—Michael Holley, author of Belichick and Brady and Patriot Reign

"Smart, engaging . . . Action-packed . . . Benedict has long blended two interests—sports and business—and the Patriots are emblematic of both. . . . Good reading for organization builders as well as Pats fans."
—Kirkus Reviews

"A marvelously told story of the New England Patriots . . . This is the story of a well-run and successful business, very much like Apple or Amazon. . . . You don't need be a sports fan to enjoy this masterpiece study of a successful sports franchise. . . . With substantial research, great attention to detail and superb writing, The Dynasty is a book worthy of the team it chronicles."
—Book Reporter

"Richly detailed . . . Benedict's book breaks new ground in utilizing the oft-neglected vantage point of the owner's box."
—Hartford Courant

"A page-turner for Patriots fans. There are plenty of behind-the-scenes, untold nuggets, along with more detailed versions of often-told stories that have taken place during Robert Kraft's ownership of the team. . . . It was as if Benedict was a fly on the wall for many of these significant events, and in some cases, he was in fact present to witness some indelible moments."
—Boston Herald

"The Dynasty is an unprecedented peek behind the curtain of the Patriots' football machine."
—Inside Hook

Praise for Tiger Woods:

"Irresistible . . . Immensely readable . . . The authors have laid out a saga that is part myth, part Shakespeare, part Jackie Collins. . . . Benedict and Keteyian bring us along for the ride in a whirlwind of a biography that reads honest and true."
—Leigh Montville, The Wall Street Journal

"There is beauty and awe in this perfectly pitched biography . . . It has torque and velocity . . . It's a confident and substantial book that's nearly as sleek as a Christopher Nolan movie. It makes a sweet sound, like a well-struck golf ball. I found it exhilarating, depressing, tawdry and moving in almost equal measure. It's a big American story. . . . The authors bring grainy new detail to almost every aspect of Woods's life."
—Dwight Garner, The New York Times

"Comprehensive, propulsive, packed with incident . . . and unsparing."
—Ian Crouch, The New Yorker

"An ambitious 360-degree portrait of golf's most scrutinized figure . . . The book features fresh reporting on almost every significant element of Woods' story. . . . It is a book brimming with revealing details."
—Sam Weinman, Golf Digest

"Chilling . . . Exhaustively researched . . . The authors present Woods as a man 'both blessed and cursed' by his otherworldly ability to separate his off-the-course problems from his performance on it. Tiger Woods is a fascinating analysis of the former, but for golf fans—and probably for Woods himself—his worth will still be judged by the latter. . . . What Benedict and Keteyian do better than in any biography I've read about Woods is detail the human costs of this machine-like focus."
—John Paul Newport, Bloomberg Businessweek
Avid Reader Press / Simon & Schuster, 9781982134105, 592pp.
Publication Date: September 1, 2020
About the Author
Jeff Benedict is the bestselling author of seventeen nonfiction books. He's also a film and television producer. He is the coauthor of the #1 New York Times bestseller Tiger Woods. The book was the basis of the Emmy-nominated HBO documentary Tiger, which Benedict executive produced. The Dynasty, the definitive inside story of the New England Patriots under Robert Kraft, Bill Belichick, and Tom Brady, was a New York Times bestseller. The book is the basis of a forthcoming ten-part documentary series for Apple TV+, which Benedict is executive producing. His critically acclaimed book Poisoned is the basis of a Netflix documentary, which Benedict executive produced. His legal thriller Little Pink House was adapted into a motion picture starring Catherine Keener and Jeanne Tripplehorn. Benedict wrote Steve Young's New York Times bestselling autobiography QB, which was the basis of an NFL Films documentary. Benedict's upcoming biography of LeBron James will be published in 2023.