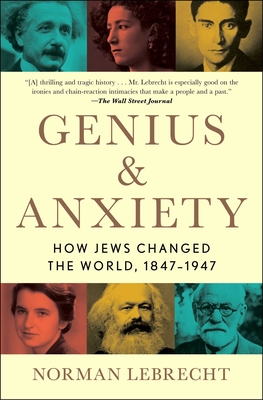 Genius & Anxiety
How Jews Changed the World, 1847-1947
Paperback

* Individual store prices may vary.
Other Editions of This Title:
Digital Audiobook (12/2/2019)
Hardcover (12/3/2019)
Hardcover (1/14/2020)
Compact Disc (12/3/2019)
Description
This lively chronicle of the years 1847­–1947—the century when the Jewish people changed how we see the world—is "[a] thrilling and tragic history…especially good on the ironies and chain-reaction intimacies that make a people and a past" (The Wall Street Journal).

In a hundred-year period, a handful of men and women changed the world. Many of them are well known—Marx, Freud, Proust, Einstein, Kafka. Others have vanished from collective memory despite their enduring importance in our daily lives. Without Karl Landsteiner, for instance, there would be no blood transfusions or major surgery. Without Paul Ehrlich, no chemotherapy. Without Siegfried Marcus, no motor car. Without Rosalind Franklin, genetic science would look very different. Without Fritz Haber, there would not be enough food to sustain life on earth.

What do these visionaries have in common? They all had Jewish origins. They all had a gift for thinking in wholly original, even earth-shattering ways. In 1847, the Jewish people made up less than 0.25% of the world's population, and yet they saw what others could not. How? Why?

Norman Lebrecht has devoted half of his life to pondering and researching the mindset of the Jewish intellectuals, writers, scientists, and thinkers who turned the tides of history and shaped the world today as we know it. In Genius & Anxiety, Lebrecht begins with the Communist Manifesto in 1847 and ends in 1947, when Israel was founded. This robust, magnificent, beautifully designed volume is "an urgent and moving history" (The Spectator, UK) and a celebration of Jewish genius and contribution.
Praise For Genius & Anxiety: How Jews Changed the World, 1847-1947…
"[A] thrilling and tragic history… Mr. Lebrecht is especially good on the ironies and chain-reaction intimacies that make a people and a past." —The Wall Street Journal

"Chemotherapy, the theory of relativity, great literature, blood transfusions, political theory, even Google are among the accomplishments of Jewish men and women, and they're all celebrated in this lively, enlightening history." —Washington Post, "Best Books of December"

"A spirited account that explores how Jews changed the world." —The Guardian (UK)

"An altogether brilliant and serious but approachable and readable popular history and survey of an extraordinary century of Jewish achievement….[This] book is unfailingly urbane and anecdotal at the same time it is punctilious about the facts. Lebrecht is hearteningly scrupulous about separating legends that cling like barnacles to the drier and more prosaic and inarguable facts of history." —Buffalo News

"Like Jewish destiny itself, Lebrecht's analysis is multi-dimensional, complex, and rich in substance." —The Times of Israel

"Claims to have 'changed the world' tend to be exaggerations, but Lebrecht's subtitle, How Jews Changed the World 1847-1947, seems understated. The world wasn't changed, it was remade… [Narrated] by a sprightly raconteur, with anecdotes and jokes, digressions and embellishments. Lebrecht piles them high in a ziggurat of enthusiasm for those 'who changed the way we see the world.'" —The Times (UK)


"An absorbing, well-told story of Jewish achievement that is a pleasure to read…. Written with passion and authority, this book shows how these great minds always took a different point of view—and changed how we see the world." —Kirkus Reviews, starred review

"A unique perspective on the role of Jews in European intellectual life, this will be of interest to music and art history readers, as well at those interested in Jewish history." —Library Journal

"Invoking heroic, creative, courageous images through the large panorama and the small vignette, Lebrecht… teases out more than 100 years of Jewish lore in this dense, entertaining work." —Bookreporter.com

"Urgent and moving history." —The Spectator (UK)
Scribner, 9781982134266, 464pp.
Publication Date: December 8, 2020
About the Author
Norman Lebrecht is the world's bestselling author on classical music. His Whitbread Award-winning novel, The Song of Names, is currently being developed into a feature film. Aside from the history of Western music, he has a lifelong passion for the culture and chronicles of the Jewish people and is the author of Genius & Anxiety. He lives in London.