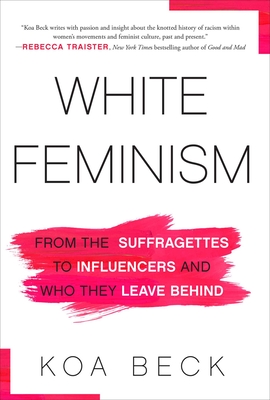 White Feminism
From the Suffragettes to Influencers and Who They Leave Behind
Hardcover

* Individual store prices may vary.
Other Editions of This Title:
Digital Audiobook (1/6/2021)
Digital Audiobook (1/4/2021)
Paperback (9/7/2021)
Compact Disc (1/5/2021)
Description
Written "with passion and insight about the knotted history of racism within women's movements and feminist culture" (Rebecca Traister, New York Times bestselling author), this whip-smart, timely, and impassioned call for change is perfect for fans of Good and Mad and Hood Feminism.

Addressing today's conversation about race, empowerment, and inclusion in America, Koa Beck, writer and former editor-in-chief of Jezebel, boldly examines the history of feminism, from the true mission of the suffragists to the rise of corporate feminism with clear-eyed scrutiny and meticulous detail. She also examines overlooked communities—including Native American, Muslim, transgender, and more—and their ongoing struggles for social change.

With "intellectually smart and emotionally intelligent" (Patrisse Cullors, New York Times bestselling author and Black Lives Matter cofounder) writing, Beck meticulously documents how elitism and racial prejudice have driven the narrative of feminist discourse. Blending pop culture, primary historical research, and first-hand storytelling, she shows us how we have shut women out of the movement, and what we can do to correct our course for a new generation.

Combining a scholar's understanding with hard data and razor-sharp cultural commentary, White Feminism "is a rousing blueprint for a more inclusive 'new era of feminism'" (The Boston Globe).
Praise For White Feminism: From the Suffragettes to Influencers and Who They Leave Behind…
"Don't judge this book by its cover. Koa Beck knows that feminism includes all women and girls by definition, and is writing to overcome anti-feminist divisions that divide and defeat us."
— Gloria Steinem, New York Times bestselling author of My Life on the Road

"Koa Beck writes with passion and insight about the knotted history of racism within women's movements and feminist culture, past and present. Curious, rigorous, and ultimately generous, White Feminism is a pleasure and an education."
— Rebecca Traister, New York Times bestselling author of Good and Mad

"Intellectually smart and emotionally intelligent, Beck brilliantly articulates how feminism has failed women of color and non-binary people. She illuminates the broad landscapes of systemic oppression and demands that white feminism evolve lest it continue to be as oppressive as the patriarchy."
— Patrisse Khan-Cullors, cofounder of Black Lives Matter, New York Times bestselling author of When They Call You a Terrorist, and joint recipient of the Sydney Peace Prize

"With insight and originality White Feminism documents how the contradictions of race and class have undermined U.S. feminism since the very beginning. Beck challenges and inspires us to go beyond narrow, individualized notions of liberation to build genuine movements for justice."
— Barbara Smith, cofounder of the Combahee River Collective

"Koa Beck has a crystal clear understanding that there is no singular winner in the battle for gender equity. White Feminism is a must-read for anyone ready to challenge just about everything they thought they knew about contemporary feminist discourse."
— Kimberly Drew, coeditor of Black Futures

"[A] masterful outlining of the progress and flaws of the feminist movement . . . Beck's clearly laid-out examination and interrogation of white feminism will change the way readers think on a daily level. This new history is a timely call to action, and earns its place as required reading for anyone who claims to care about the future of feminism."
— Booklist (starred)

"Beck's use of examples to illustrate her points is highly effective, and every page of this well-rounded book offers fresh insight. This essential account offers a skilled analysis of the ways feminism in the United States has been coopted by white women in pursuit of wealth, and has failed to be inclusive and self-aware of women of color, economically disadvantaged women, and women in the LGBTQ community."
— Library Journal (starred)

"A timely, compelling dissection of feminism's reliance on consumerism and useful suggestions for paths forward."
— Kirkus Reviews (starred)

"A bracing rethink of what feminism can achieve."
— Publishers Weekly
Atria Books, 9781982134419, 320pp.
Publication Date: January 5, 2021
About the Author
Koa Beck is the former editor-in-chief of Jezebel. Previously, she was the executive editor at Vogue and cohost of "The #MeToo Memos" on WNYC's The Takeaway. Her writing has appeared in The Atlantic, The New York Observer, The Guardian, and Esquire, among others. For her reporting prowess, she has been interviewed by the BBC and has appeared on many panels about gender and identity at the Harvard Kennedy School at Harvard University, the Metropolitan Museum of Art, the Brooklyn Historical Society, and Columbia Journalism School to name a few. She lives in Los Angeles.