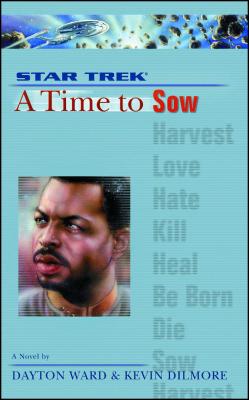 A Star Trek (Paperback)
The Next Generation: Time #3: A Time to Sow
Gallery Books, 9781982134976, 336pp.
Publication Date: May 18, 2019
Other Editions of This Title:
Paperback (2/20/2012)
Paperback (11/8/2014)
Mass Market (9/27/2011)
Mass Market (4/1/2004)
Mass Market (5/26/2015)
* Individual store prices may vary.
Description
On the cusp of their epic battle with Shinzon, many of Captain Jean-Luc Picard's long-time crew were heading for new assignments and new challenges. Among the changes were William Riker's promotion to captain and his new command, Riker's marriage to Counselor Deanna Troi, and Dr. Beverly Crusher's new career at Starfleet Medical. But the story of what set them on a path away from the Starship Enterprise has never been told...Until now.

More than two centuries ago, the Dokaalan sent an unmanned probe into the void, bearing a distress call for anyone who could save their doomed world. But the message reached Federation space too late to save the planet or its people.

Or so it was believed...

Generations later, Captain Jean-Luc Picard and the crew of the Enterprise-E are stunned to discover the last of the Dokaalan—now only a colony fighting to stay alive in a decrepit asteroid mining complex. Although their home planet was destroyed long ago, the survivors hope to someday transform a nearby planet into a new home for their people. But bitter divisions exist among the Dokaalan, sowing the seeds of sabotage and terrorism—and placing Picard and the Enterprise in the middle of an escalating crisis that can only lead to total destruction!
About the Author
Dayton Ward is the New York Times bestselling author or co-author of nearly forty novels and novellas, often working with his best friend, Kevin Dilmore. His short fiction has appeared in more than twenty anthologies, and he's written for magazines such as NCO Journal, Kansas City Voices, Famous Monsters of Filmland, Star Trek, and Star Trek Communicator, as well as the websites Tor.com, StarTrek.com, and Syfy.com. A native of Tampa, Florida, he currently lives in Kansas City, Missouri with his wife and two daughters. Visit him on the web at DaytonWard.com.

Kevin Dilmore has teamed with author Dayton Ward for fifteen years on novels, shorter fiction, and other writings within and outside the Star Trek universe. His short stories have appeared in anthologies including Native Lands by Crazy 8 Press. By day, Kevin works as a senior writer for Hallmark Cards in Kansas City, Missouri. In 2014, a short film written by Kevin, "Outside of Town," was selected for screening in the Short Film Corner of the Cannes Film Festival. A graduate of the University of Kansas, Kevin lives in Overland Park, Kansas.