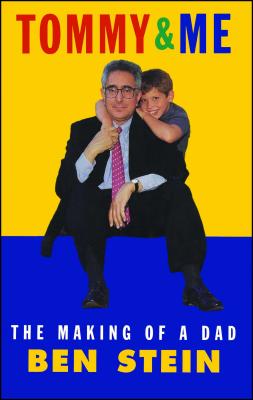 Tommy & Me (Paperback)
The Making of a Dad
Free Press, 9781982134983, 176pp.
Publication Date: May 25, 2019
* Individual store prices may vary.
Description
Ben Stein recounts his slow conversion from self-interested, career-oriented baby boomer to loving and caring father.

Ben Stein has proved himself a jack-of-all-trades in a series of jobs: author, magazine columnist, lawyer, film and TV actor, presidential speechwriter, professor, and television game show host, to name a few. But the career he has loved the most is that of raising his son, Tommy.

In Tommy and Me, Ben Stein gives us an intimate look at life with his "angel boy." Adopting a son in his forties challenged Stein in a way that no other relationship ever had. Spending time with Tommy transformed Stein's values, leading him to abandon the self-absorption that had consumed him since law school days in the 1960s. In his life today, Tommy comes first.

This whimsical and warm story reveals that life can begin when you think you have nothing left to learn. Through Tommy, Ben Stein learns to value the generous, nurturing side of himself. He also gains new insight into his relationship with his own father by becoming one. Most of all, he learns gratitude for the "perfect angel" he has as his son.

Fatherhood was the role Ben Stein was waiting for all his life. His intimate and revealing journey through parenthood in the late 1990s will delight all Ben Stein fans who watch the TV program Win Ben Stein's Money and the vast numbers of parents who need to value the best job on earth: "Daddy."
About the Author
Ben Stein is a respected economist who is known to many as a movie and television personality, but has worked more in personal and corporate finance than anywhere else. He has written about finance for Barron's, The Wall Street Journal, The New York Times, and Fortune; was one of the chief busters of the junk-bond frauds of the 1980s; has been a longtime critic of corporate executives' self-dealing; and has cowritten several finance books. Stein travels the country speaking about finance in both serious and humorous ways, and is a regular contributor to CBS's Sunday Morning, CNN, and FOX News. He was the 2009 winner of the Malcolm Forbes Award for Excellence in Financial Journalism.