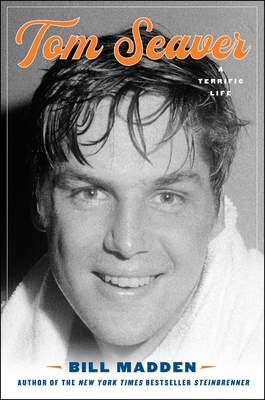 Tom Seaver
A Terrific Life
Hardcover

* Individual store prices may vary.
Other Editions of This Title:
Digital Audiobook (11/23/2020)
Paperback (9/7/2021)
Compact Disc (11/24/2020)
Description
An authoritative, "must-read" (Keith Hernandez) biography of Hall of Fame pitching legend Tom Seaver, still the greatest player ever to wear a Mets jersey, by a journalist who knew him well.

He was called Tom Terrific for a reason. Tom Seaver is "among the greatest pitchers of all time" (Bob Costas). He is one of only two pitchers with 300 wins, 3,000 strikeouts, and an ERA under 3.00. He was a three-time Cy Young award winner, twelve-time All Star, and was elected to baseball's Hall of Fame with the highest percentage ever at the time. Popular among players and fans, Seaver was fiercely competitive but always put team success ahead of personal glory.

Born in Fresno, California, Seaver signed with the New York Mets in 1967, leading them to their stunning 1969 World Series victory. After a legendarily lopsided trade, he joined the Cincinnati Reds, then later played for the White Sox and the Red Sox before ending his career following the 1986 season. After his playing days, Seaver retired back to California to establish a successful vineyard. The in 2013, a recurrence of Lyme disease severely affected his memory, which Madden was the first to report. In 2019, Seaver's family announced that he had been diagnosed with dementia and was withdrawing from public life. Tom Seaver died on August 31, 2021.

Madden began following Seaver's career in the 1980s. Seaver came to trust Madden so completely that, eager to return to New York from Chicago, he asked Madden to explore a possible trade to the Yankees which never materialized. Drawing in part on their long relationship, Madden "has crafted a biography as terrific as the subject" (Jane Leavy, New York Times bestselling author of Sandy Koufax: A Lefty's Legacy).
Praise For Tom Seaver: A Terrific Life…
"A biography that bolsters Seaver's reputation as a thinker on the mound, who won by outleveling hitters in their mental preparation."
— Oskar Garcia

"Tom Seaver is among the greatest pitchers of all time. He is also one of the most thoughtful and perceptive athletes I have ever known. Sadly, this deeply interesting man is now unable to provide us with a memoir of his own. The closest we will ever come is found here, from the Hall of Fame baseball writer who was exceptionally close to Tom and chronicled his entire career. Bill Madden renders Tom Seaver's story with the detail, insight and care it deserves."
— Bob Costas

"A vivid portrait of one of modern baseball's legendary players. . . . A fitting tribute to a great, memorable pitcher."
— Kirkus Reviews

"In the mind's eye, Tom Seaver, the consummate power pitcher who transformed the hapless Metsies of my youth into the Miracle Mets of 1969, is forever reaching back for that last ounce of strength and thrust, his knee grazing the dirt of the pitching mound. New York Daily News columnist Bill Madden witnessed and chronicled it all—the misbegotten trade of The Franchise, the failure of the front office to ensure his place on the team after his return, and the cruel descent into dementia that forced him to withdraw from public life. Drawing on their longtime friendship and thirty hours of exclusive interviews with Seaver and his wife Nancy, Madden has crafted a biography as terrific as its subject."
— Jane Leavy, author of New York Times bestseller Sandy Koufax: a Lefty's Legacy

"Tom Seaver mastered the craft of pitching about as well as any man who ever climbed a mound. A true virtuoso, he also was intellectually curious and very much in touch with the world around him. Precise. Creative. Thorough. Enthralling. The same descriptions apply to the work Bill Madden has done here. This is the biography an icon like Seaver deserves."
— Tom Verducci, New York Times bestselling author, Fox & MLB Network analyst

"I've known Bill Madden since my playing days in New York. Never was there a more straightforward writer on the New York beat. He brings all his knowledge and experience to the fore in this terrific book. Add in his special relationship with Tom Seaver and you have a must-read about one of the game's most intelligent and greatest players to ever put on a uniform. Bravo Bill!"
— Keith Hernandez

"For 2 years with the White Sox Tom fulfilled our very high expectations every time he pitched. What we learned about Tom went way beyond giving us a great chance to win. He is the smartest teammate we ever had and knew winning in all phases of the game! In our family culture, Tom quickly became one of our leaders with a personality that bonded with teammates on and off the field. This book by Bill Madden, who had a close personal relationship with him, captures all of that."
— Tony LaRussa

"Bill Madden was the only person who could write this book of our dear friend Tom Terrific. Tom Seaver was Terrific. A Man's Man. Brilliant, funny. the best competitor I ever knew and my friend."

— Johnny Bench
Simon & Schuster, 9781982136185, 304pp.
Publication Date: November 24, 2020
About the Author
For more than forty years Bill Madden has covered the Yankees and Major League Baseball as the national baseball columnist for the New York Daily News. He is the author of several books, including the New York Times bestseller Steinbrenner, and has collaborated on memoirs by Lou Piniella and Don Zimmer. Madden was the 2010 recipient of the Baseball Hall of Fame's J.G. Taylor Spink Award and is a member of the Writers Wing of the Baseball Hall of Fame. He lives in Florida.
or
Not Currently Available for Direct Purchase