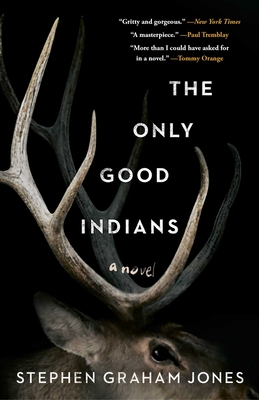 The Only Good Indians (Hardcover)
Gallery / Saga Press, 9781982136451, 320pp.
Publication Date: July 14, 2020
Other Editions of This Title:
Compact Disc (7/14/2020)
* Individual store prices may vary.
July 2020 Indie Next List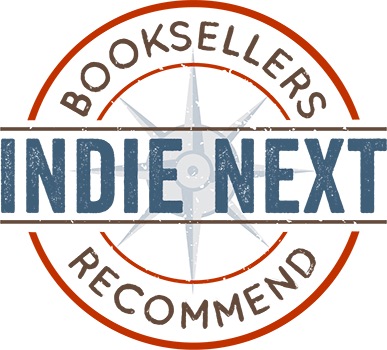 "I loved this book. Jones has a unique narrative voice, allowing 'the entity' to step in and take over unexpectedly, amping up the horror. Also, each character has a distinct voice that brings them to life. Jones combines the culture and traditions of the Blackfeet and Crow people with the social truths of their contemporary life. It is refreshingly different from any other horror novel I've read. This book is gruesome and honestly scary. I couldn't put it down."
— Kristine Jelstrom-Hamill, Buttonwood Books and Toys, Cohasset, MA
View the List
Description
"One of 2020's buzziest horror novels." —Entertainment Weekly

"More than I could have asked for in a novel."—Tommy Orange, Pulitzer Prize finalist author of There There

"What Stephen Graham Jones does for me, is create new possibilities for Indigenous storymakers." —Terese Marie Mailhot, New York Times bestselling author

"A masterpiece. " —Paul Tremblay, author of A Head Full of Ghosts and The Cabin at the End of the World

A tale of revenge, cultural identity, and the cost of breaking from tradition in this latest novel from the Jordan Peele of horror literature, Stephen Graham Jones.

Seamlessly blending classic horror and a dramatic narrative with sharp social commentary, The Only Good Indians follows four American Indian men after a disturbing event from their youth puts them in a desperate struggle for their lives. Tracked by an entity bent on revenge, these childhood friends are helpless as the culture and traditions they left behind catch up to them in a violent, vengeful way.
About the Author
Stephen Graham Jones has been an NEA fellowship recipient, has won the Jesse Jones Award for Best Work of Fiction from the Texas Institute of Letters, the Independent Publishers Award for Multicultural Fiction, a Bram Stoker Award, four This is Horror Awards; and has been a finalist for the Shirley Jackson Award and the World Fantasy Award. He is the Ivena Baldwin Professor of English at the University of Colorado Boulder.
Praise For The Only Good Indians…
"Jones boldly and bravely incorporates both the difficult and the beautiful parts of contemporary Indian life into his story, never once falling into stereotypes or easy answers but also not shying away from the horrors caused by cycles of violence."—Rebecca Roanhorse, bestselling author of Trail of Lightning and Black Sun

"Stephen Graham Jones is a literary master who happens to write horror, and you've never read a book quite like The Only Good Indians."—Tananarive Due, National Book Award winner, author of The Good House

"Stephen Graham Jones is one of our greatest treasures. His prose here pops and sings, hard-boiled poetry conspiring with heartbreakingly-alive characters." —Sam J. Miller, Nebula-Award-Winning author of Blackfish City

"The Only Good Indians is the most American horror novel I've ever read."—Grady Hendrix, New York Times bestselling author of The Southern Book Club's Guide to Slaying Vampires

"The Only Good Indian is equal parts revenge thriller, monster movie, and meditation on the inescapable undertow of the past. A gripping, deeply unsettling novel."—Carmen Maria Machado, National Book Award finalist and Guggenheim Fellow and author of Her Body and Other Parties

"Fans of Stephen King's It and Peter Straub's Ghost Story should find plenty to love in this tale of friends who are haunted by a supernatural entity they first encountered in their youth." —Silvia Moreno-Garcia, bestselling author of Mexican Gothic

"The Only Good Indians is scary good. Stephen Graham Jones is one of our most talented and prolific living writers. The book is full of humor and bone chilling images. It's got love and revenge, blood and basketball. More than I could have asked for in a novel. It also both reveals and subverts ideas about contemporary Native life and identity. Novels can do some much to render actual and possible lives lived. Stephen Graham Jones truly knows how to do this, and how to move us through a story at breakneck (literally) speed. I'll never see an elk or hunting, or what a horror novel can do the same way again."—Tommy Orange, Pulitzer Prize finalist of There There

"I like stories where nobody escapes their pasts because it's what I fear most."—Terese Marie Mailhot, New York Times bestselling author of Heart Berries

"THE ONLY GOOD INDIANS is a masterpiece. Intimate, devastating, brutal, terrifying, yet warm and heartbreaking in the best way, Stephen Graham Jones has written a horror novel about injustice and, ultimately, about hope. Not a false, sentimental hope, but the real one, the one that some of us survive and keeps the rest of us going. And it gives me hope that this book exists and is now in your hands."—Paul Tremblay, author of A Head Full of Ghosts and The Cabin at the End of the World

"The best yet from one of the best in the business. An emotional depth that staggers, built on guilt, identity, one's place in the world, what's right and what's wrong. The Only Good Indians has it all: style, elevation, reality, the unreal, revenge, warmth, freezing cold, and even some slashing. In other words, the book is made up of everything Stephen Graham Jones seemingly explores and, in turn, everything the rest of us want to explore with him." —Josh Malerman, New York Times bestselling author of Bird Box and A House at the Bottom of a Lake.

"How long must we pay for our mistakes, for our sins? Does a thoughtless act doom us for eternity? This is a novel of profound insight and horror, rich with humor and intelligence. The Only Good Indians is a triumph; somehow it's a great story and also a meditation on stories. I've wondered who would write a worthy heir to Peter Straub's Ghost Story. Now I know the answer: Stephen Graham Jones."—Victor LaValle, author of The Ballad of Black Tom and The Changeling

"Gritty and gorgeous" —The New York Times

"A heartbreakingly beautiful story about hope and survival, grappling with themes of cultural identity, family, and traditions." —Library Journal, STARRED REVIEW

"This novel works both as a terrifying chiller and as biting commentary on the existential crisis of indigenous peoples adapting to a culture that is bent on eradicating theirs." —Publishers Weekly, STARRED REVIEW

"Subtly funny and wry at turns, this novel will give you nightmares. The good kind, of course."—Buzzfeed

"Jones hits his stride with a smart story of social commentary—it's scary good."—Kirkus Reviews, STARRED REVIEW

"Jones... has written a masterpiece. The book is… as instinctive and essential as it is harsh. Despite the blood and bleakness, The Only Good Indians is ultimately also about hope and the promise of the future...Read it."
— Locus Magazine