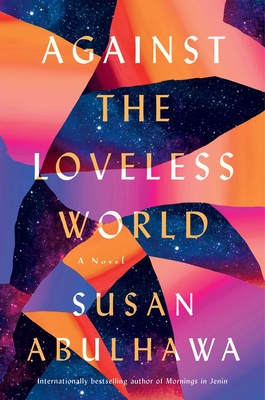 Against the Loveless World
A Novel
Hardcover

* Individual store prices may vary.
Other Editions of This Title:
Digital Audiobook (8/24/2020)
Paperback (11/2/2021)
Library Binding, Large Print (1/1/2021)
Compact Disc (8/25/2020)
Description
2020 Palestine Book Awards Winner
2021 Aspen Words Literary Prize Finalist

"Susan Abulhawa possesses the heart of a warrior; she looks into the darkest crevices of lives, conflicts, horrendous injustices, and dares to shine light that can illuminate hidden worlds for us." —Alice Walker, Pulitzer Prize–winning author

In this "beautiful...urgent" novel (The New York Times), Nahr, a young Palestinian woman, fights for a better life for her family as she travels as a refugee throughout the Middle East.

As Nahr sits, locked away in solitary confinement, she spends her days reflecting on the dramatic events that landed her in prison in a country she barely knows. Born in Kuwait in the 70s to Palestinian refugees, she dreamed of falling in love with the perfect man, raising children, and possibly opening her own beauty salon. Instead, the man she thinks she loves jilts her after a brief marriage, her family teeters on the brink of poverty, she's forced to prostitute herself, and the US invasion of Iraq makes her a refugee, as her parents had been. After trekking through another temporary home in Jordan, she lands in Palestine, where she finally makes a home, falls in love, and her destiny unfolds under Israeli occupation. Nahr's subversive humor and moral ambiguity will resonate with fans of My Sister, The Serial Killer, and her dark, contemporary struggle places her as the perfect sister to Carmen Maria Machado's Her Body and Other Parties.

Written with Susan Abulhawa's distinctive "richly detailed, beautiful, and resonant" (Publishers Weekly) prose, this powerful novel presents a searing, darkly funny, and wholly unique portrait of a Palestinian woman who refuses to be a victim.
Praise For Against the Loveless World: A Novel…
"This utterly compelling novel of love, passion, and politics is also a story of personal and revolutionary awakening. Susan Abulhawa weaves a thrilling account of Nahr and her life—from young girl to independent woman—into the larger tapestry of Palestinian dispossession and resistance. Formed through the calamitous experiences of invasion, war, occupation, and sexual exploitation, Nahr becomes a political prisoner who is yet free in her own mind. An agent of history and a full-fledged subject of her own existence, Nahr stands at the center of Abulhawa's ambitious epic."
— Viet Thanh Nguyen, Pulitzer Prize–winning author of The Sympathizer

"Susan Abulhawa possesses the heart of a warrior; she looks into the darkest crevices of lives, conflicts, horrendous injustices, and dares to shine light that can illuminate hidden worlds for us, who are too often oblivious. A major writer of our time, to read Abulhawa is to begin to understand not simply the misinformation we have received for decades about what has gone on in Palestine and the Middle East, but to come to terms with our own resistance to feeling the terror of our own fear of Truth."
— Alice Walker, Pulitzer Prize–winning author of Taking the Arrow Out of the Heart

"A thrilling, defiant novel. Abulhawa's latest novel reads as a riot act against oppression, misogyny, and shame."
— Fatima Bhutto, author of The Runaways

"Against the Loveless World is a masterpiece! As she does with every book, Susan Abulhawa paints stunningly beautiful and humanizing images of Palestinian women as they navigate the violence of settler-colonial oppression with dignity and agency. With this novel, she also forces us to wrestle with the complexities of love, freedom, struggle, and shame in ways that both inspire and challenge our very conceptions of what it means to be human. This is a major literary contribution that further cements Abulhawa's status as one of the most important writers of our generation."
— Marc Lamont Hill, award-winning author of Nobody

"A powerful and expansive story of love, resistance, and the search for freedom. Abulhawa's characters are raw, unapologetic, and unforgettable."
— Saleem Haddad, author of Guapa

"Nahr is a wonderful creation, strong-willed, passionate, unapologetic, and adventurous. Her refusal to accept the subordination expected of her propels the story at a thrilling pace. Her determination to find love in a loveless world and her unquenchable spirit in adversity shines a ray of hope into some very dark places."
— Michael Palin, actor and philanthropist

"A fearless work of imagination and documentary."
— Ahdaf Soueif, author of In the Eye of the Sun

"[A]t its heart, Abulhawa's novel is a love story . . . but this is a love story that cannot escape its geography, and Abulhawa elegantly crafts a world where the tension between desire and survival is laid bare."
— New Yorker

"The detailed explorations of a woman's pain and desperate measures make this lush story stand out."
— Publishers Weekly

"Through Nahr, Abulhawa seamlessly, affectingly parallels Palestine's brutal, occupied history during the last half-century, humanizing headlines with names, families, dates, memories that belong to people with whom readers can identity, believe, empathize, mourn and ultimately, albeit tentatively, celebrate."
— Shelf Awareness

"In this moving and nuanced novel, Abulhawa takes a hard look at the inheritance of exile and the intersection of the political with the personal, as Nahr's story reveals the complexity beneath the simple narratives told on both sides of a deep divide."
— Booklist

"From the U.S. invasion of Iraq, which made her a refugee, to jilted love, poverty, prostitution, a trek through Jordan, and falling in love, Nahr's life unfolds in twists and turns, told beautifully by the internationally bestselling author of Mornings in Jenin."
— GMA.com

"This is one masterfully written story you won't be able to put down."
— CNN.com

"Palestinian-American writer and political activist Susan Abulhawa has given us another powerful novel, this one of a woman's fight against misogyny and oppression to find hope and meaning in the darkest of times."
— Ms. Magazine

"Against the Loveless World gives readers a lens that focuses on the experience of a woman trying to assimilate into Palestinian culture as she moves forward to find a better life, the one she always dreamed of."
— Apartment Therapy
Atria Books, 9781982137038, 384pp.
Publication Date: August 25, 2020
About the Author
Susan Abulhawa is a Palestinian-American writer and political activist. She is the author of Mornings in Jenin—translated into thirty languages—and The Blue Between Sky and Water. Born to refugees of the Six Day War of 1967, she moved to the United States as a teenager, graduated in biomedical science, and established a career in medical science. In July 2001, Abulhawa founded Playgrounds for Palestine, a non-governmental children's organization dedicated to upholding the Right to Play for Palestinian children. She lives in Pennsylvania.
or
Not Currently Available for Direct Purchase