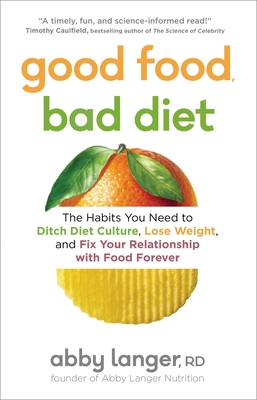 Good Food, Bad Diet
The Habits You Need to Ditch Diet Culture, Lose Weight, and Fix Your Relationship with Food Forever
Paperback

* Individual store prices may vary.
Other Editions of This Title:
Compact Disc (4/6/2021)
MP3 CD (4/6/2021)
Description
In this science-based book, registered dietitian Abby Langer tackles head-on the negative effects of diet culture and offers advice to help you enjoy food and lose weight without guilt or shame.

There are so many diets out there, but what if you want to eat well and lose weight without dieting, counting, or restricting? What if you want to love your body, not punish it? Registered dietitian Abby Langer is here to help.

In her first-ever book, Abby takes on our obsession with being thin and the diets that are sucking the life, sometimes literally, out of us. For the past twenty years, she has worked with clients from all walks of life to free them from restrictive diets and help them heal their relationship with food. Because all food is good for us—yes, even carbs and fats. All diets are bad.

Diets are like Band-Aids for what's really bothering us: Although we might lose weight, they prey on our insecurities, rob us of time and money, and often leave us with the same negative views of food and our bodies that we've always had. When the weight comes back, we still haven't solved the real issues behind our eating habits—our "why."

This book is different. Chapter by chapter, Abby helps readers uncover the "why" behind their desire to lose weight and their relationship with food, and make lasting, meaningful change to the way they see food, nutrition, themselves, and the world around them. In this book, you'll learn how guilt and shame affect your food choices, how fullness and satisfaction aren't the same feeling, why it's important to quiet your "diet voice" and enjoy food, and what the best way to eat is according to science.

Empowering, inclusive, smart, and a must-have, Good Food, Bad Diet will give you the tools to reject diets, repair your relationship with food, and lose weight so you can move on with your life.
Praise For Good Food, Bad Diet: The Habits You Need to Ditch Diet Culture, Lose Weight, and Fix Your Relationship with Food Forever…
"If diet culture has you so confused that you're not even sure what healthy eating looks like anymore, this is the book for you. Good Food, Bad Diet is a total re-education in nutrition, one that will help you sort fact from internet fiction. Abby calls BS where she sees it and will guide you compassionately towards a healthier, happier you."
— DESIREE NIELSEN, bestselling author of Eat More Plants

"Langer's new book has a simple, but much needed, message: ditch the diet culture. Hear, hear! This highly readable book maps a hype-free path to a realistic, sustainable, and healthy relationship with food and eating. Along the way—with clarity and humor—Langer takes on celebrity culture, the diet and wellness industries, and our society's wayward obsession with youth and thinness. A timely, fun, and science-informed read!"
— TIMOTHY CAULFIELD, bestselling author of The Science of Celebrity

"Abby's no-nonsense approach to eating is a breath of fresh air in the sea of diet books. If you've had enough of diet culture and categorization of food as 'good' or 'bad,' give this book a read. It will open your eyes to a realistic and doable approach to eating, while helping you accept your body and enjoy the food you consume to nourish it."
— TOBY AMIDOR, MS, RD, CDN, FAND, award-winning nutrition expert and Wall Street Journal bestselling author of The Healthy Meal Prep Cookbook and The Best 3-Ingredient Cookbook

"In a world overflowing with nutritional nonsense, Abby Langer is the rare expert bringing light to dietary darkness. Good Food, Bad Diet is exceptional."
— JAMES FELL, author of The Holy Sh!t Moment

"In the wellness world of extremes, Abby offers a much needed middle ground for those looking to improve their health without the physical and psychological risks of restrictive diets. Good Food, Bad Diet is evidence based, witty, and packed with accessible tips for anyone looking to live their healthiest, happiest life."
— ABBEY SHARP, RD, founder of Abbey's Kitchen
Simon & Schuster, 9781982137502, 256pp.
Publication Date: January 5, 2021
About the Author
Abby Langer is a registered dietitian and owner of Abby Langer Nutrition. Her career has spanned over twenty years in various settings, from hospitals to private practice. She has made it her mission to debunk fad diets and nutrition myths and promote how to live your best life without dieting both in her practice and in her writing. She has written for SELF, Men's Health, and Women's Health, and has been featured as an expert in The New York Times, The Cut, and CBC Radio. She lives with her husband and two daughters in midtown Toronto. Visit her website AbbyLangerNutrition.com or connect with her on Twitter or Instagram: @LangerNutrition.