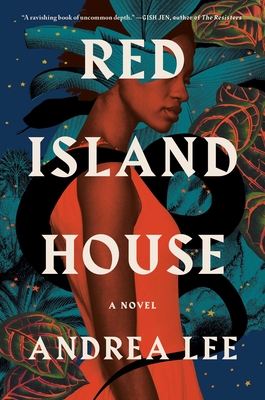 Red Island House
A Novel
Hardcover

* Individual store prices may vary.
Other Editions of This Title:
Compact Disc (3/23/2021)
Description
From National Book Award–nominated writer Andrea Lee comes a gorgeously evocative epic about love, clashing cultures, and identity, set in the tropical African island nation of Madagascar.

"People do mysterious things when they think they've found paradise," reflects Shay, the heroine of Red Island House. When Shay, a Black American professor who's always had an adventurous streak, marries Senna, an Italian businessman, she doesn't imagine that her life's greatest adventure will carry her far beyond their home in Milan to an idyllic stretch of beach in Madagascar, where Senna builds a flamboyant vacation villa. Before she knows it, Shay has become the somewhat reluctant mistress of a sprawling household, caught between her privileged American upbringing and her connection to the continent of her ancestors.

At first, she's content to be an observer of the passionate affairs and fierce rivalries around her, but over twenty tumultuous years of marriage, as she and Senna raise children and establish their own rituals at the house, Shay finds herself drawn ever deeper into a place where a blend of magic, sexual intrigue, and transgression forms a modern-day parable of colonial conquest. Soon the collision of cultures comes right to Shay's door, forcing her to make a life-altering decision that will change her and Senna's lives forever.

A captivating, powerful, and profoundly moving novel about marriage and loyalty, identity and freedom, Red Island House showcases an extraordinary literary voice and an extravagantly lush, enchanted world.
Praise For Red Island House: A Novel…
"A mesmerizing novel... The lush natural habitat and privileged ex-pat existence contrast starkly with the island's poverty and traditions, and Lee makes magic of this to deliver a singularly intriguing and mysterious saga that casts an enduring spell."
—O Magazine, Most Anticipated Books of 2021

"Gorgeous writing, fascinating stories, and a vibrant cast of locals and expats dance around this basic theme ... An utterly captivating, richly detailed, and highly critical vision of how the one percent lives in neocolonial paradise."
—Kirkus, starred review

"Seductive... the writing is vivid... the overall impact is quietly powerful."
—Publishers Weekly

"Andrea Lee's new novel — about a Black American woman caught between her privilege and her identity — is daring, riveting and deep. The lavish vacation home she and her husband build on an impoverished African island is a collision course, and like this novel, will make you question everything you thought you understood — about allegiance and race, politics and desire."
—Danzy Senna, author of New People

"Andrea Lee's latest novel is a work of supreme knowingness, and keen observation. As one of the more articulate voices we have on the exigencies of race, place, and gender, Lee has rendered, in this superbly constructed and felt book, that rare thing: a work of the imagination as shattering as the truth."
—Hilton Als, author of The Women and White Girls

"'In Madagascar, everything speaks' . . . if you can hear it. And hear it all does Andrea Lee's exquisitely sentient protagonist. At first dimly, but then with an ever more discerning ear, Shay attunes herself and the reader to subtlety after subtlety, until the island has yielded extraordinary truths, not only about itself, its people, and its visitors, but about the undertow of plunder. This is a ravishing book ofuncommon depth; I loved it."
—Gish Jen, author of The Resisters

"Lee's Red Island House is a seductive, haunted dreamscape where ancestors stir trouble across four centuries and three continents. From the moment Shay Senna arrives at this seaside Madagascar paradise, she senses danger. Betrayal comes but so does reconciliation and a healing sisterhood, as Lee lures us into a realm where boundaries between the real and the surreal disappear."
—A'Lelia Bundles, author of Self Made: Inspired by the Life of Madam C. J. Walker

"This magical novel—a collection of reflections and vignettes—is as lush, dense and vivid as the Madagascar it describes. Pairing rich detail with reflective restraint, Lee has created something truly beautiful: At once an exploration of an enchanted island and a meditation on modern womanhood."
—Taiye Selasi, author of Ghana Must Go

"At once charming and deeply serious, this eloquent, elegant, beautifully written novel takes on the full range of human experience: love and disappointment, hope and betrayal, race, class, colonialism, moral obligation, the high cost of being an outsider--and the equally high price of belonging."
—Francine Prose, author of Mister Monkey

"I know of no other writer who creates the kinds of worlds Andrea Lee imagines—the exquisite prose, the otherworldly landscapes, the fascinating people. Red Island House transported me. It may have looked like I was sitting on my couch reading a book, but I'm telling you I traveled to Madagascar."
—Dolen Perkins-Valdez, author of Wench and Balm
Scribner, 9781982137809, 288pp.
Publication Date: March 23, 2021
About the Author
Andrea Lee is the author of four books, including the National Book Award–nominated memoir Russian Journal, the novels Lost Hearts in Italy and Sarah Phillips, and the story collection Interesting Women. A former staff writer for The New Yorker, she has written for The New York Times Magazine, Vogue, W, and The New York Times Book Review. Born in Philadelphia, she received her bachelor's and master's degrees from Harvard University and now lives in Italy. The highly anticipated Red Island House will be her first novel to be published in fifteen years.