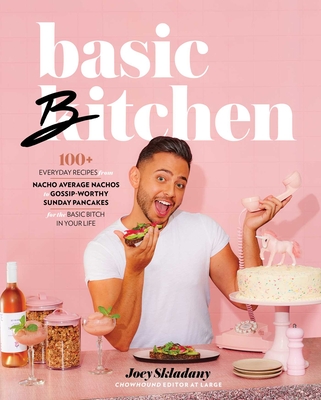 Basic Bitchen (Hardcover)
100+ Everyday Recipes—from Nacho Average Nachos to Gossip-Worthy Sunday Pancakes—for the Basic Bitch in Your Life
Tiller Press, 9781982138387, 224pp.
Publication Date: May 5, 2020
* Individual store prices may vary.
Description
Pour a glass of rosé and embrace your inner basic bitch with these 100+ everyday recipes, complete with tips and tricks for cooking "basic" meals you know you shamelessly love.

In a world where everyone seeks to be special and pride themselves on their differences, there is one common bond that unites us all—basicness. And while some rock the Ugg boots and drink pumpkin spice lattes more than others, we can all still appreciate the simple pleasures that mimosas, avocado toast, and acai bowls bring. And that's okay!

Basic Bitchen celebrates and embraces the basic bitch lifestyle through food, offering step-by-step recipes for the most fundamental (and delicious) of all dishes. Recipes include:
-Basic Bitch Lifeblood, a.k.a. the Pumpkin Spice Latte
-Mom's Definitely-Not-Sicilian Sicilian Caesar Salad
-"I Could Eat This, Like, Every Day" Sushi Rolls
-A Deeply Personal Cauliflower Pizza
-Way Too Easy (If You Know What I Mean) One-Sheet Pan Dinners
-Antidepressant Red Velvet Cake Pops

In addition to these easy, flavorful crowd-pleasing recipes, Chowhound editor Joey Skladany provides tips and tricks, such as how to build a pantry and cooking tools that every chef needs so you can take your cooking skills beyond the microwave and make meals all of your friends will enjoy.
About the Author
Joey Skladany is a NYC-based writer/editor, TV/radio personality, and editor-at-large for Chowhound. His work has been featured in outlets like Food & Wine, People, InStyle, Travel + Leisure, and BuzzFeed. Prior to a career in editorial, he served as the lead publicist for hit TLC shows like Here Comes Honey Boo Boo, My Strange Addiction, and My Crazy Obsession. In his spare time, he enjoys volleyball, traveling, worshipping Beyoncé, writing depressing poetry, interior design, and perfecting his stand-up comedy routine. He's also been struck by lightning—quite the shocking experience.