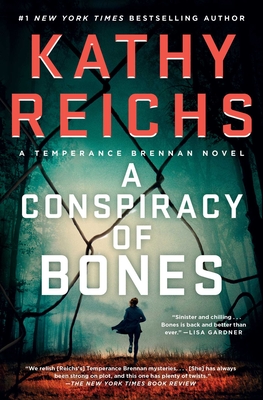 A Conspiracy of Bones (A Temperance Brennan Novel #19) (Paperback)
Scribner, 9781982138899, 352pp.
Publication Date: February 2, 2021
Other Editions of This Title:
Digital Audiobook (3/16/2020)
Hardcover (3/17/2020)
CD-Audio (3/17/2020)
Library Binding, Large Print (4/15/2020)
* Individual store prices may vary.
Description
#1 New York Times bestselling author Kathy Reichs "roars back with a Temperance Brennan mystery unlike any that have come before" (Booklist, starred review) in which the forensic anthropologist must use all her skills to discover the identity of a faceless corpse and its connection to a decade-old missing child case.

It's sweltering in Charlotte, North Carolina, and Temperance Brennan, still recovering from neurosurgery following an aneurysm, is battling nightmares, migraines, and what she thinks might be hallucinations when she receives a series of mysterious text messages, each containing a new picture of a corpse that is missing its face and hands. Immediately, she's anxious to know who the dead man is, and why the images were sent to her.

An identified corpse soon turns up, only partly answering her questions.

To win answers to the others, including the man's identity, she must go rogue, working mostly outside the system. That's because Tempe's new boss holds a fierce grudge against her and is determined to keep her out of the case. Tempe pushes forward anyway, even as she begins questioning her instincts. But the clues she discovers are disturbing and confusing. Was the faceless man a spy? A trafficker? A target for assassination by the government? And why was he carrying the name of a child missing for almost a decade?

With help from a number of law enforcement associates including her Montreal beau Andrew Ryan and the always-ready-with-a-quip, ex-homicide investigator Skinny Slidell, and utilizing new cutting-edge forensic methods, Tempe draws closer to the astonishing truth.

But the more she uncovers, the darker and more twisted the picture becomes...

"Edgy…eerie…irresistible" (Sandra Brown), A Conspiracy of Bones "was created by a master of the genre who knocks it out of the park" (David Baldacci).
About the Author
Kathy Reichs's first novel Déjà Dead was a #1 New York Times bestseller and won the 1997 Ellis Award for Best First Novel. The Bone Code is Kathy's twentieth entry in her series featuring forensic anthropologist Temperance Brennan. Kathy was also a producer of the hit Fox TV series, Bones, which is based on her work and her novels. She is one of very few forensic anthropologists certified by the American Board of Forensic Anthropology. She served on the Board of Directors and as Vice President of both the American Academy of Forensic Sciences and the American Board of Forensic Anthropology, and as a member of the National Police Services Advisory Council in Canada. She divides her time between Charlotte, North Carolina, and Montreal, Québec. Visit Kathy at KathyReichs.com.
Praise For A Conspiracy of Bones (A Temperance Brennan Novel #19)…
Praise for A Conspiracy of Bones and Kathy Reichs:

"We relish [Reich's] Temperance Brennan mysteries… [she] has always been strong on plot, and this one has plenty of twists."
—New York Times Book Review

"Reichs roars back with a Temperance Brennan mystery unlike any that have come before it….One of the book's central themes is Brennan's lack of confidence in her own mind: could she be imagining connections between unrelated facts? The novel shows us a more vulnerable side of Brennan, and Reichs' writing style is subtly different, too, as though she were trying to make us feel ever so slightly off-kilter. A complete success." —Booklist (Starred Review)

"Kathy Reichs pits the indomitable Temperance Brennan against straight-from-today's-headlines terror to create a story that launches at maximum velocity and never lets up. Edgy. Eerie. Irresistible. Don't miss this one." —Sandra Brown, bestselling author of Outfox, Tailspin, and Seeing Red

"This is Kathy Reichs as you've never read her before. The story starts like a pistol shot and fires nonstop through over three hundred layered pages. The twists are meticulously planned and thrown like bamboozling curves on the edge of the plate. But you will see new layers to the brilliant Tempe Brennan that may surprise you. Read this book. It was created by a master of the genre who knocks it out of the park." —David Baldacci, bestselling author of One Good Deed and Redemption

"Nobody writes a more imaginative thriller than Kathy Reichs or crafts a better sentence. Her latest forensic investigation, A Conspiracy of Bones, rivets with its non-stop pursuit of some of the vilest villains ever." —Clive Cussler, bestselling author of Night Probe and Sahara

"Sinister and chilling. In Tempe Brennan's riveting return to the investigative trail, she suddenly finds herself caught in a tangled web. Who can she trust? Maybe not even herself. Bones is back and better than ever." —Lisa Gardner, bestselling author of Never Tell, Look for Me, and Right Behind You

"It's a pleasure to see Temperance returning to what she does best, peeling back the layers and using her forensic brilliance to expose a shocking cover-up… A Conspiracy of Bones offers page-turning proof that Kathy Reichs won't be giving up her forensic-anthropologist-in-distress throne anytime soon." —David Morrell, bestselling author of Murder As a Fine Art

"Tempe Brennan is back, dealing with health issues, career setbacks, and the nagging—and driving—fear of inadequacy that is the flipside of her talent. Reichs's fast-paced, tightly-constructed, and very contemporary story dives underground here, both literally and virtually, as she follows the thinnest of threads deeper and deeper into a shocking conspiracy. You will find it hard to put down." —Mark Bowden, #1 New York Times bestselling author of The Last Stone and Black Hawk Down

"No face, no hands, and a ton of breathtaking questions. I dare you to figure out all the red herrings. So utterly good! This is Kathy Reichs doing what she does best: sorting through the bones until the shocking end." —Brad Meltzer, #1 New York Times bestselling author of The Escape Artist

"A Conspiracy of Bones shows off Kathy Reichs' dazzling new level of plotting mastery. A thrilling read from one of my favorite writers." —Karin Slaughter, #1 internationally bestselling author of The Lost Widow, Pieces of Her, and Cop Town

"One of the absolute best thrillers of the year! Both Temperance Brennan and Kathy Reichs are at the top of their games in this brilliant rollercoaster of a tale. I can't recall when this many twists have been so masterfully woven into a novel. But, of course, it's not all about plot. The characters, too—good, bad and in between—come breathtakingly alive with heart-gripping effect. A great series has just gotten greater." —Jeffery Deaver, #1 internationally bestseller author of The Bone Collector and The Never Game

"Don't miss this one! The corpse is ghastly. The investigation is intense. So many pulse-pounding twists and surprises—it kept me guessing till the end!" —R.L. Stine, bestselling author of Goosebumps and Fear Street