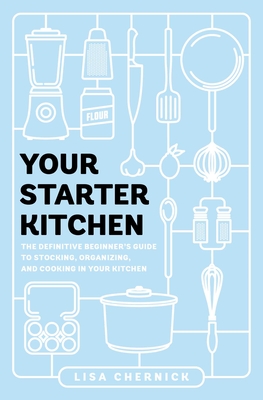 Your Starter Kitchen
The Definitive Beginner's Guide to Stocking, Organizing, and Cooking in Your Kitchen
Paperback

* Individual store prices may vary.
Description
A practical and essential guide to organizing and setting up a kitchen of any size—from gear and pantry essentials to easy cooking techniques and recipes.

Do you want to become proficient in the kitchen but have no idea where to start? Are you overwhelmed by the amount of options for utensils and gear? Your Starter Kitchen is a highly practical, introductory guide for beginners that shows how to equip, stock, and cook in your kitchen—without breaking the bank.

Learn how to:
-Use all the essential utensils everyone should have in their kitchen
-Determine which gadgets and high-end items you should splurge on—and which ones you shouldn't
-Effectively split the cost of kitchen necessities when living with roommates
-Buy budget-friendly and healthy ingredients that have a long shelf life for the pantry
-Get creative with your kitchen storage and organization if you have limited space
-Host a food-centered gathering without breaking a sweat
-And so much more!

So, whether you have a college dorm kitchen, small house, or are moving into your forever home and want to pick up any cookbook with confidence, Your Starter Kitchen is the perfect book for you.
Praise For Your Starter Kitchen: The Definitive Beginner's Guide to Stocking, Organizing, and Cooking in Your Kitchen…
"Lisa Chernick has written a timeless, user-friendly guide to the ins and outs of setting up a kitchen and starting to cook in it. Your Starter Kitchen gives beginners the gear, pantry staples, and cooking techniques they need to make first kitchens feel like home. Then it tells how to turn bigger kitchens into the warm heart of a home. Fifteen simple, foolproof recipes bring all the guidance and ideas to life. Your Starter Kitchen should be on every 'must-have' list for new grads, college kids, and anyone in a new home—and included in wedding registries and shower gifts!"
—Grace Young, author of Stir-Frying to the Sky's Edge

"Finally someone has filled in the huge gap in most beginner cookbooks. Basic recipes are essential, of course, but a lot remains mysterious. Which pans should you use, and which knives? Which spices should you have on hand? Lisa Chernick has come to the rescue. Not only does she lay out the basic equipment and pantry ingredients, she also spells out how to upgrade your first apartment…and your second one, too. And right along she provides her unique and easy versions of essential recipes. Thank you, Lisa!"
—Sara Moulton, author of Sara Moulton's Home Cooking 101: How to Make Everything Taste Better

"Your Starter Kitchen is an essential primer on 'adulting.' Anyone who wants to take a step away from DoorDash and actually make the enticing food photos on Instagram absolutely needs this book. It's an accessible guide on how-to equip and stock a new kitchen and includes a tight package of basic recipes to cook in it. Whether you are an absolute novice or a more seasoned cook, this book will help you stock, stack, and store what you need in your kitchen to sit down and sup."
—Virginia Willis, James Beard Award-Winning Cookbook Author and Chef

"A user-friendly guide to setting up a beginner kitchen and how to intelligently expand on existing kitchen formats…. The book's publication months into a global shift in our foodways has made Your Starter Kitchen exceedingly relevant. Home cooks everywhere have had to confront the challenges presented by the pandemic—food acquisition, meal planning, cooking and baking without ready access to ingredients and tools. And along the way come to a new understanding of the deficiencies and perhaps overabundance of the kitchen. This is where Chernick's book makes its mark."
—Houston Chronicle
Tiller Press, 9781982139025, 208pp.
Publication Date: August 4, 2020
About the Author
Lisa Chernick is a native of Buffalo, New York, who fell for food and cooking while living in Italy. She studied at universities in both Rome and Siena, graduated from Boston University, and attended culinary school at NYC's Institute of Culinary Education. Lisa has been a food writer and editor for more than twenty years; from Food Arts magazine, to the early days of Epicurious, and most recently at Weight Watchers's website, magazine, and cookbooks. She has been a James Beard Book Awards judge for the past twelve years and a James Beard Award nominee herself for digital writing and editing. An avid home cook, Lisa shares her Hoboken, New Jersey, home with her husband, two fabulous teenage daughters, and an exceptional mini poodle.
or
Not Currently Available for Direct Purchase