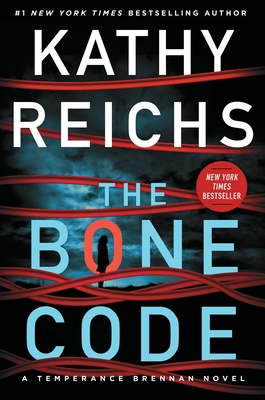 The Bone Code
A Temperance Brennan Novel
Hardcover

* Individual store prices may vary.
Other Editions of This Title:
CD-Audio (7/6/2021)
Library Binding, Large Print (8/25/2021)
Description
#1 New York Times bestselling author Kathy Reichs returns with her twentieth gripping novel featuring forensic anthropologist Temperance Brennan, whose examinations, fifteen years apart, of unidentified bodies ignite a terrifying series of events.

On the way to hurricane-ravaged Isle of Palms, a barrier island off the South Carolina coast, Tempe receives a call from the Charleston coroner. The storm has tossed ashore a medical waste container. Inside are two decomposed bodies wrapped in plastic sheeting and bound with electrical wire. Tempe recognizes many of the details as identical to those of an unsolved case she handled in Quebec years earlier. With a growing sense of foreboding, she travels to Montreal to gather evidence.

Meanwhile, health authorities in South Carolina become increasingly alarmed as a human flesh-eating contagion spreads. So focused is Tempe on identifying the container victims that, initially, she doesn't register how their murders and the pestilence may be related. But she does recognize one unsettling fact. Someone is protecting a dark secret—and willing to do anything to keep it hidden.

An absorbing look at the sinister uses to which genetics can be put, and featuring a cascade of ever-more-shocking revelations, The Bone Code is Temperance Brennan's most astonishing case yet—one that gives new meaning to today's headlines.
Praise For The Bone Code: A Temperance Brennan Novel…
"I await the next Kathy Reichs thriller with the same anticipation I have for the new Lee Child or Patricia Cornwell. The Bone Code over-achieves. Temperance Brennan uses all her skills as a forensic anthropologist to solve a murder mystery story that races across America at the speed of fright."
—James Patterson

"The Bone Code is a brilliant entry in a ground-breaking series and does Temperance Brennan proud. The story has all the elements we've come to expect—it's smart, gripping, and builds to a heart-stopping crescendo. More than twenty years ago, these wonderful novels began paving the way for other writers, especially Canadians like me, to be noticed. I owe Kathy and Tempe a debt of gratitude, not just for helping to make my own writing life possible but for hours of white-knuckle reading."
—Louise Penny, #1 New York Times bestselling author of All the Devils Are Here

"Kathy Reichs is expert at making science both scary and thrilling, and she's in top form in The Bone Code. The story moves at such a relentless pace I couldn't stop turning the pages!"
—Tess Gerritsen, New York Times bestselling author of Choose Me

"Over the course of twenty books, Kathy Reichs and Tempe Brennan have thrilled readers with pacey, mazey tales grounded in real science, with plots springing from the author's prodigious knowledge and passion for truth and justice. We readers are truly grateful—and looking forward to the next twenty!"
—Ian Rankin, New York Times bestselling author of the Inspector Rebus novels
Scribner, 9781982139964, 368pp.
Publication Date: July 6, 2021
About the Author
Kathy Reichs's first novel Déjà Dead, published in 1997, won the Ellis Award for Best First Novel and was an international bestseller. The Bone Code is Kathy's twentieth entry in her series featuring forensic anthropologist Temperance Brennan. Kathy was also a producer of Fox Television's longest running scripted drama, Bones, which is based on her work and her novels. One of very few forensic anthropologists certified by the American Board of Forensic Anthropology, Kathy divides her time between Charlotte, North Carolina, and Montreal, Québec. Visit her at KathyReichs.com or follow her on Twitter @KathyReichs.