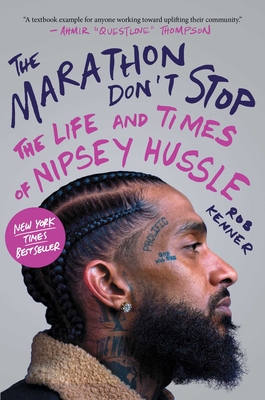 The Marathon Don't Stop
The Life and Times of Nipsey Hussle
Hardcover

* Individual store prices may vary.
Other Editions of This Title:
Digital Audiobook (3/22/2021)
Paperback (3/1/2022)
Compact Disc (3/23/2021)
Description
A NEW YORK TIMES BESTSELLER

This "beautiful tribute to a legendary artist" (Quincy Jones) is the first in-depth biography of Nipsey Hussle, the hip-hop mogul, artist, and activist whose transformative legacy inspired a generation with his motivational lyrics and visionary business savvy—before he was tragically shot down in the very neighborhood he was dedicated to building up.

For Nipsey Hussle, "The Marathon" was more than a mixtape title or the name of a clothing store; it was a way of life, a metaphor for the relentless pursuit of excellence and the willpower required to overcome adversity day after day. Hussle was determined to win the race to success on his own terms, and he wanted to see his whole community in the winner's circle with him.

A moving and powerful exploration of an extraordinary artist, The Marathon Don't Stop places Hussle in historical context and unpacks his complex legacy. Combining on-the-ground reporting and candid interviews, "Rob Kenner has given us the book the world—and hip-hop and pop culture—has been waiting for…one that should be celebrated alongside the best biographies ever about iconic figures we have loved—and lost" (Kevin Powell, author of When We Free the World).
Praise For The Marathon Don't Stop: The Life and Times of Nipsey Hussle…
"Like dead prez said, 'it's bigger than hip-hop,' and few embodied that more than Nipsey. His life must serve as a textbook example for anyone working towards uplifting their community, where the work, and not the fame, take full precedent. We need more people like Nipsey Hussle, which is what makes telling his story important."
— Ahmir "Questlove" Thompson

"Rob Kenner was part of the original editorial team who brought my vision for VIBE magazine to reality, and during his seventeen years at the magazine he always did outstanding work. The Marathon Don't Stop is a beautiful tribute to a legendary artist."
— Quincy Jones

"You may have heard of Nipsey Hussle, but you don't know the awesome story of one of the most inspiring men of his generation. Nipsey was the Tupac of his generation and this book explains why."
— Touré, author of I Would Die 4 U: Why Prince Became an Icon

"Ermias Asghedom's all-too-short life was a pure epic run—from child prodigy, teenage baller, and young G to worldly rapper, hood builder, and global superstar. Rob Kenner's thorough, definitive, and powerful telling of his story captures all of his heart, courage, and commitment. Read it and be inspired."
— Jeff Chang, author of Can't Stop Won't Stop

"The Marathon Don't Stop is chronicle of a complex love and Kenner delivers it with the clear-eyed authority that has made him one of the best culture writers of his era."
— Dr. Joan Morgan, author of When Chickenheads Come Home to Roost: A Hip-Hop Feminist Breaks It Down

"Kenner episodically reconstructs Hussle's evolutionary process, the long strides and long game he played to become a master of his own destiny in the voracious rap business, and a generous and visionary community leader in South Central Los Angeles. For those wanting an immersive, concentrated read about why Hussle's run and ting still matters, The Marathon Don't Stop provides layered chapters of incisive and insightful reveals."
— Greg Tate, author of Flyboy in the Buttermilk

"The assassination of Nipsey Husssle was, in many ways, the death of modern classical hip-hop. In death, Nipsey's star has risen to the heavens. Rob Kenner illuminates the artist's mortal side while artfully unpacking his humble beginnings and momentous victories. You see his flowers in bloom, in Technicolor, then and now. Behold."
— Sacha Jenkins, filmmaker

"With The Marathon Don't Stop: The Life and Times of Nipsey Hussle, Rob Kenner has given us the book the world—and hip-hop and pop culture—has been waiting for. It is a powerfully written and reported biography of a life gone too soon, yes. But it is also history, sociology, psychology, and a case study of what is humanly possible, even for those of us born with very little. This is one of the finest pieces of literature about a real life I've ever read, and one that should be celebrated alongside the best biographies ever about iconic figures we have loved—and lost."
— Kevin Powell, author of When We Free the World

"What made Rob one of my favorite editors and my primary longform collaborator was his insightful eye, his innate sense of story, and his ability to appreciate the importance of minutiae as they relate to a larger narrative. He brings all of those skills to the forefront with this incredible book. Not only do you walk way appreciating Nipsey's work, love for his community, and yes, hustle, but Rob also paints a sensitive portrait of Ermias the man. God rose inside of this man, and Rob captures every moment."
— Cheo Hodari Coker, author of Unbelievable: The Life, Death, and Afterlife of the Notorious B.I.G.

"An extraordinary accomplishment: a book about a rapper, a neighborhood, business and ownership, racism, immigration, friendship, family, art, and love . . . from the Pacific Ocean to the Red Sea. A masterclass in music journalism's higher calling, The Marathon Don't Stop is a book not only for Nipsey Hussle fans, but for anyone who wants to understand the brutal and beautiful truths of the country called America. Rob Kenner has been to the mountaintop, and brought the word back down for the rest of us. "
— Peter Relic, author of For Whom the Cowbell Tolls: 25 Years of Paul's Boutique

"From the cradle to the grave, The Marathon Don't Stop: The Life and Times of Nipsey Hussle is a deep dive into the man, music, and motivation of one of the most gifted rappers to emerge from the West in decades. More than a hustler, Nipsey Hustle was both a businessman and teacher who was equally inspired by family, the streets, and the motherland. With an eye for the real, writer Rob Kenner has composed a biography that is journalistically solid, cinematically vivid, as gritty as the streets of Crenshaw, and beautiful as a rose growing through concrete."
— Michael A. Gonzales, co-author of Bring the Noise: A Guide to Rap Music and Hip-Hop Culture

"A rigorously reported, gripping account of how Ermias Joseph Asghedom hustled his way into the hearts and minds of millions. Veteran journalist Rob Kenner takes us on a harrowing journey, from the embattled streets of South L.A. to the ancient shores of East Africa to tell the story of a conflicted gang member, gifted hip hop artist, and crafty businessman who devoted his life to transforming himself and his community by any means necessary."
— Carter Harris, screenwriter, producer, and former editor at The Source and VIBE magazines

"In his relatively short and tragic life, Nipsey Hussle was an icon of the new new music business, where sheer grit, determination—and, of course, natural talent—helped cement his undying legacy. One of hip-hop's most powerful voices, Hussle was an entrepreneurial activist, a street corner philosopher whose everlasting contribution lies not just in the songs he made, but also in the way he chose to live. In The Marathon Don't Stop, veteran music journalist Rob Kenner tracks Hussle's life with verve and compassion, from his humble beginnings to his horrific ending, unpacking the chaotic world which made him, fueled the work that defined him, and sadly took him from this planet all too soon."
— Paul Cantor, contributor to the New York Times, New York Magazine, and XXL
Atria Books, 9781982140298, 448pp.
Publication Date: March 23, 2021
About the Author
Rob Kenner is one of the most prolific and influential voices in hip hop publishing. A founding editor of Vibe, Kenner joined the start-up team of Quincy Jones's groundbreaking hip hop monthly in 1992. During a nineteen-year run at Vibe he edited and wrote cover and feature stories on iconic cultural figures ranging from Tupac Shakur to Barack Obama as well as writing the acclaimed column Boomshots. Kenner's writing has appeared in Complex, Genius, Mass Appeal, Pigeons & Planes, Ego Trip, Poetry magazine, The New York Times, and Billboard. He's also produced and directed documentary shorts on the likes of De La Soul, Nas, and Post Malone. As an editor at Vibe Books, Kenner worked on the New York Times bestseller Tupac Shakur and contributed to The Vibe History of Hip Hop. He went on to co-author VX: 10 Years of Vibe Photography and produced the book Unbelievable, a biography of The Notorious B.I.G. by Cheo Hodari Coker, which was optioned for the motion picture Notorious.