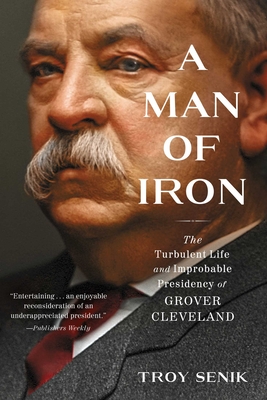 A Man of Iron
The Turbulent Life and Improbable Presidency of Grover Cleveland
Hardcover

* Individual store prices may vary.
Other Editions of This Title:
Digital Audiobook (9/19/2022)
Compact Disc (9/20/2022)
Description
A long-overdue biography of Grover Cleveland—the honest, principled, and plain-spoken president whose country has largely overlooked him.

Featuring a wealth of in-depth research and newly uncovered details, A Man of Iron explores the remarkable life and extraordinary career of Grover Cleveland—one of America's most unusual presidents and the only one to serve two non-consecutive terms.

Grover Cleveland's political career—a dizzying journey that saw him rise from obscure lawyer to president of the United States in just three years—was marked by contradictions. A politician of uncharacteristic honesty and principle, he was nevertheless dogged by secrets from his personal life. A believer in limited government, he pushed presidential power to its limits to combat a crippling depression, suppress labor unrest, and resist the forces of American imperialism. A headstrong executive who alienated Congress, political bosses, and even his own party, his stubbornness nevertheless became the key to his political appeal. The most successful Democratic politician of his era, he came to be remembered most fondly by Republicans.

A fascinating look at a unique man presiding over a transformational era, A Man of Iron is a compelling and vivid biography joining the ranks of presidential classics such as David McCullough's John Adams, Ron Chernow's Grant, and Amity Shlaes's Coolidge.
Praise For A Man of Iron: The Turbulent Life and Improbable Presidency of Grover Cleveland…
"Entertaining…an enjoyable reconsideration of an underappreciated president." –Publishers Weekly

"Robust biography of an overlooked president...a capably written introduction to a political leader who, though no rock star, deserves to be better known." –Kirkus

"Senik delivers an entertaining and astute assessment of [Cleveland's] executive actions that explains why historians regularly rate Cleveland highly among U.S. presidents." –Booklist

"With eloquent prose and engaging historical analysis, Senik's biography elevates Cleveland's overlooked career and makes it relevant to contemporary readers." –The Federalist

"A Man of Iron finds the perfect balance between gifty histories and doorstop biographies... Senik packs in many dense discussions of the annexation of Hawaii, the gold standard, Cleveland's fraught relationship with Buffalo, and violent labor struggles. Also exemplary is A Man of Iron's aphoristic style. Senik sprinkles throughout many insightful reflections of his own..." –City Journal

"Troy Senik's biography of Grover Cleveland, A Man of Iron, arrives as such an unalloyed joy. Turning from cable news to Senik's work is like emerging from a fetid swamp to find oneself alongside a pristine brook." –To Put It Bluntly

"Had Grover Cleveland not existed, it would be impossible to invent him. Troy Senik has thus not invented the stolid Mr. Cleveland, but he has here provided a masterful explanation of both a president and a man complex in his stubborn simplicity." –David Pietrusza, historian and author of 1920: The Year of Six Presidents

"Many of us were first introduced to this book's subject when historian Arthur Schlesinger called Jimmy Carter the most conservative Democratic president since Grover Cleveland. It was not a compliment. But it reflected a hard fact: Cleveland is not honored in the collective memory of his own party, and is dismissed by the mavens of presidential political history. Troy Senik's splendid and deeply researched book should change that. Readers will come away with admiration for Cleveland's ample possession of the very qualities that our current leaders so often lack: character, integrity, and determination to do the right thing for the country, even when it affected his popularity. He was not perfect, but was a much greater leader than has been commonly understood. This book sets things straight." –Wilfred McClay, professor of history at Hillsdale College and bestselling author of Land of Hope
Threshold Editions, 9781982140748, 384pp.
Publication Date: September 20, 2022
About the Author
Troy Senik is an author and former White House speechwriter whose writing has appeared in outlets such as The Wall Street Journal, Los Angeles Times, City Journal, and more. A former think tank executive, he is the cofounder of Kite & Key, a digital media company focused on public policy.