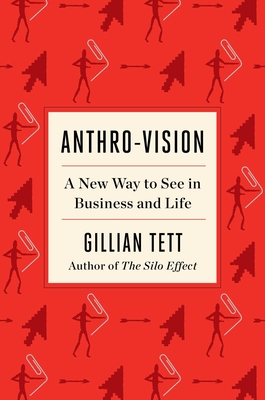 Anthro-Vision
A New Way to See in Business and Life
Hardcover

* Individual store prices may vary.
Other Editions of This Title:
Digital Audiobook (6/7/2021)
Compact Disc (6/8/2021)
Description
In an age when the business world is dominated by technology and data analysis, award-winning financial journalist and anthropology PhD Gillian Tett presents a radically different strategy for success: businesses can revolutionize their understanding of behavior by studying consumers, markets, and organizations through an anthropological lens.

Amid severe digital disruption, economic upheaval, and political flux, how can we make sense of the world? Leaders today typically look for answers in economic models, Big Data, or artificial intelligence platforms. Gillian Tett points to anthropology—the study of human culture. Anthropologists train to get inside the minds of other people, helping them not only to understand other cultures but also to appraise their own environment with fresh perspective as an insider-outsider, gaining lateral vision.

Today, anthropologists are more likely to study Amazon warehouses than remote Amazon tribes; they have done research into institutions and companies such as General Motors, Nestlé, Intel, and more, shedding light on practical questions such as how internet users really define themselves; why corporate projects fail; why bank traders miscalculate losses; how companies sell products like pet food and pensions; why pandemic policies succeed (or not). Anthropology makes the familiar seem unfamiliar and vice versa, giving us badly needed three-dimensional perspective in a world where many executives are plagued by tunnel vision, especially in fields like finance and technology. Lively, lucid, and practical, Anthro-Vision offers a revolutionary new way for understanding the behavior of organizations, individuals, and markets in today's ever-evolving world.
Praise For Anthro-Vision: A New Way to See in Business and Life…
"What could happen . . . if more people embraced some anthro-vision? [Tett's] conclusions are bright and buoyant." —Wall Street Journal

"Fascinating and surprising." —Fareed Zakaria, CNN

"Whether you're marketing Kit-Kats in Japan or fighting the spread of COVID-19 in England, you need a more qualitative understanding of who people are and what they care about. To solve twenty-first-century problems, we must expand our fields of vision and fill in old blind spots with new empathy." —Melinda Gates, author of The Moment of Life

"Absolutely brilliant." —Daniel Kahneman, author of Thinking, Fast and Slow

"A plea to those of us who may be unfamiliar with Tett's academic discipline to think more like an anthropologist. I think she's right . . . Tett's book may be anthropological, but it also embraces a style of accessible economic writing that, sadly, went out of fashion as the mathematicians and their models took over. Anthro-Vision reminds me of John Kenneth Galbraith's The Affluent Society (1958) and The New Industrial State (1967). Some economists may regard this as a criticism. I can think of no higher praise." —The Times (UK)

"A book that will turn your world upside down in the best possible way: fun, profound and bursting with important insights." —Tim Harford, author of The Data Detective: Ten Easy Rules to Make Sense of Statistics

"Tett provides readers with a new intellectual framework—grounded in her deep understanding of anthropology and her path-breaking journalism—that can fundamentally transform how we approach solving society's most wicked problems . . . I cannot recommend it highly enough." —Mariana Mazzucato, author of Mission Economy: A Moonshot Guide to Changing Capitalism

"A fascinating and compelling demonstration that all of us, especially economists, can benefit from the insights of anthropology: the worm's-eye not just the bird's-eye view of how people behave." —Mervyn King, author of Radical Uncertainty: Decision-Making Beyond the Numbers

"In a world of volatility, uncertainty, complexity and ambiguity, we need an antidote to tunnel vision. . . Admirers of Tett's journalism will love this book, but they will also learn a great deal from it – including how better to understand their own familiar yet strange tribe." —Niall Ferguson, author of Doom: The Politics of Catastrophe

"Looking at the world like an anthropologist has long given Gillian Tett the edge over the rest of us as a journalist and thinker. With this book she generously shares her secret recipe—and explains why we may all need Anthro-Vision to see a way through some of today's most pressing global challenges." —Stephanie Flanders, Senior Executive Editor for Economics at Bloomberg and head of Bloomberg Economics

Praise for THE SILO EFFECT

"Highly intelligent, enjoyable and enlivened by a string of vivid case studies. It is also genuinely important, because her prescription for curing the pathological silo-isation of business and government isr efreshingly unorthodox and, in my view, convincing." —Financial Times

"A complex topic and lively writing make this an enjoyable call to action for better integration within organizations."— Publishers Weekly

"In The Silo Effect [Tett] applies her anthropologist's lens to the problem of why so many organizations still suffer from a failure to communicate. It's a profound idea, richly analyzed." — The Wall Street Journal

" 'Silo' has become a cliché among management consultants—and executives trying to hang onto their jobs by speaking the language of the au courant—but Tett gives the metaphor life in her engaging, case-study-filled new book." —New York Post

"The Silo Effect comes across in print much as Tett comes across in person—sharp, insightful, and concise. And the book, which is informed as much by her training as an academic anthropologist as by her experience covering the global financial crisis, is an excellent attempt to help both organizations and individuals figure out how to harness the benefits of specialization without creating tunnel vision."—Strategy+Business
Avid Reader Press / Simon & Schuster, 9781982140960, 304pp.
Publication Date: June 8, 2021
About the Author
Gillian Tett chairs the editorial board, US, for the Financial Times and writes columns for the world's leading newspaper covering finance, business and the political economy. She has been named British Journalist of the Year, Columnist of the Year and Business Journalist of the Year in the UK and won two Society for Advancing Business Editing and Writing awards in the US. She speaks regularly at conferences around the world on finance and global markets and has a PhD in social anthropology from Cambridge University. Tett is the author of Saving the Sun: How Wall Street Mavericks Shook Up Japan's Financial World and Made Billions, Fool's Gold: The Inside Story of J.P. Morgan and How Wall St. Greed Corrupted Its Bold Dream and Created a Financial Catastrophe, and The Silo Effect: The Peril of Expertise and the Promise of Breaking Down Barriers.