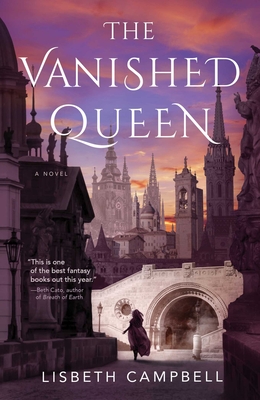 The Vanished Queen
Hardcover

* Individual store prices may vary.
Other Editions of This Title:
Digital Audiobook (8/17/2020)
Paperback (11/9/2021)
Compact Disc (8/18/2020)
Description
A stunning blend of vivid fantasy and political drama, The Vanished Queen is the timely story of a young resistance fighter working to overthrow a totalitarian ruler's regime of terror and lies. "[G]ripping…this is the novel the world needs now" (Kate Heartfield, Nebula Award finalist and author of Aurora Award–winning novel Armed in Her Fashion).

Long ago, Queen Mirantha vanished. King Karolje claimed she was assassinated by a neighboring ruler, but her people knew the truth: the king had Disappeared her himself.

Now the queen's disappearance is hardly a memory—merely one among many horrors the king's reign has wrought. But when Anza, a young student impassioned by her father's unjust execution, finds the missing queen's diary, she is inspired by Mirantha's words—joins the resistance group to overthrow the king.

Prince Esvar is the second son to an evil king. Trapped under his thumb and desperate for a way out, a chance meeting with Anza gives him the opportunity to join the resistance. Together, they might have the leverage to move against the king—but if they fail, their deaths could mean a total loss of freedom for generations to follow. In this dangerous game of court politics, one misstep could lead to a fate worse than death.

Set in a world where resistance is as dangerous as it is important, The Vanished Queen is a "big, dark, intricate novel" (Lousia Morgan, author of A Secret History of Witches) about the courage and sacrifice it requires to take on a tyrant.
Praise For The Vanished Queen…
"[The Vanished Queen] is filled with political intrigue, personal anguish, and family ties that bind. The prose moves smoothly through the alternating points of view ... building well-rounded characters approaching the eve of revolution."
—Library Journal (starred review)

"Campbell skillfully balances action and introspection as rebellion rises against an oppressive regime ... [she] steers refreshingly clear of typical 'chosen one' tropes, instead illuminating the collective effort required for revolution."
—Publishers Weekly

"One of the best epic fantasies I've read in a long time."
—Margaret Kingsbury, Buzzfeed

"I could not put the book down ... this is one of the best fantasy books out this year."
—Beth Cato, author of Breath of Earth

"A fiercely intelligent political drama ... head and shoulders above other fantasy novels [in its] intricate, pitch-perfect depiction of characters struggling to hold on to their humanity in a world that polarizes and debases even those with the best motives."
—Deborah J. Ross, author of The Seven-Petaled Shield

"[A] gripping read full of politics and passion. Lisbeth Campbell shows us a richly detailed world and then shows us how that world changes: with courage, hope and truth. This is the novel the world needs now."
—Kate Heartfield, Nebula award-finalist and author of Aurora award-winning novel Armed in her Fashion

"[A] big, dark, intricate novel, employing a sophisticated political construct built on a cast of irresistible characters. It's both full of surprises and eerily timely. A deeply satisfying read."
—Louisa Morgan, author of A Secret History of Witches

"Intricately-woven ... Campbell explores the toll of tyranny and the demands of defiance. It is a harrowing, heartening, necessary read."
—Tracy Townsend, author of The Nine and The Fall

"Campbell's The Vanished Queen, the story of a secret resistance group fighting against a vicious tyrant, is filled with well-written, engaging characters, narrow escapes, loyalty, friendship, and a hunger for justice. Thoroughly entertaining, it also has great applicability to our times."
— KV Johansen, author of The Last Road

"Duty or Honor? Justice or Vengeance? Lisbeth Campbell's The Vanished Queen walks the tightrope between challenging questions with grace and panache. Finding hope and clinging to compassion while resisting a ruthless tyrant is both wrenchingly relevant and eerily timeless."
—Bryan Camp, author of The City of Lost Fortunes

"Taking the threads of familiar tropes and weaving them into a new pattern, The Vanished Queen is that rare creature, a comfort read that also manages to surprise. I look forward to more from Lisbeth Campbell."
—Laura Anne Gilman, author of Silver on the Road

"I adored this book. A slow, atmospheric build to a heart pounding finish ... Tense and intimate, The Vanished Queen squeezes your heart and doesn't let go. An intricate political fantasy full of people scarred by cruelty yet full of hope, determination and moments of well-earned joy."
—Devin Madson, Aurealis Award-winning author of We Ride the Storm
Gallery / Saga Press, 9781982141295, 496pp.
Publication Date: August 18, 2020
About the Author
Lisbeth Campbell grew up in Illinois and western Pennsylvania. She currently lives in the San Francisco Bay Area. Her jobs have run the gamut from house cleaner to teacher. When she is not writing, reading, or spending time with her husband and daughter, she is probably attending to one of her cats.