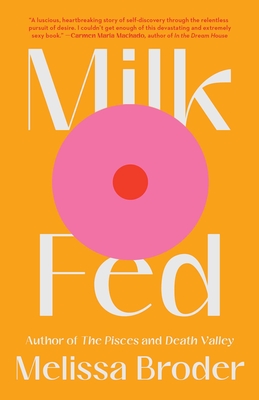 Milk Fed
A Novel
Hardcover

* Individual store prices may vary.
Other Editions of This Title:
Compact Disc (2/2/2021)
Description
"A luscious, heartbreaking story of self-discovery through the relentless pursuit of desire." —Carmen Maria Machado, author of In the Dream House

A scathingly funny, wildly erotic, and fiercely imaginative story about food, sex, and god from the acclaimed author of The Pisces and So Sad Today.

Rachel is twenty-four, a lapsed Jew who has made calorie restriction her religion. By day, she maintains an illusion of existential control, by way of obsessive food rituals, while working as an underling at a Los Angeles talent management agency. At night, she pedals nowhere on the elliptical machine. Rachel is content to carry on subsisting—until her therapist encourages her to take a ninety-day communication detox from her mother, who raised her in the tradition of calorie counting.

Early in the detox, Rachel meets Miriam, a zaftig young Orthodox Jewish woman who works at her favorite frozen yogurt shop and is intent upon feeding her. Rachel is suddenly and powerfully entranced by Miriam—by her sundaes and her body, her faith and her family—and as the two grow closer, Rachel embarks on a journey marked by mirrors, mysticism, mothers, milk, and honey.

Pairing superlative emotional insight with unabashed vivid fantasy, Broder tells a tale of appetites: physical hunger, sexual desire, spiritual longing, and the ways that we as humans can compartmentalize these so often interdependent instincts. Milk Fed is a tender and riotously funny meditation on love, certitude, and the question of what we are all being fed, from one of our major writers on the psyche—both sacred and profane.
Praise For Milk Fed: A Novel…
"Only Melissa Broder could dig into our obsessions, the ways our parents have ruined us, and blossoming queer love with such a bold panache."
—Lit Hub

"Few writers so innately understand or better capture the endless, palpable hunger that so many people carry around with them, day after day. This hunger is for food, for sex, for love, for compassion, for understanding, and it is this kind of ravenous appetite that Broder explores in her exultant new novel... riotously funny and perfectly profane."
—Refinery 29

"A dizzily compelling story of love, lust, addiction, faith, maternal longing, and...frozen yogurt... Broder's sex writing is, as always, first-rate, but perhaps even more striking is her ability to lay bare the frantic interior calculus of disordered eating alongside the hypnotic pull of spirituality."
—Vogue

"A sensuous and delightfully delirious tale... Filled with an unadulterated filthiness that would make Philip Roth blush, Broder's latest is a devour-it-in-one-sitting wonder."
—O, The Oprah Magazine

"Bold, wry, and delightfully dirty... Broder is a formidable writer. She captures all the sticky sweetness, the pleasurable tensions between yearning and satiation... a sad, funny romp about learning to let yourself want what you want."
—Kirkus

"Spell-caster Broder guides readers through this seriously tender tale of transformation with seamless humor and staggering smarts: it contains multitudes. An empathic, enrapturing, unputdownable novel of faith, sex, love, and nurture."
—Booklist, starred review

"With luscious descriptions of delectable foods and fantastical romps through imagination, Milk Fed oscillates between serious and playful, obsessive and free, and explores the difficulties of loving oneself in a world that prizes thinness above all else. This poignant exploration of desire, religion, and daughterhood is hard to resist."
—Publishers Weekly

"Deeply hilarious and embarrassingly relatable."
—Samantha Irby, author of Wow, No Thank You

"Milk Fed hits that sweet spot where pleasure and tension intersect, where the sumptuous exploration of sexuality and spirit meets the rigidities of culture and society. Strange and surreal, Broder's writing is a marvel of wit, heart, and thoughtful curiosity about the body and mind and how these things can overflow their boundaries to become utterly new."
—Alexandra Kleeman, author of You Too Could Have a Body Like Mine

"Sin as self-discovery, appetite as insight, transgression as transformation, Milk Fed is at once hilarious and heartbreaking; watching Broder's characters try to love themselves might just make you love yourself.... or at least hate yourself a little less."
—Shalom Auslander, author of Mother for Dinner

"Smart, funny, sexy, and hard to put down. In this fast-moving, deeply compelling novel, Melissa Broder combines an unexpected (and very hot) love story with a sharp-edged examination of body image, religion, and cultural identity."
—Tom Perrotta, author of Mrs. Fletcher

"Milk Fed is a novel of appetites; a luscious, heartbreaking story of self-discovery through the relentless pursuit of desire. I couldn't get enough of this devastating and extremely sexy book."
—Carmen Maria Machado, author of In the Dream House
Scribner, 9781982142490, 304pp.
Publication Date: February 2, 2021
About the Author
Melissa Broder is the author of the novel The Pisces, the essay collection So Sad Today and four poetry collections, including Last Sext. She has written for The New York Times, Elle.com, VICE, Vogue Italia, and New York magazine's "The Cut." Her poems have appeared in POETRY, The Iowa Review, Tin House, and Guernica, and she is the winner of a Pushcart Prize for poetry. She lives in Los Angeles.