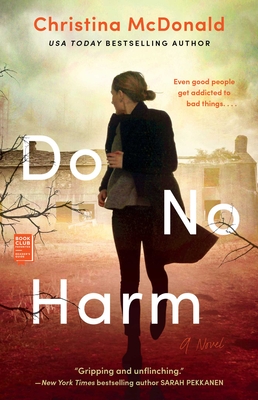 Do No Harm
Paperback

* Individual store prices may vary.
Other Editions of This Title:
Digital Audiobook (2/15/2021)
Compact Disc (2/16/2021)
Library Binding, Large Print (5/26/2021)
Description
From the USA TODAY bestselling author of Behind Every Lie and The Night Olivia Fell comes an unforgettable and heart-wrenching novel about the lengths one woman will go to save her son.

Emma loves her life. She's the mother of a precocious kindergartener, married to her soulmate—a loyal and loving police detective—and has a rewarding career as a doctor at the local hospital.

But everything comes crashing down when her son, Josh, is diagnosed with a rare form of cancer.

Determined to save him, Emma makes the risky decision to sell opioids to fund the life-saving treatment he needs. But when somebody ends up dead, a lethal game of cat and mouse ensues, her own husband leading the chase. With her son's life hanging in the balance, Emma is dragged into the dark world of drugs, lies, and murder. Will the truth catch up to her before she can save Josh?

A timely and moving exploration of a town gripped by the opioid epidemic, and featuring Christina McDonald's signature "complex, emotionally intense" (Publishers Weekly) prose, Do No Harm examines whether the ends ever justify the means...even for a desperate mother.
Praise For Do No Harm…
Praise for Do No Harm
"Gripping and unflinching, Do No Harm explores the ferocity of a mother's love–and shows, in heartbreaking detail, how she'll risk everything to save her child."–Sarah Pekkanen, New York Times bestselling author of The Wife Between Us and You Are Not Alone

"Do No Harm by Christina McDonald is an intense, emotional page-turner that's impossible not to devour in one sitting."–Real Simple

"Do No Harm is a pulse-pounding deep dive into the dark heart of addiction. The stakes couldn't be higher in this smart, breathlessly-paced, and emotional novel about love, family, and how far we'll go when our child's life hangs in the balance. Riveting, ripped from the headlines, and not to be missed."–Lisa Unger, New York Times bestselling author of Confessions on the 7:45

"McDonald's third domestic thriller delivers a jaw-dropping plot…the suspense, along with the body count, ratchets up with their every encounter. McDonald offers a painful look at two hot-button topics: the desperate opioid crisis, and a system that allows the cost of cancer pharmaceuticals to extend far beyond the reach of so many. Is what Emma does an unforgivable betrayal of her medical oath, her husband, and herself? It will be up to the reader to decide if the ends justify the means."–Booklist

"Christina McDonald has a real talent for bringing suburban domestic suspense to life, and showcases it to great effect in Do No Harm. Tense, taut, and absolutely unmissable, you'll find yourself wondering how far YOU would go to save your child's life."–J.T. Ellison, New York Times bestselling author of Lie to Me

"Do No Harm is a cross between Breaking Bad and Kohlberg's theory of moral development."–CrimeReads

"McDonald takes the heart-wrenching premise that has become her trademark and ratchets it up a notch in Do No Harm, blurring the lines between good and evil in a doctor desperate to save her sick child. A gripping, emotional roller coaster with a sting in the tail."–Kimberly Belle, internationally bestselling author of The Marriage Lie

"Grace Fraser and Do No Harm's Emma have a lot more in common that what meets the eye…From the outside, selling opioids sounds like a horrible and irresponsible idea, but readers will quickly become fans of Emma, Christina McDonald's protagonist…"–PopSguar

"Christina McDonald knows how to pack an emotional punch! Do No Harm is a riveting, thought-provoking novel that keeps you reading even as it breaks your heart. This might be my favorite book by McDonald yet."–Samantha Downing, USA Today bestselling author of My Lovely Wife

"In her suspenseful new thriller, Do No Harm, Christina McDonald brings a controversial topic right out of the real-world headlines and displays a fantastic ability to truly examine it from all sides...Do No Harm is an absolute page turner! McDonald has once again perfectly balanced little twists that the reader can feel clever for figuring out with big, sudden gasp-out-loud moments. Fans of the author's previous books, Behind Every Lie and The Night Olivia Fell, should be ready to jump right in to this intense new thriller!""–The Nerd Daily

"A gripping page-turner with a heartwrenching moral quandary at its core. Do No Harm is tense, moving, and disturbingly relevant."–Robyn Harding, internationally bestselling author of The Swap and The Party

"This raw, emotional story echoes fear that would result when denied necessary available health treatment due to lack of funds. And it brings into question how far a parent can morally go to save their child."–Authorlink

"Devastating, heartbreaking, and incredibly timely–this risky and brilliant examination of when the ends justify the means will captivate you from moment one. The talented Christina McDonald dissects the crumbling marriage of two good people, and reveals how love and obsession can combine to destroy even the most perfect family. As a doctor's vow of 'do no harm' twists into 'do whatever it takes,' you'll be riveted by this thought-provoking and tragically believable story."–Hank Phillippi Ryan, USA Today bestselling author of The Murder List

"With her trademark emotionally gripping, outstanding writing, Christina McDonald tackles the moral and ethical lines crossed by a doctor desperate to save her child. A stunning gut-punch of a suspense novel, Do No Harm expertly merges the dangers of the opioid crisis with a mother's love, leaving readers gasping for more. A breathtaking read."–Samantha M. Bailey, #1 bestselling author of Woman on the Edge

"Do No Harm is a gripping and unflinching novel. Christina McDonald demands an answer to the ultimate question: How far would you go to save your child? One thing is for sure: your heart will be ripped out as you whip through each page to discover the answer. Highly recommend!"–Liz Fenton & Lisa Steinke, authors of How To Save a Life

"Nobody writes motherhood like Christina McDonald. Her third novel, Do No Harm, is a riveting thriller which braids the complexities of modern parenting with the pressures of finding a moral centre in a devastating opioid crisis. Heartrending, heart-pounding and fearless to the last word."—Amber Cowie, author of Loss Lake

Praise for Behind Every Lie

"Behind Every Lie is a deep, suspenseful novel packed with family secrets. Christina McDonald has a true gift for creating characters that are so well-developed, it feels like you know them. An outstanding achievement!"
— Samantha Downing, author of the #1 International Bestseller My Lovely Wife

"In Behind Every Lie, Christina McDonald brilliantly intertwines page-turning suspense with jaw-dropping family secrets. An emotionally-charged domestic thriller that is sure to please!"
— Wendy Walker, national bestselling author of The Night Before

"A clever, tense, and absorbing novel--this tale of family secrets had me racing towards the final pages."
— Emma Rous, bestselling author of The Au Pair

"Christina McDonald follows up her smashing debut The Night Olivia Fell with another winner. McDonald starts with a bang, then builds the action steadily, a gradual unfolding of secrets and lies that will have you constantly switching alliances. Read it like I did, in one sitting and straight through to the end, because you won't want to put this one down."
— Kimberly Belle, internationally bestselling author of Dear Wife

"Christina McDonald's Behind Every Lie is a layered, gut-wrenching domestic thriller that explores the complexities of mothers and daughters and the secrets families keep. Smart and intense, and with more than enough twists to give you whiplash, McDonald's beautiful, emotional storytelling will leave you breathless. I don't think I exhaled until the end."
— Jennifer Hillier, author of Jar of Hearts, ITW Award winner for Best Novel

"Christina McDonald's Behind Every Lie is a cleverly plotted and emotionally charged page-turner about memory, trusting yourself, grieving, and letting go. Family secrets run deep in this compelling exploration of how far a mother will go to protect her child. Full of twists and turns, this is domestic suspense at its best!"
— Karen Katchur, bestselling author of River Bodies

"In Behind Every Lie, a lightning strike survivor discovers that memories are fallible, identities are fungible, and she can't trust anyone—including herself. With nuanced and dubiously trustworthy characters, dual timelines revealing decades of secrets, and a tension-packed plot, Christina McDonald has crafted an engrossing and utterly addictive thriller. I couldn't turn the pages fast enough!"
— Kathleen Barber, author of Truth Be Told

"Addictive and emotionally resonant, Behind Every Lie is a twisty, fast-paced thriller with secrets nestled inside secrets. Nothing is as it seems in this story exploring the sorrow and strength of brokenness, and with complex characters and a relentlessly compelling plot, you'll be unable to stop reading it—or forget it once you do."
— Megan Collins, author of The Winter Sister

"[An] intriguing suspense novel... McDonald weaves together Eva and Kat's narratives, which span past and present, to create a compulsively readable and fast-paced yarn that explores the lingering effects of trauma and abuse as well as the complex bonds between mothers and daughters. Readers who enjoy character-driven thrillers will be pleased."
— Publishers Weekly

"Told in alternating narratives from Eva's traumatic life and her mother's mysterious past, the story twists and turns with one shocking revelation after another until it threatens to careen out of control. But behind every lie there is always a reason, and there is a satisfying ending once everyone's hand is played out."
— Booklist

"Behind Every Lie is a page-turner and an entertaining read. Many readers will enjoy Eva's breathless race of discovery and journey of survival."
— Bookreporter

Praise for The Night Olivia Fell

"The Night Olivia Fell by Christina McDonald is a stunning thriller that instantly grabbed me by the throat and wouldn't let go until the final, poignant sentence. McDonald artfully brings to the page the emotionally fraught, complex relationship between mother and daughter in this atmospheric, absorbing page-turner. The Night Olivia Fell cracked my heart into a million pieces and then slowly pieced it back together again."
— Heather Gudenkauf, New York Times bestselling author of The Weight of Silence and Not a Sound

"In Christina McDonald's The Night Olivia Fell, Abi gets the call every mother fears: her daughter has fallen from a bridge and is brain dead...but was it an accident or a crime? McDonald reveals the answer in steady, page-turning increments, a gradual unfolding of truths and long-held secrets that culminates in a heart-wrenching resolution. A suspenseful debut that packs an emotional punch."
— Kimberly Belle, internationally bestselling author of Three Days Missing and The Marriage Lie

"I was absolutely hooked, it was such an emotional read that I was broken by the end. Heartbreaking and thrilling at the same time."
— Jenny Blackhurst, bestselling author of How I Lost You

"Beautifully written and moving with characters I felt I knew, The Night Olivia Fell is a stunning debut that kept me guessing right until the final, heartbreaking twist."
— Claire Douglas, bestselling author The Sisters, Local Girl Missing and Last Seen

"Christina McDonald's The Night Olivia Fell takes a mother's worst nightmare to a whole new level. This is an intense, twisting, heartbreaking thriller that explores in painful detail the consequences of family secrets. The reader will be riveted until the final page...and may even feel a bit of hope when all is said and done. Don't miss this one!"


— David Bell, bestselling author of Somebody's Daughter

"Christina McDonald has crafted an emotionally-charged mystery that will leave readers equally gut-wretched and gripped. The Night Olivia Fell welcomes a talented new addition to the world of domestic suspense."


— Mary Kubica, New York Times bestselling author of The Good Girl and When The Lights Go Out

"[A] complex, emotionally intense first novel…Fans of twisty domestic suspense novels will be rewarded."
— Publishers Weekly

"McDonald ratchets up the suspense with every chapter, including plenty of gasp-worthy twists and turns as Abi and Olivia's story pushes towards its devastating conclusion. The suspense is supplemented by relationships of surprising depth and tenderness, providing balance and nuance to the story. A worthy debut from an up-and-coming domestic-suspense author; readers who enjoy mother-daughter stories in the genre should line up for this one."
— Booklist (Starred Review)

"This book is a tearjerker, so have tissues at hand. A well-structured story of how lying corrupts from the start that will keep pages turning."
— Library Journal

"A thrilling page-turner you have to read."
— PopSguar
Gallery Books, 9781982142612, 368pp.
Publication Date: February 16, 2021
About the Author
Christina McDonald is the USA TODAY bestselling author of Behind Every Lie and The Night Olivia Fell, which has been optioned for television by a major Hollywood studio. Originally from Seattle, Washington, she now lives in London, England, with her husband, two sons, and their dog, Tango.