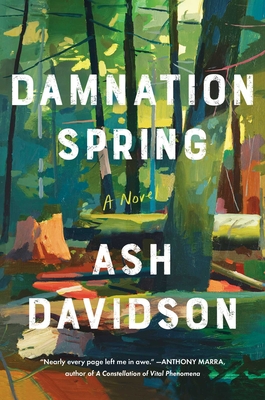 Damnation Spring
Hardcover

* Individual store prices may vary.
Other Editions of This Title:
Compact Disc (8/3/2021)
Description
An epic, immersive debut, Damnation Spring is the deeply human story of a Pacific Northwest logging town wrenched in two by a mystery that threatens to derail its way of life.

For generations, Rich Gundersen's family has chopped a livelihood out of the redwood forest along California's rugged coast. Now Rich and his wife, Colleen, are raising their own young son near Damnation Grove, a swath of ancient redwoods on which Rich's employer, Sanderson Timber Co., plans to make a killing. In 1977, with most of the forest cleared or protected, a grove like Damnation—and beyond it 24-7 Ridge—is a logger's dream.

It's dangerous work. Rich has already lived decades longer than his father, killed on the job. Rich wants better for his son, Chub, so when the opportunity arises to buy 24-7 Ridge—costing them all the savings they've squirreled away for their growing family—he grabs it, unbeknownst to Colleen. Because the reality is their family isn't growing; Colleen has lost several pregnancies. And she isn't alone. As a midwife, Colleen has seen it with her own eyes.

For decades, the herbicides the logging company uses were considered harmless. But Colleen is no longer so sure. What if these miscarriages aren't isolated strokes of bad luck? As mudslides take out clear-cut hillsides and salmon vanish from creeks, her search for answers threatens to unravel not just Rich's plans for the 24-7, but their marriage too, dividing a town that lives and dies on timber along the way.

Told from the perspectives of Rich, Colleen, and Chub, in prose as clear as a spring-fed creek, this intimate, compassionate portrait of a community clinging to a vanishing way of life amid the perils of environmental degradation makes Damnation Spring an essential novel for our time.
Praise For Damnation Spring…
"Pitch perfect…an unforgettable portrait of the very real consequences that environmental decay can hold, for nature and humanity alike."
—VOGUE.com

"[An] ambitious, assured debut...a devastating page-turner with a love story at its center."
—LitHub

"As thoughtfully as Davidson establishes these dilemmas, she's equally skilled at writing an outdoorsy adventure novel, in which logging threatens the lives of workers with snapped cables and everybody else via landslides. Thematically, it's a strong work of climate fiction, but it's rooted in age-old man-versus-nature storytelling. An impressively well-turned story about how environmental damage creeps into our bodies, psyches, and economies."—Kirkus (starred review)

"Well-researched…this lengthy novel spans just one year over four decades ago—the summer of 1977 to the summer of 1978—but it couldn't be more relevant today."
—The Daily Beast

"Struggles and heartbreaks play out on the richly rendered backdrop of a community on the brink of major change."
—Booklist

"In her astonishingly accomplished first novel, Ash Davidson reminds us that we are never more profoundly shaped by our environment than when we destroy it. Nearly every page left me in awe." —Anthony Marra, author of A Constellation of Vital Phenomena

"Damnation Spring is that wonderful evocation of a world so complete you can't believe it's fiction, each character and moment drawn with precision and heart. Davidson crafts a portrait of a marriage inside a portrait of a town inside a portrait of an industry, refracting the consequences of capitalism through people's lives and bodies. A masterful and sensitive explication of how humans are part of their environment no less than trees, mud, other animals, and water, this novel takes place forty years ago but could not be more relevant. If you want to know how we came to find ourselves amid an extinction event, or you need a gripping escape from considering the same, read this book." — Merritt Tierce, author of Love Me Back

"Nowhere else on earth do the trees reach so high as the ancient groves of redwoods that tower over the fog-laced coast of the Pacific Northwest. And in few other settings can a writer erect an overstory so vast, so intricate, so tightly woven that when its readers lean back and gaze into its branches, they are somehow made to feel both diminished and expanded in the very same breath. Like the canopy of an enchanted forest, Damnation Spring is draped in a tapestry of shadows dappled with sunlight, mystery pierced through by beams of revelation, and a harrowing natural beauty capable of drawing forth gorgeous, gracefully wrought prose that is soaring, magnificent, and drenched in birdsong." —Kevin Fedarko, author of The Emerald Mile

"Unavoidable, maybe, but Damnation Spring recalls Kesey's Sometimes a Great Notion, a big, rollicking crowd pleaser of a family saga set in hardscrabble logging country. Ash Davidson's homespun characters aren't just local color. Like their community, they face a reckoning as their lives and livelihoods collide with the wider world." —Stewart O'Nan, author of A World Away and Songs for the Missing

"With its lavishly evoked, fog-bound rainforest, its sawtooth humor, shifting narrative perspectives, and testosterone-fueled battles against nature, Damnation Spring inevitably recalls Ken Kesey's Sometimes A Great Notion. But Ash Davidson treads boldly beyond Kesey's narrow vision to the profit motives that exploit a brutal machismo culture, bereft of health or humanity. Most poignantly, she gives voice to the women whose lives and unborn children succumb to chemical and timber company bottom lines. Her scenes of childbirth, grief, and helpless rage mirror in heartbreaking detail the reality of families in the poisoned, strip-mined clearcuts of the Pacific Northwest today." —Carol Van Strum, author of A Bitter Fog: Herbicides and Human Rights, and The Oreo File

"Ash Davidson writes with unwavering compassion—for bitterly divided families, for those with fatally opposed ideologies, for our fragile natural world. Such is the rare generosity of spirit that has produced Damnation Spring—an elegant novel of profound power and grace." —Madhuri Vijay, author of The Far Field

"So absorbing is Damnation Spring, so rich with the atmosphere of a time and a place, that when I laid the book down it was hard not to look around my living room and wonder where the redwoods had gone. What impresses me the most about Ash Davidson and her writing is how deeply she understands her characters, and how sharply she has observed their world, yet how little fuss she makes about it. There's not an ounce of ego on display here, which means that it's never the singer you hear, always the song. And the song, in this case, is magnificent." —Kevin Brockmeier, author of The Ghost Variations and The Brief History of the Dead

"Damnation Spring is, like the redwood trees at the center of its story, a beautiful, timeless, and breathtaking novel. It is painstakingly researched and lovingly crafted. But most importantly, the author is incredibly sensitive and tender with her characters, who, for the reader, quickly become as close as neighbors or family. Ultimately, time is the best judge of artistic quality, but for me, this book has all the makings of a classic. It is, in my estimation, a Great American Novel. A novel that tips its cap at writers like Steinbeck and Kesey, but also confidently forges ahead, blazing new paths. Just – a stunning, wondrous book." —Nickolas Butler, author of Shotgun Lovesongs and Little Faith

"Damnation Spring dignifies the working-class experience with complicated characters whose hopes and heartbreaks at once transcend and are defined by their relationship to labor. Davidson evokes a story so vivid that readers will smell the trees, feel the damp, and—most importantly—care about a family." —Sarah Smarsh, author of Heartland

"A sweeping family saga of love and grief and the deeply personal tragedies that occur when our planet is abused. This is the kind of novel I've been craving for ages. Ambitious in its scope, masterful in its execution. This stunning story, written in pitch-perfect prose, announces Ash Davidson as a major new voice in American Literature. Every page stirred my soul." —Emily Ruskovich, author of Idaho
Scribner, 9781982144401, 464pp.
Publication Date: August 3, 2021
About the Author
Ash Davidson was born in Arcata, California, and attended the Iowa Writers' Workshop. Her work has been supported by the Arizona Commission on the Arts and MacDowell. She lives in Flagstaff, Arizona.