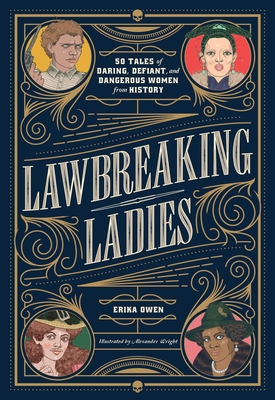 Lawbreaking Ladies (Hardcover)
50 Tales of Daring, Defiant, and Dangerous Women from History
Tiller Press, 9781982147082, 208pp.
Publication Date: February 23, 2021
* Individual store prices may vary.
Description
A fascinating, illustrated book featuring brief biographies and trivia about remarkable yet little-known female lawbreakers through the ages.

We're all familiar with the popular slogan, "well-behaved women seldom make history." But that adage is taken to the next level in this book that looks at women from the past who were not afraid to break the rules and challenged conventional feminine stereotypes. From pirates to gangsters, bandits to scammers, and madams to deviants, women throughout the ages haven't always decided to be sugar, spice, and everything nice.

Lawbreaking Ladies features the stories of fifty remarkable women whose penchant for criminal behavior has solidified their place in the history books. This impressive collection features women who did not let society define them, including the swashbuckling female pirate Ching Shih, the outlaw Laura Bullion aka "Rose of the Wild Bunch," the Prohibition-era crime lord Stephanie Saint-Clair, and the female band of prisoners knows as the Goree Girls.

Perfect for true crime fans and lovers of women's history, Lawbreaking Ladies serves as an entertaining and informative guide to girls who were not afraid to be daring, defiant, and downright criminal.
About the Author
Erika Owen is a Brooklyn-based travel writer, editor, and content strategist and the author of The Art of Flaneuring: How to Wander with Intention and Discover a Better Life. Her work has previously been published in Travel + Leisure, Departures, and Vogue. You can also find her work online at GQ, Martha Stewart Living, Bustle, Rachael Ray Magazine, and more.