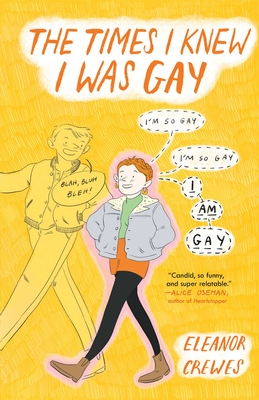 The Times I Knew I Was Gay
Hardcover

* Individual store prices may vary.
Other Editions of This Title:
Paperback (10/5/2021)
Description
"Evocative, authentic, and hilarious." —Tillie Walden, author of Spinning and On a Sunbeam

A charming, highly relatable graphic memoir that follows one young woman's adventures in coming out and coming of age.

Ellie always had questions about who she was and how she fit in. As a girl, she wore black, obsessed over Willow in Buffy the Vampire Slayer, and found dating boys much more confusing than many of her friends did. As she grew older, so did her fears and a deep sense of unbelonging. From her first communion to her first girlfriend via a swathe of self-denial, awkward encounters, and everyday courage, Ellie tells her story through gorgeous illustrations—a fresh and funny self-portrait of a young woman becoming herself.

The Times I Knew I Was Gay reminds us that people sometimes come out not just once but again and again; that identity is not necessarily about falling in love with others, but about coming to terms with oneself. Full of vitality and humor, it will ring true for anyone who has taken the time to discover who they truly are.
Praise For The Times I Knew I Was Gay…
"Brims with hope, and the joy that arises when one is finally ready to step out into the world."
—OprahMag.com

"[One] of the best queer books of 2020.... This charming graphic memoir chronicles, as the titles cutely declares, the times when Eleanor Crewes's knowledge of her gayness was unavoidable, wrapped up in her coming out and coming of age story."
—Casey Stepaniuk, Autostraddle

"This memoir in graphic form takes readers along on her journey of self-discovery with a story that's sometimes funny, sometimes poignant and always engaging."
—Tampa Bay Times

"A sweet and happy confection...Crewes's own story involves unsatisfactory romances with men, hesitant coming out, and then retreating back into the closet, but this isn't a queer narrative that ends in tragedy--we've had enough of those. It concludes with love and joy. If those are too often elusive, it's worth remembering that this isn't a fairy tale but a true story. It gets better indeed."
—Rumaan Alam, Text Message, The New Republic's books and culture newsletter

"[Among] the books that propelled the industry to new heights...noteworthy."
—Michael Cavna, The Washington Post

"Crewes' commitment to telling a not-neat story is the best thing about her great memoir… When young adult Ellie looks into a doorframe filled with five of her past selves, readers have gotten to know each one, and will fully appreciate having been let in on the journey."
—Booklist, starred review

"Crewes's debut graphic memoir of self-discovery traces her queer identity from youthful obsessions with Buffy the Vampire Slayer through uncomfortable dates with boys, and later girlfriends, as she comes to realize that coming out is a process more than a single point in time."
—Publisher's Weekly

"[A] a charming, accessible story about self-acceptance that everyone—especially people struggling with their sexuality—can enjoy. A heartwarming, delightful memoir of self-discovery."
—Kirkus

"As Western culture becomes increasingly gay-friendly, Crewes's experience will--fortunately--become more and more typical. The story of her journey will be much appreciated by young people who are curious about themselves and their friends."
—Library Journal

"A touching, funny, and heartwarming story of one woman's journey to what she was meant to be."
—YALSA / The Hub

"A warm, funny, and authentic portrait of the trials, tribulations, and joys that come along with understanding oneself and coming out."
—Manhattan Book Review

"Will appeal to anyone who's had to negotiate the awkward, thrilling, sometimes hilarious, sometimes bewildering loops and cul-de-sacs of the journey into adulthood and self-knowledge."
—Sarah Waters, author of The Paying Guests

"Evocative, authentic, and hilarious. As a gay woman I'm constantly looking for content that feels true to my own experiences, that helps me understand myself more -- in this book, I found that."
—Tillie Walden, author of Spinning and On a Sunbeam

"A really poignant look at the fuzziness and confusions of queer life."
—Ruby Tandoh, author of Eat Up

"I wanted to shout 'I felt like that too!' so many times while reading this book - it will help so many people feel less alone. A beautifully told memoir about accepting yourself for who you are."
—Kate Davies, author of In At The Deep End

"Beautiful — I cried and couldn't stop reading. A wonderful inspiration."
—Sara Quin, of Tegan and Sara

"Candid, so funny, and super relatable. Perfectly captures all of the confusing, complex, scary, and euphoric realizations in coming to terms with your sexuality."
—Alice Oseman, author of Heartstopper

"Ellie Crewes's honesty should be applauded in quietly and succinctly challenging a social obsession with trying to fit people's sexual identities into restrictive categories."
—Nicola Streeten, author of Billy, Me & You

"In this charming, funny comic, Crewes traces the moments she realised she might be gay, from her holy communion to her first date with a woman. She describes the "burst of life" she feels when she comes out once and for all – and the regret that it has taken her so long."
—Kate Davies, The Guardian, "Top Ten Books About Coming Out"

"Navigating one's own relation to the world has never been simple, but Crewes's deftly drawn lines don't divide her from the norm, they place her lovingly within its problematic embrace."
—Jenny Robins, The Quietus

"Witty, poignant, and beautifully observed."
—Andy Oliver, Broken Frontier
Scribner, 9781982147105, 320pp.
Publication Date: October 6, 2020
About the Author
Eleanor Crewes is a London-based illustrator and the author of the graphic memoir The Times I Knew I Was Gay and the middle-grade graphic novel Lilla the Accidental Witch. The Times I New I Was Gay began in 2017 as a hand-stitched zine and then was published as a small book by Good Comics and exhibited at the Toronto Comic Arts Festival and Thought Bubble. The newly expanded American edition was praised by Oprah.com, The Washington Post, Autostrcaddle ("[one] of the best queer books of 2020"), and others. Learn more about Ellie at EleanorCrewesIllustration.co.uk.