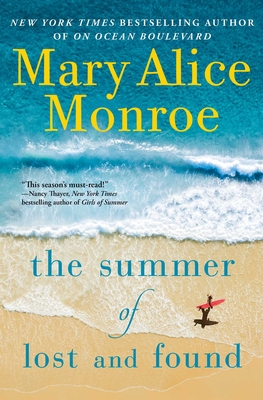 The Summer of Lost and Found (The Beach House)
Hardcover

* Individual store prices may vary.
Other Editions of This Title:
Digital Audiobook (5/10/2021)
Paperback (5/10/2022)
CD-Audio (5/11/2021)
Paperback, Large Print (7/6/2022)
Library Binding, Large Print (6/29/2021)
Mass Market (4/25/2023)
Description
A timely, tender, and compassionate tale of perseverance, love, and the bonds of family in the face of tremendous and sometimes painful upheaval in this latest novel in the New York Times bestselling Beach House series.

The coming of spring usually means renewal, but for Linnea Rutledge, this spring is a season of challenge. Linnea faces another layoff, this time from the aquarium she adores, and her family's finances, emotions, and health teeter on the brink. To complicate matters, her new love interest, Gordon, struggles to return to the Isle of Palms from England. Meanwhile, her old flame, John, turns up from California and is quarantining next door. She tries to ignore him, but when he sends her plaintive notes in the form of paper airplanes, old sparks ignite. When Gordon at last reaches the island, Linnea wonders—is it possible to love two men at the same time?

Love in the time of COVID-19 proves challenging, at times humorous, and ever changing. Relationships are redefined, friendships made and broken, and marriages tested. As the weeks turn to months, and another sea turtle season comes to a close, Linnea learns there are more meaningful lessons during this summer than opportunities lost: that summer is a time of wonder, and that the exotic lives in our own backyards.

Poignant and moving, The Summer of Lost and Found is "a novel of growing up, saying goodbye to the past, and learning to ask yourself the hard questions, including one of the most vital of all: 'Who do you really want to be'" (Kristin Harmel, New York Times bestselling author).
Praise For The Summer of Lost and Found (The Beach House)…
Praise for The Summer of Lost and Found

"Mary Alice Monroe takes you on a trip to the idyllic sun, sand, and gracious lifestyle of a Southern summer. This season's must-read!" —Nancy Thayer, New York Times bestselling author of Surfside Sisters

"Mary Alice Monroe's inspired choice to write about the pandemic during the pandemic has paid off in this next installment of her acclaimed Beach House series, which can easily be read as a stand-alone, too. Quarantine isn't so much an issue as it is a setting in the book, bringing unlikely housemates together into a gathering storm of questions and consequences, as the youngest members of Monroe's beloved Rutledge family try to find their proverbial way from sand to sea, just like the turtle hatchlings Monroe writes so vividly about. A novel of growing up, saying goodbye to the past, and learning to ask yourself the hard questions, including one of the most vital of all: 'Who do you really want to be?'" —Kristin Harmel, New York Times bestselling author of The Forest of Vanishing Stars

"The latest in Monroe's long-running Beach House series gives dedicated fans a chance to catch up with old friends, and provides enough background on the characters for new readers to enjoy. The intimate island atmosphere keeps the focus on family and romantic relationships, as the characters deal with a global pandemic. Monroe's book acknowledges some of the hardships that real people endured over the past year, addresses loss and change, and finds hope where it's possible, which gives depth to this timely story." —Library Journal

"Not a lot of authors have addressed the pandemic in their fiction, particularly if they write beach books, but South Carolina author Mary Alice Monroe has risen to the challenge in The Summer of Lost and Found... Monroe has captured the pandemic months with her characteristic warmth and keen eye for family dynamics. Readers will recognize their own challenges and emotions in this thoughtful examination of a difficult summer." —The Augusta Chronicle

"It wouldn't be summer without a new Mary Alice Monroe release to tuck into your beach bag... While Monroe's novels typically have an environmental angle, this one zooms in on the always mystifying ecosystem of human nature—the tangle of fears, hopes, desires, uncertainties, vulnerabilities, neediness, and generosity that shape our relationships and life trajectories—and how that tangle gets even messier, or clearer, when a pandemic upends all sense of normal... Monroe's fans will not be disappointed. Make room in your beach bag." —Charleston Magazine

Praise for Other Works by New York Times bestselling author Mary Alice Monroe

"Like so many of you, I start my summer season with the enchanting novels of Mary Alice Monroe. I'm a devoted fan of her magical depictions of the lowcountry and the charms of her characters."—Elin Hilderbrand, #1 New York Times bestselling author of 28 Summers

"Magical! Mary Alice Monroe's writing is always sensitive and true, and as inspiring as the natural wonder about which she writes." –New York Times bestselling author Dorothea Benton Frank

"Mary Alice Monroe writes gorgeously, with authority and tenderness, about the natural world and its power to inspire, transport, and to heal." –#1 New York Times bestselling author Susan Wiggs

"Readers come for the characters but stay for the animals." –New York Times

"Fast-paced and fluid, heartache as well as joy make this a most enjoyable read." –New York Journal of Books

"Loyal readers will recognize Monroe's signature love of animals, while fans of Elin Hilderbrand and Wendy Wax will enjoy the picturesque setting and heartwarmingly intertwined character arcs." –Booklist

"Saving our wildlife... one book at a time" –Southern Living

"It's hard to describe the beauty of Monroe's work. The words on the pages flow from the author's eyes to create a world of rare enchantment. Next, Monroe's brain assembles a plot that moves the characters from one amazing event to another. Then from Monroe's heart comes the passion for the story, one that is rich with love and depth." –Huffington Post

"You might pick up her books for escapism, but you'll be more environmentally aware by its end." –Chattanooga Times Free Press

"A poignant and compelling story of self-discovery, love and redemption." –Jacksonville Journal-Courier

"Monroe's trademark mix of environmental awareness, coastal nostalgia, and gentle wish fulfillment should be catnip for the hordes of recreational readers who've made her a New York Times bestseller." –Wilmington Star-News
Gallery Books, 9781982148348, 368pp.
Publication Date: May 11, 2021
About the Author
Mary Alice Monroe is the New York Times bestselling author of twenty-seven books, including the bestselling The Beach House series. Monroe also writes children's picture books, and a new middle grade fiction series called The Islanders. She is a member of the South Carolina Academy of Authors' Hall of Fame, and her books have received numerous awards, including the South Carolina Center for the Book Award for Writing; the South Carolina Award for Literary Excellence; the SW Florida Author of Distinction Award; the RT Lifetime Achievement Award; the International Book Award for Green Fiction; the Henry Bergh Children's Book Award; and her novel, A Lowcountry Christmas, won the prestigious Southern Prize for Fiction. The Beach House is a Hallmark Hall of Fame movie, starring Andie MacDowell. Several of her novels have been optioned for film. She is the cocreator and cohost of the weekly web show and podcast Friends & Fiction. Monroe is also an active conservationist and serves on several boards. She lives on the South Carolina coast, which is a source of inspiration for many of her books.