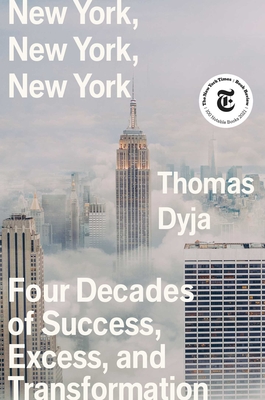 New York, New York, New York
Four Decades of Success, Excess, and Transformation
Hardcover

* Individual store prices may vary.
Other Editions of This Title:
Digital Audiobook (3/15/2021)
Paperback (3/15/2022)
Compact Disc (3/16/2021)
Description
A New York Times Notable Book

A lively, immersive history by an award-winning urbanist of New York City's transformation, and the lessons it offers for the city's future.

Dangerous, filthy, and falling apart, garbage piled on its streets and entire neighborhoods reduced to rubble; New York's terrifying, if liberating, state of nature in 1978 also made it the capital of American culture. Over the next thirty-plus years, though, it became a different place—kinder and meaner, richer and poorer, more like America and less like what it had always been.

New York, New York, New York, Thomas Dyja's sweeping account of this metamorphosis, shows it wasn't the work of a single policy, mastermind, or economic theory, nor was it a morality tale of gentrification or crime. Instead, three New Yorks evolved in turn. After brutal retrenchment came the dazzling Koch Renaissance and the Dinkins years that left the city's liberal traditions battered but laid the foundation for the safe streets and dotcom excess of Giuliani's Reformation in the '90s. Then the planes hit on 9/11. The shaky city handed itself over to Bloomberg who merged City Hall into his personal empire, launching its Reimagination. From Hip Hop crews to Wall Street bankers, D.V. to Jay-Z, Dyja weaves New Yorkers famous, infamous, and unknown—Yuppies, hipsters, tech nerds, and artists; community organizers and the immigrants who made this a truly global place—into a narrative of a city creating ways of life that would ultimately change cities everywhere.

With great success, though, came grave mistakes. The urbanism that reclaimed public space became a means of control, the police who made streets safe became an occupying army, technology went from a means to the end. Now, as anxiety fills New Yorker's hearts and empties its public spaces, it's clear that what brought the city back—proximity, density, and human exchange—are what sent Covid-19 burning through its streets, and the price of order has come due. A fourth evolution is happening and we must understand that the greatest challenge ahead is the one New York failed in the first three: The cures must not be worse than the disease.

Exhaustively researched, passionately told, New York, New York, New York is a colorful, inspiring guide to not just rebuilding but reimagining a great city.
Praise For New York, New York, New York: Four Decades of Success, Excess, and Transformation…
"[A] tour de force, a work of astonishing breadth and depth that encompasses seminal changes in New York's government and economy, along with deep dives into hip-hop, the AIDS crisis, the visual arts, housing, architecture and finance..... [Dyja has] in this outstanding work, done all that a historian can do to light the way forward, by so vividly illuminating the past."—New York Times

"An exhaustively researched, eye-opening look at the great city's tumultuous, transformative recent history and what comes next."—People Magazine

"This engaging book has the potential to become a classic text."—Library Journal

'[A] cogent narrative studded with pithy insights and vivid profiles... Dyja's exhaustive knowledge of the era, dazzling prose, and all-embracing sympathy—and scorn when it's merited—make for a stimulating study of New York's never-ending upheaval." —Publishers Weekly (starred review)

"[A] mammoth undertaking – a whirlwind history of the city from the late 1970s to the present… fast-moving, punchy prose…He's a master of using perfectly chosen adjectives to sketch a character." —New Statesman

"a psychedelic express subway ride, from pre-1970s fiscal crisis to post-pandemic" —Sam Roberts, New York Times

"Superb reflections on a city resurgent...Dyja goes far beyond politics and Wall Street: he is equally interested in and intelligent about everything from Aids to hip-hop, Keith Haring and Anna Wintour, Spike Lee, Jay-Z and Elaine Kaufman…This is an especially important book for the majority of New Yorkers too young to remember the remarkable trajectory the city has experienced." —Charles Kaiser, The Guardian

"Morally and politically charged, an urgent, readable story of Gotham's fortunes." —Kirkus Reviews

[Dyja] boldly anatomizes New York in a phenomenally intricate and revelatory web of provocative juxtapositions…A dynamic, passionately knowledgeable, surprising, and gutsy chronicle of a world-shaping city and humanity itself in all its paradoxical wonder. —Booklist (starred review)

"[A] book as marvelous and maddening as the city itself...Dyja's energetic storytelling, eclectic interests, and supple prose make New York, New York, New York a tour de force, and his intellectual integrity overcomes the passionate political convictions that help to make his chronicle so pungent." —Daniel Akst, Reason

"Dyja's prose sparkles and sings, revealing endlessly fascinating details while never bogging down or losing an overall sense of forward momentum. This is brilliant work on a broad canvas." —Passport Magazine

"Dyja's stellar achievement with this indispensable book has been to write of the last four decades of New York in the very way that the city likes to think of itself—as propulsive, alluring, energetic, infuriating, scrappy, lyrical, nostalgic, omniscient, staggering, memorable, magical. The result is a history like no other for a city like no other." —SIMON WINCHESTER, New York Times bestselling author of The Professor and the Madman and The Men Who United the States

"This moment was made for New York, New York, New York. With writing like the city itself—undaunted, unswerving, vibrant, and urgent—Thomas Dyja has given each of us the key to the city. We should grab it so we can unlock how to renew and revitalize this cherished metropolis." —RICHIE JACKSON, author of Gay Like Me: A Father Writes to His Son

"Tom Dyja paints a wry, entertaining, and important portrait of New York City over the past half century. Offering vibrant detail and a vivid cast of characters, his is a pointillist portrait that makes a clear point: change is the dominant melody of this city—a city that will not be strangled by bankruptcy, or a coronavirus, or the motley collection of boobs who govern and loudmouths who grab attention. New York will always transcend its afflictions because, in Whitman's phrase, it contains 'multitudes.'" —KEN AULETTA, New Yorker writer and author of The Streets Were Paved with Gold

"Alongside E. B. White's Here Is New York, Jane Jacobs's The Death and Life of Great American Cities, Robert Caro's The Power Broker, and Luc Sante's Low Life on my short shelf of essential books about America's greatest urban place now goes Thomas Dyja's splendid New York, New York, New York. This opinionated, encyclopedic, and wise chronicle coincides exactly with my time in the city so far, yet I learned something new on every page—and finished with a deeper appreciation of the astounding, self-loving, evolving hive New Yorkers inhabit." —KURT ANDERSEN, New York Times bestselling author of Evil Geniuses and Fantasyland
Simon & Schuster, 9781982149789, 544pp.
Publication Date: March 16, 2021
About the Author
Thomas Dyja is the author of the award-winning The Third Coast: When Chicago Built the American Dream, as well as three novels. He lives on the Upper West Side of Manhattan.
or
Not Currently Available for Direct Purchase