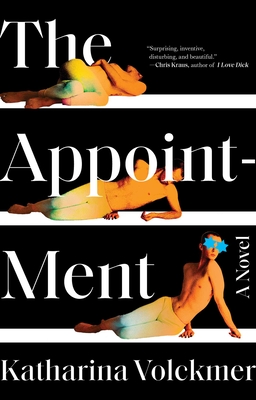 The Appointment
A Novel
Hardcover

* Individual store prices may vary.
Other Editions of This Title:
Digital Audiobook (8/31/2020)
Paperback (9/7/2021)
Compact Disc (9/1/2020)
Description
"A darkly funny untangling of national and sexual identity." —The Guardian * "Transgressive...Incendiary." —The New Yorker * "A furious comic monologue...with a disregard for propriety worthy of Alexander Portnoy." —The New York Times Book Review * "Sexy, hilarious, and subversive." —The Paris Review

For readers of Ottessa Moshfegh and Han Kang, a whip-smart debut novel in which a woman on the verge of major change addresses her doctor in a stream of consciousness narrative.

In a well-appointed examination in London, a young woman unburdens herself to a certain Dr. Seligman. Though she can barely see above his head, she holds forth about her life and desires, her struggles with her sexuality and identity. Born and raised in Germany, she has been living in London for several years, determined to break free from her family origins and her haunted homeland. But the recent death of her grandfather, and an unexpected inheritance, make it clear that you cannot easily outrun your own shame, whether it be physical, familial, historical, national, or all of the above.

Or can you? With Dr. Seligman's help, our narrator will find out.

In a monologue that is both deliciously dark and subversively funny, she takes us on a wide-ranging journey from Hitler-centered sexual fantasies and overbearing mothers to the medicinal properties of squirrel tails and the notion that anatomical changes can serve as historical reparation. The Appointment is an audacious debut novel by an explosive new international literary voice, challenging all of our notions of what is fluid and what is fixed, and the myriad ways we seek to make peace with others and ourselves in the 21st century.
Praise For The Appointment: A Novel…
"In a furious comic monologue to her gynecologist, the German-born narrator of this debut novel riffs on national shame, family secrets, sex and more with a disregard for propriety worthy of Alexander Portnoy." —New York Times Book Review

"Katharina Volckmer is a risk-taker of the first degree. Her monologue is of hypnotic, lyrical invention and wit, coruscating self-loathing, profound pessimism and fragile hope. As dark and brilliant as Naked Lunch. The Appointment is also mesmerisingly beautiful." —Ian McEwan, author of Atonement

"Set over the course of one long doctor's visit, The Appointment is a rant-as-novel, a long-winded list of grievances, questions, and observations, starting with its protagonist's admission that she sometimes has a lot of pity for Hitler, and occasionally thinks about screwing him. It only gets wilder — and more thought-provoking — from there." —Vulture

"[Veering] from the sexual to the shocking to the mundane in the space of paragraphs...The Appointment [is]...a darkly funny untangling of national and sexual identity." —The Guardian

"Reminiscent of a Bernhardian monologue, one half of the conversation between a German patient living in London and her Jewish doctor....Deftly subtle....At once sexy, hilarious, and subversive, the book is also acutely sad. Desire, in this novel, takes many forms: the desire to be heard, the desire to be otherwise, the desire for a different past and a different future." —The Paris Review

"Surprising, inventive, disturbing and beautiful. I inhaled all its meanness and rancor at the beginning, which felt like a breath of fresh air. Even though I knew it would eventually turn, I was surprised and moved when it did. The Appointment is an overdue, radical intervention." —Chris Kraus, author of I Love Dick

"A bitterly comic unburdening of a conscience....[Volckmer's] gleeful provocation, like that of Ottessa Moshfegh, is never in service to glib nihilism or amorality. In fact, this is a deeply moral book, one that, beneath the graphic sex talk and raucous vitriol, is concerned with contemporary Europe's historical trauma, the oppressiveness of traditional gender roles, and one's personal responsibility to the past...Consider The Appointment a warning shot fired across the bow of the modern novel." —The Slant

"The Appointment is an epic truth bomb, a radical, hilarious roller-coaster, raw and wild as they come. The way this novel delights in itself, taking pleasure in its singularity and perversity, is the perfect antidote to boredom and bullshit." —Elisa Albert, author of After Birth

"The most audacious novel I have read in years. It's both vagina monologue and virtuoso performance...horribly funny and shockingly good...if the best writing takes a risk, this is Russian roulette." —Frances Wilson, Times Literary Supplement

"Katharina Volckmer is a wild new talent, and unlike, say, twentieth-century Europe, The Appointment succeeds in justifying its obscenities." —Joshua Cohen, author of The Book of Numbers

"The Appointment is darkly hilarious, moving and original. Its vibrant, incisive voice surprises and enlivens the reader on every page." —Megan Hunter, author of The Harpy

"The Appointment is transgressive, spiky, full of ideas but astonishingly light-footed, written in beautiful, unsettling prose, and very, very funny—in short, everything a novel should be." —Adam Biles, author of Feeding Time

"The Appointment is a wonderful first novel—at once savage and precise, hypercomical and furious. It has all the authority of true chutzpah." —Adam Thirlwell, author of Lurid & Cute

"A book destined to enter the list of great monologues of literary history. If Dostoevsky's underground man had read both Thomas Bernhard and Maggie Nelson, he might have conjured something as brave as this." —Carlos Fonseca, author of Natural History

"Radical and endlessly thought-provoking, this book is a bold examination of the relationship between nationhood and selfhood." —The New Statesman

"Audacious...hilariously funny. The prose is immaculate, she captures you, buttonholes you from the very first page...It is better than it has any right to be for a first book." —John Mitchinson, Backlisted
Avid Reader Press / Simon & Schuster, 9781982150174, 144pp.
Publication Date: September 1, 2020
About the Author
Katharina Volckmer was born in Germany in 1987. She now lives in London where she works for a literary agency. The Appointment is her first novel.
or
Not Currently Available for Direct Purchase