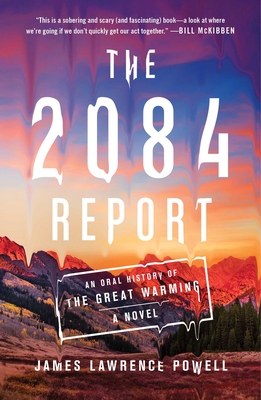 The 2084 Report
An Oral History of the Great Warming
Hardcover

* Individual store prices may vary.
Other Editions of This Title:
Digital Audiobook (8/31/2020)
Paperback (7/20/2021)
Compact Disc (9/1/2020)
Description
This vivid, terrifying, and galvanizing novel reveals our future world after previous generations failed to halt climate change—perfect for fans of The Drowned World and World War Z.

2084: Global warming has proven worse than even the direst predictions scientists had made at the turn of the century. No country—and no one—has remained unscathed. Through interviews with scientists, political leaders, and citizens around the globe, this riveting oral history describes in graphic detail the irreversible effects the Great Warming has had on humankind and the planet.

In short chapters about topics like sea level rise, drought, migration, war, and more, The 2084 Report brings global warming to life, revealing a new reality in which Rotterdam doesn't exist, Phoenix has no electricity, and Canada is part of the United States. From wars over limited resources to the en masse migrations of entire countries and the rising suicide rate, the characters describe other issues they are confronting in the world they share with the next two generations. Simultaneously fascinating and frightening, The 2084 Report will inspire you to start conversations and take action.
Praise For The 2084 Report: An Oral History of the Great Warming…
"If the existential threat of climate chnage keeps you up at night, James Lawrence Powell's The 2084 Report will make you want to do everything in your power to elect leaders who will combat global warming and save our planet."
— Marie Claire

"This is a sobering and scary (and fascinating) book—a look at where we're going if we don't quickly get our act together. And it's replete with clues about how we could indeed make the changes that would make this fiction, not prophecy."


— Bill McKibben, New York Times bestselling author of Falter: Has the Human Game Begun to Play Itself Out?

"These postcards from the future—dozens of them, as told to a historian in 2084 by scientists, a doctor, a priest, an ambassador, several politicians, a general, the last person ever born on Tuvalu, and others—demanded my full attention. They reminded me that every day counts. We have much to accomplish."
— Edward Maibach, George Mason University Center for Climate Communication

"As the devastating impacts of climate change now become ever-more apparent, historian and expert storyteller James Powell delivers a vision of the planetary nightmare we face if we fail to act now on the defining challenge of our time, the challenge to avert catastrophic climate change. Read this book and be inspired to make a difference."
— Michael E. Mann, Distinguished Professor, Penn State University and co-author of The Madhouse Effect: How Climate Change Denial Is Threatening Our Planet, Destroying Our Politics, and Driving Us Crazy

"Fans of climate apocalypse fiction will be chilled by this convincing work."
— Publishers Weekly

"[A] riveting oral history... Simultaneously fascinating and frightening, The 2084 Report will inspire you to start conversations and take action."
— Tor.com

"Remarkable....probably the most important literary work on climate change."
— The Herald Glasgow
Atria Books, 9781982150211, 240pp.
Publication Date: September 1, 2020
About the Author
James Lawrence Powell graduated from Berea College with a degree in geology. He earned a PhD in geochemistry from the Massachusetts Institute of Technology and has several honorary degrees, including Doctor of Science degrees from Berea College and from Oberlin College. He taught geology at Oberlin College for over twenty years and served as Acting President of Oberlin, President of Franklin and Marshall College, President of Reed College, President of the Franklin Institute Science Museum in Philadelphia, and President and Director of the Los Angeles County Museum of Natural History. President Reagan and later, President George H. W. Bush, appointed him to the National Science Board, where he served for twelve years. Asteroid 1987 SH7 is named for him. In 2015, he was elected a Fellow of the Committee for Skeptical Inquiry (CSI).
or
Not Currently Available for Direct Purchase