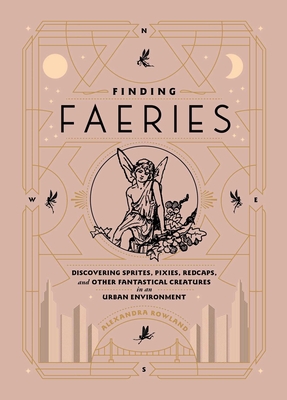 Finding Faeries
Discovering Sprites, Pixies, Redcaps, and Other Fantastical Creatures in an Urban Environment
Hardcover

* Individual store prices may vary.
Other Editions of This Title:
Digital Audiobook (10/19/2020)
Compact Disc (10/20/2020)
Description
Discover where faeries and other mythical creatures are hiding in our modern, urban environment with this beautifully illustrated guide to uncovering magical beings.

Like every other being in our world, fantastical creatures have been forced to adapt to the climate, industrial, and cultural changes of the modern era. Countless formerly common creatures including akeki and cave trolls have been driven out by urban sprawl and climate change while others, like ether sprites and brownies, have been able to thrive in abundance, creating homes in city environments.

Featuring descriptions of magical creatures from around the globe, this encyclopedic collection details the history and adaptability of more than fifty different species of fae. Within these pages, you'll learn about:

-The History of the Land of Faerie and who you might find there
-Immigration's Effect on legendary creatures, who often travel with us when we move
-The Native Species of the Americas, including the Thunderbird and wendigo
-The Impacts of Climate Change and Conservation, and how you can help preserve these mythical creatures
-And Beginner Tips for Fae-Spotting, including safety tips for interacting with fae​

Combining scholarship with modern lore and environmentalism, and featuring stunning hand-drawn illustrations, Finding Faeries is a captivating look at the fantastical beings that inhabit our world today.
Praise For Finding Faeries: Discovering Sprites, Pixies, Redcaps, and Other Fantastical Creatures in an Urban Environment…
"Like the liminal spaces inhabited by its denizens, this book brilliantly occupies its own inbetween place, spanning the realms of anthropology, mythology, and natural history. I have nothing like its particular combination of imagination and research on my bookshelves to date. Buy it for the gorgeous illustrations and fascinating anecdotes, but prepare to chuckle your way through the wise and funny hints on road trips, fae-watching, and how to unsubscribe if a faerie gets your email address." —Premee Mohammed, author of Beneath of the Ring

"There's a certain space between the most rigid of folklore researches and the highest of the fantastical that is so barely populated that sightings are as rare as will-o'-the-wisps; the hidden vale of the fanciful bestiary. And it is here we gratefully discover Alexandra Rowland's Finding Faeries. Beautifully illustrated by Miles Äijälä, Rowland presents a coherent vista of the half-seen from all around the world. Nor are they all quite what you might expect, from the mutant faeries of Chernobyl via 'Spirits of Inebriation' (including absinthe, of course) to an interpretation of Redcaps that is quite a divergence from the usual 'murder gnomes.' If you loved Lady Cottington's Pressed Fairy Book, you need this on your shelf." —Jonathan L. Howard, author of Johannes Cabal the Necromancer

"Finding Faeries presents a delightful, thoughtful journey through a world far more wondrous than our own. Alexandra Rowland's gently academic prose welcomes us into fantastical whimsy—their post-industrial creations nestle gleefully alongside more traditional cryptids. This haunting and liminal guide, rife with telling details, shows that our era of concrete and climate change can still be home to el-dritch wonders—if you know where to look." —Jennifer Mace, speculative fiction author and cohost of the Be the Serpent podcast

"This book resurrected my sense of wonder by providing a lively, luminous look at the possible denizens of Faerie, and it also turned that illumination unflinchingly onto the murkier aspects—such as climate change, and colonization—of our mundane world." —Freya Markse, fantasy author
S&S/Simon Element, 9781982150266, 208pp.
Publication Date: October 20, 2020
About the Author
Alexandra Rowland is the author of A Conspiracy of Truths, A Choir of Lies, and Finding Faeries, and occasionally, a bespoke seamstress under the stern supervision of their feline quality control manager. They hold a degree in world literature, mythology, and folklore from Truman State University, and they are one of three hosts of the Hugo Award–nominated literary podcast, Be the Serpent. Find them at AlexandaRowland.net, on Twitter @_AlexRowland, or wandering the woods of western Massachusetts.