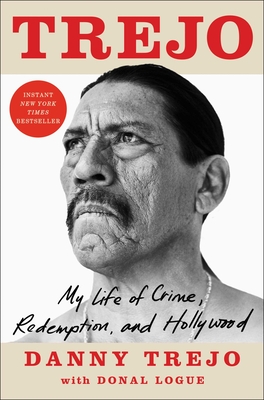 Trejo
My Life of Crime, Redemption, and Hollywood
Hardcover

* Individual store prices may vary.
Other Editions of This Title:
Digital Audiobook (7/5/2021)
Paperback (4/5/2022)
Library Binding, Large Print (10/20/2021)
Compact Disc (7/6/2021)
Description
INSTANT NEW YORK TIMES BESTSELLER

"If you're a fan like I am this is definitely the book for you." —Pete Davidson, actor, producer, and cast member on Saturday Night Live

"Danny's incredible life story shows that even though we may fall down at some point in our lives, it's what we do when we stand back up that really counts." —Robert Rodriguez, creator of Spy Kids, Desperado, and Machete

Discover the full, fascinating, and inspirational true story of Danny Trejo's journey from crime, prison, addiction, and loss—it's "enough to make you believe in the possibility of a Hollywood ending" (The New York Times Book Review).

On screen, Danny Trejo the actor is a baddie who has been killed at least a hundred times. He's been shot, stabbed, hanged, chopped up, squished by an elevator, and once, was even melted into a bloody goo. Off screen, he's a hero beloved by recovery communities and obsessed fans alike. But the real Danny Trejo is much more complicated than the legend.

Raised in an abusive home, Danny struggled with heroin addiction and stints in some of the country's most notorious state prisons—including San Quentin and Folsom—from an early age, before starring in such modern classics as Heat, From Dusk till Dawn, and Machete. Now, in this funny, painful, and suspenseful memoir, Danny takes us through the incredible ups and downs of his life, including meeting one of the world's most notorious serial killers in prison and working with legends like Charles Bronson and Robert De Niro.

An honest, unflinching, and "inspirational study in the definition of character" (Kevin Smith, director and actor), Trejo reveals how he managed the horrors of prison, rebuilt himself after finding sobriety and spirituality in solitary confinement, and draws inspiration from the adrenaline-fueled robbing heists of his past for the film roles that made him a household name. He also shares the painful contradictions in his personal life. Although he speaks everywhere from prison yards to NPR about his past to inspire countless others on their own road to recovery and redemption, he struggles to help his children with their personal battles with addiction, and to build relationships that last.

Redemptive and painful, poignant and real, Trejo is a portrait of a magnificent life and an unforgettable and exceptional journey.
Praise For Trejo: My Life of Crime, Redemption, and Hollywood…
"A story with compassion and unsparing candor…its enough to make you believe in the possibility of a Hollywood ending."
— New York Times Book Review

"This gripping autobiography recounts a flawed hero's journey as Trejo digs his way out of tragedy, temptation, and the toxic masculinity of his youth. Trejo's true power far exceeds that of his tough-guys roles."
— Booklist

"A raw and deeply engrossing salvation story."
— Kirkus Reviews

"From ex-con to icon. Danny's incredible life story shows that even though we may fall down at some point in our lives, it's what we do when we stand back up that really counts."
— Robert Rodriguez, creator of Spy Kids, Desperado, and Machete

"Trejo's tale, as told by Logue, is an inspirational study in the definition of character. Danny's journey of recovery and self-discovery is like a road map to those of us who are still struggling to figure ourselves out. This needs to become a movie, but who but Danny could play The Trejo?"
— Kevin Smith, filmmaker, actor, and author

"Danny Trejo is an American Treasure. I've been a fan of his since I was 9 years old. He's had one of the most legendary runs in Hollywood history in my opinion. If you're a fan like I am this is definitely the book for you."
— Pete Davidson, actor, producer, and cast member, Saturday Night Live

"Trejo is a celebration of a life fully lived. With brutal honesty, Danny Trejo shares his troubled past and journey to becoming the person he was meant to be. Beyond the 'tough guy' persona we've come to know on film is a man who cares deeply about his family, his friends, his Latino community, and beyond. Trejo shows us that we can turn our lives around, rewrite our most difficult moments into proud accomplishments, and transform our deepest pain into our greatest joy."
— Reyna Grande, author of National Book Critic Circle finalist The Distance Between Us

"I've long recognized Danny Trejo as an American icon. But what I didn't know is that he's also one hell of a storyteller. Brimming with heart and generosity, wicked humor and hard-won wisdom, Trejo reaches across generations, cultures, and borders to leave readers with a righteous, inspirational high."
— Francisco Cantú, New York Times bestselling author of The Line Becomes a River

"Danny Trejo's unflinching, exquisitely written memoir Trejo unpacks his extraordinary journey from the hole at Folsom Prison and the notorious B Section at San Quentin to the dizzy heights of leading roles in Hollywood movies. As famous in Los Angeles for his work in addiction and recovery as for his acting, this is also a narrative of someone finding the path out of hell and helping others escape with him. Trejo tells his story with grace, humor, humility as well as a terrifying immediacy during the more violent portions of Trejo's troubled early years. Add Danny Trejo's name to those of Chester Himes, Nelson Algren, Malcolm X, and Jimmy Santiago Baca, men who served hard time and came out the other side to teach us about living life to the fullest in the now."
— Adrian McKinty, ITW Award–winning author of The Chain

"Trejo is a story of survival, of power, of transformation, and ultimately, of love. Hollywood couldn't have written a script this dramatic—this is the real-life rebirth of a man who wrote his own story in life and now finally shares it with us."
— Eric Garcetti, Mayor of Los Angeles

"I was incredibly fortunate to shoot Blood-In, Blood-Out inside San Quentin, The Big House. We had 300 active inmates working every day as extras next to the eleven actors I'd cast for the main roles. Danny Trejo was a graduate of 'Q,' so in addition to playing Geronimo in the film, he served as my unofficial prison advisor—he knew the territory intimately. We shot in Cell Block 'C,' on Tier 5, in the actual cell where Danny had spent two years of his life. It wasn't just that Trejo was the real deal—he turned out to be a terrific actor."
— Taylor Hackford, director and producer of Blood-In, Blood-Out

"This is more, much more, than a celebrity memoir. It's a gutsy, wrenching, inspiring account of personal redemption and one man's discovery of a higher purpose, written as though Trejo's life depended on it. And once you read his story, you'll know that it does."
— Walter Kirn, New York Times bestselling author of Blood Will Out: The True Story of a Murder, a Mystery, and a Masquerade

"This page-turner will thrill the legend's huge fan base."
— Publishers Weekly (starred)

"A brutally candid account of intergenerational struggles with violence, incarceration, addiction and toxic masculinity and, most importantly, how these cycles might be broken."
— Michelle Anya Anjirbag
Atria Books, 9781982150822, 288pp.
Publication Date: July 6, 2021
About the Author
Danny Trejo is one of Hollywood's most recognizable, prolific, and beloved character actors. Famed for his ultra-baddie roles in series like AMC's Breaking Bad, FX's Sons of Anarchy, and director Robert Rodriguez's global, billion-dollar Spy Kids and Machete film franchises, Danny is also a successful restauranteur. He owns seven locations of Trejo's Tacos, Trejo's Cantina, and Trejo's Coffee & Donuts in the Los Angeles area, and is expanding his Trejo's Tacos franchise nationwide. Visit DannyTrejo.com to learn more.

Born in Canada to Irish parents, Donal Logue was raised on the Mexican border in Nogales, Arizona, Calexico and El Centro, California. A veteran of over seventy Hollywood films and hundreds of television episodes, Logue won the Grand Jury Prize for outstanding acting at the 2000 Sundance Film Festival for The Tao of Steve. He stays busy between creative projects with his trucking company, Aisling Trucking, and hardwood company, Frison-Logue Hardwoods, in Southern Oregon. Visit DonalLogue.com.