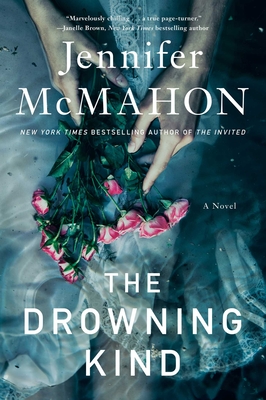 The Drowning Kind
Hardcover

* Individual store prices may vary.
Other Editions of This Title:
Digital Audiobook (4/5/2021)
Digital Audiobook (4/5/2021)
Mass Market (6/28/2022)
Paperback (1/4/2022)
Library Binding, Large Print (8/1/2021)
Description
A NEW YORK TIMES BEST THRILLER OF 2021

In this "blisteringly suspenseful tale that will keep you up at night" (Wendy Webb, author of Daughters of the Lake), a woman returns to the old family home after her sister mysteriously drowns in its swimming ​pool…but she's not the pool's only victim.

Be careful what you wish for.

When Jax receives nine missed calls from her older sister, Lexie, she assumes that it's just another one of her sister's episodes. Manic and increasingly out of touch with reality, Lexie has pushed Jax away for over a year. But the next day, Lexie is dead: drowned in the pool at their grandmother's estate. When Jax arrives at the house to go through her sister's things, she learns that Lexie was researching the history of their family and the property. And as she dives deeper into the research herself, she discovers that the land holds a far darker past than she could have ever imagined.

In 1929, thirty-seven-year-old newlywed Ethel Monroe hopes desperately for a baby. In an effort to distract her, her husband whisks her away on a trip to Vermont, where a natural spring is showcased by the newest and most modern hotel in the Northeast. Once there, Ethel learns that the water is rumored to grant wishes, never suspecting that the spring takes in equal measure to what it gives.

A modern-day ghost story that illuminates how the past, though sometimes forgotten, is never really far behind us, The Drowning Kind "is satisfying on every level: Marvelously chilling, elegantly written, a true page-turner" (Janelle Brown, New York Times bestselling author).
Praise For The Drowning Kind…
PRAISE FOR JENNIFER MCMAHON

The Drowning Kind

"The Drowning Kind is satisfying on every level: Marvelously chilling, elegantly written, a true page-turner. I couldn't wait to get to the end; I also wanted to savor every page. Jennifer McMahon is a master of mood."—Janelle Brown, New York Times bestselling author of Pretty Things and Watch Me Disappear

"The details are so juicy and the revelations of how the past has led to the present so deftly done that you can't help being terrified." —New York Times Book Review

"McMahon has a gift for creating creepy atmosphere and letting spooky suggestions linger in the mind. She's also adept at weaving legends and stories into the fabric of what feels like real life, because her characters are so believably vulnerable. For best results, read it on a dark and stormy night—in a well-lit room, far away from the water."—Kirkus Reviews (starred review)

"Two sisters, a cursed Vermont house and a spring-fed pool with a mind of its own. An other-worldly treat." —People Magazine

"The Drowning Kind is both a haunting exploration of grief and a tale that will make the hairs on the back of your neck stand up. You'll stay up late reading, but take my advice: whatever you do, don't go in the water."—Simone St James, New York Times bestselling author of The Sun Down Motel

"[A] taut supernatural thriller . . . McMahon's skills in crafting captivating plots and building suspense shine."—Publishers Weekly

"In The Drowning Kind, Jennifer McMahon weaves a blisteringly suspenseful tale that will keep you up at night wondering what is real, what is otherworldly, and most of all, what in the name of all that's unholy is in the water."—Wendy Webb, #1 bestselling author of Daughters of the Lake

"This streamlined supernatural thriller is built on gifted storytelling and has the atmosphere of a fireside ghost tale, woven with strands of longing and regret."—Booklist

"Careful reading McMahon's latest novel, The Drowning Kind, after dark. This book will suck you down to its bottomless black depths. Fast-paced and creepy, it bubbles over with revelations, twists, and turns, not to mention wet footsteps of the dead leading right to your door. You are warned!"—Erica Ferencik, author of The River at Night and Into the Jungle

"To read The Drowning Kind is a haunting experience. This novel strikes a perfect balance between past and present, concealing and revealing, language to linger over and a compulsive tale unfolding. At the core, vividly rendered relationships and a central question: can the past ever really stay buried?"—Jess Kidd, award-winning author of Things in Jars

"Past and present, the real and the imaginary intertwine like ribbons on a maypole in this beautifully haunting story of familial love and loss. For those who crave magic in their everyday lives, Jennifer McMahon will make you believe."—Alma Katsu, author of The Deep

"Lush, dark and relentlessly eerie—a fast-paced tug of war between suspicion and the supernatural."—Sue Rainsford, author of Follow Me to Ground

The Invited

"Jennifer McMahon's latest premise is utterly chilling: Imagine you don't stumble upon a haunted house, you build one. The Invited deserves a special spot in the canon of great ghost stories, and will remind McMahon's readers why she is such a worthy literary descendant of Shirley Jackson."—Chris Bohjalian, bestselling author of The Flight Attendant

"A dream home becomes one of nightmares for a husband and wife attempting to start a new life in the woods of Vermont. Board by board, stone by stone, tragic events of the past creep toward the light in this delicious slow burn of a haunted tale."—J.D. Barker, bestselling author of The Fourth Monkey and Dracula

The Winter People

"Jennifer McMahon is a writer of exceptional talent, and The Winter People is a hypnotic, gripping and deeply moving thriller. With her beautifully drawn characters and complex, layered, and painfully suspenseful story, McMahon has woven a dream from which I didn't want to wake — and couldn't have even if I wanted to."—Lisa Unger, author of In The Blood

"This is not a book that will sit unread on anyone's bedside table for very long. Open the first few pages and you are swept into a swift, dark current of unfolding events that will hold you enthralled. Much more than a spooky mystery of murder and mayhem, The Winter People blends the anguish of loss and the yearning for connection into one great story, well told." —Kate Alcott, author of The Dressmaker

"I don't believe in ghosts. At least that's what I kept telling myself as I read The Winter People. I also don't need to sleep with the lights on. I told myself that, too. But I was whistling past a graveyard–or, in this case, past a Vermont landscape that is authentic and recognizable and still altogether chilling. The Winter People is terrifying–everything you could want in a classic ghost story."—Chris Bohjalian, author of The Light in the Ruins

"In an edge-of-your-seat scary ghost story, Jennifer McMahon's The Winter People yanks you from one page to the next by expertly weaving the past and present. I will never look at the woods behind my home in the same way again!" —Heather Gudenkauf, author of The Weight of Silence

"A deliciously terrifying glimpse into a ghostly world that will haunt you long after you've finished the last page. Jennifer McMahon knows how to conjure your darkest fears and nightmares, while entertaining you with a clever, twisty plot that winds around and around, pulling you deep into the forbidden, secret world of The Winter People."—Chevy Stevens, author of Always Watching

The One I Left Behind

"Haunting and harrowing, The One I Left Behind offers enthralling suspense but also so much more: a richly poignant tale of the families we're born into and the ones we build ourselves." —Megan Abbott, author of Dare Me

Don't Breathe a Word

"Jennifer McMahon never flinches and never fails to surprise as her stories twist down unexpected roads. Don't Breathe a Word balances love and horror as McMahon weaves a young couple into a perverse fairyland where Rosemary's Baby could be at home." —Randy Susan Meyers, author of The Murderer's Daughters

"Jennifer McMahon's novels are like the perfect winter truffle: dark, rich, earthy, and an absolute, decadent pleasure. Don't Breathe a Word is a haunting page-turner that kept me up, spine shivering and enthralled, way past my bedtime." —Joshilyn Jackson, author of Gods in Alabama and Backseat Saints

"Beautifully written and spooky, Don't Breathe a Word wraps around you and pulls you into a dark world of fairies and family secrets."—Chevy Stevens, author of Still Missing

Dismantled

"A failed marriage. A long-buried secret. A lonely child's imaginary friend. From these simple ingredients, Jennifer McMahon has constructed a fun, twisty thriller. Expect Dismantled to earn comparisons to The Secret History." —Stewart O'Nan, author of Songs For the Missing

Island of Lost Girls

"Island of Lost Girls is an unsettling account of the secret lives of children, told in unexpected twists and turns, as if Alice had fallen down the wrong rabbit hole and lost her childhood. McMahon never flinches, but her readers will at every dark secret." —Keith Donohue, author of The Stolen Child

Promise Not to Tell

"Deeply disturbing and darkly compelling, Promise Not to Tell will have you looking over your shoulder for the Potato Girl long after you've turned the last page." —Sara Gruen, author of Water for Elephants

"I loved this book. I was entertained, terrified, and held captive until it was done. I could not put it down." —Sara Gran, author of Come Closer

"Promise Not to Tell takes you through the twisted world of adolescent friendship, betrayal and murder." —Pam Lewis, author of Speak Softly, She Can Hear
Gallery/Scout Press, 9781982153922, 336pp.
Publication Date: April 6, 2021
About the Author
Jennifer McMahon is the author of ten novels, including the New York Times bestsellers Promise Not to Tell and The Winter People. She lives in Vermont with her partner, Drea, and their daughter, Zella. Visit her at Jennifer-McMahon.com or connect with her on Instagram @JenniferMcMahonWrites and Facebook @JenniferMcMahonBooks.