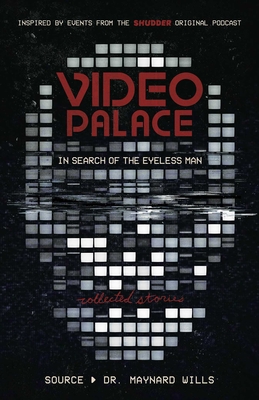 Video Palace
In Search of the Eyeless Man: Collected Stories
Hardcover

* Individual store prices may vary.
Other Editions of This Title:
Digital Audiobook (10/12/2020)
Compact Disc (10/13/2020)
Paperback (12/31/2045)
Description
A collection of chilling stories from the leading writers in horror and suspense, exploring elusive urban legends.

Join Michael Monelo, one of the creators of the Blair Witch Project, and TV writer/director veteran, Nick Braccia, on a journey through urban horror and suspense.

Explore the world of Maynard Wills, PhD, professor of folklore and fan of the podcast, Video Palace. The podcast followed a man named Mark Cambria, who along with his girlfriend Tamra Wulff, investigated the origins of a series of esoteric white video tapes. Cambria went missing in pursuit of these tapes, but not before hearing whispers of an ominous figure called the Eyeless Man.

Fascinated by the podcast and Cambria's disappearance, Wills embarks on his own investigation into the origins of the tapes and the Eyeless Man, who he believes has lurked in the dark corners of media culture and urban legends for at least seventy-five years. As part of his study, he has invited popular writers of horror and gothic fiction to share their own Eyeless Man stories, whether heard around the campfire or experienced themselves.

Get swept away in this thrilling and terrifying horror anthology—which can be read on its own or as a companion to the hit Shudder podcast, Video Palace.

Short stories include:
-"Deep Focus" by Bob DeRosa
-"The Satanic Schoolgirls" by Meirav Devash and Eddie McNamara
-"Doorways of the Soul" by Owl Goingback
-"A Texas Teen Story" by Brea Grant
-"Two Unexplained Disappearances in South Brisbane, Recalled by an Innocent Bystander" by Merrin J. McCormick
-"Dreaming in Lilac on a Cool Evening" by Rebekah McKendry and David Ian McKendry
-"Ecstatica" by Ben Rock
-"The Inward Eye" by John Skipp
-"The Real Sharon Lockenby" by Graham Skipper
-"Ranger Ronin Presents…" by Gordon B. White
Praise For Video Palace: In Search of the Eyeless Man: Collected Stories…
"This is, perhaps, the most reckless, irresponsible book that has been published in my lifetime. There are places the human mind should not go, stories that should remain untold, and mysteries best left unexplored. This is one of them. If you value your mental and spiritual health, put this down immediately and move along." —Douglas Rushkoff, Media theorist, author of Team Human, Present Shock, Media Virus.

"Reader beware, nightmares will ensue." —Alys Arden, author of The Casquette Girl series

"Shudder's exclusive scripted podcast series Video Palace, created by Nick Braccia and Michael Monello, delivered a 10-part story involving a mysterious VHS tape and its origins. Its lead character went missing in his pursuit of answers, but not before hearing about the Eyeless Man. Folklore professor Dr. Maynard Wills, Ph.D. embarks on his investigation of the Eyeless Man here, inviting popular horror and gothic fiction writers to share their own Eyeless Man stories. Braccia and Monello edit a hefty collection of shorts that enhance the ever-growing world that began with the podcast. Look for stories by genre stalwarts like Graham Skipper and Brea Grant. It's a comprehensive companion piece, and the mid-October release date gives plenty of time to catch up with Shudder's podcast."—Bloody Disgusting's Fall Reading Guide: 10 Books to Read This Halloween Season
Tiller Press, 9781982156442, 384pp.
Publication Date: October 13, 2020
About the Author
Dr. Maynard Wills is Associate Professor of Folklore at The New School in New York City. He's spent years studying and publishing urban legends, both domestically and globally. He consults in the entertainment industry and frequently gives talks on popular myths. He's had a career-long fascination with the entity he believes to be the Eyeless Man and was inspired by Shudder's Video Palace podcast to publish aspects of his work for a mass audience. At the time of publication, Dr. Wills is missing.

Nick Braccia is a Cannes Lions– and Clio–winning writer, director, and producer. In 2018, he cocreated and coexecutive produced the horror podcast Video Palace for AMC Network's streaming service Shudder. While working at the marketing agency Campfire, he helped to develop immersive, narrative experiences for TV shows like Outcast, Sense8, Watchmen, The Man in the High Castle, Westworld, and The Purge. Braccia is a member of the Producers Guild of America and lives in Manhattan with his partner, Amanda, and daughter, Evie Blue.

Michael Monello is a pioneer in immersive storytelling. In the late 1990s, Monello and his partners at Haxan Films created The Blair Witch Project, a story told across multiple media, which became a pop-culture touchstone. Monello cofounded Campfire in 2006 which creates groundbreaking participatory stories and experiences for TV shows such as True Blood, Game of Thrones, The Purge, The Man in the High Castle, Westworld, Hunters, and more. He cocreated and co-executive produced Video Palace, a scripted fiction horror podcast for Shudder. Monello lives in Brooklyn with his wife Julie and daughters Ava and Lila.
or
Not Currently Available for Direct Purchase