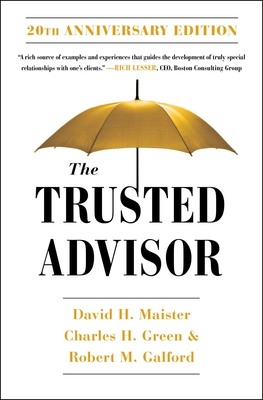 The Trusted Advisor
20th Anniversary Edition
Paperback

* Individual store prices may vary.
Other Editions of This Title:
Paperback (10/9/2001)
MP3 CD (8/6/2009)
Compact Disc (8/6/2009)
Hardcover (10/5/2000)
Description
The 20th anniversary edition of the "brilliant and practical" (Tom Peters, author of The Professional Service 50) business classic—now updated to reflect the digital world—provides essential tools and wisdom for all consultants, negotiators, and advisors.

In today's fast-paced networked economy, professionals must work harder than ever to maintain and improve their business skills and knowledge. But technical mastery of one's discipline is not enough, assert professional advisors David H. Maister, Charles H. Green, and Robert M. Galford. The key to professional success, they argue, is the ability to earn the trust and confidence of clients.

In this 20th anniversary edition, Maister, Green, and Galford enrich our understanding of today's society and illustrate how to be effective communicators in a digital world. Using their model of "the trust equation" they dissect the rational and emotional components of trustworthiness. With precision and clarity, they detail five distinct steps you must take to create a trust-based relationship. Each step—engage, listen, frame, envision, and commit—is richly described in distinct chapters.

This immensely accessible book offers "an invaluable road map to all those who seek to develop truly special relationships with their clients" (Carl Stern, CEO, Boston Consulting Group). The authors weave together anecdotes, experience, and examples of both their own and others' successes and mistakes to great effect. The Trusted Advisor is essential reading for anyone who must advise, negotiate, or manage complex relationships with others.
Praise For The Trusted Advisor: 20th Anniversary Edition…
"The Trusted Advisor is a foundational text for any consulting professional looking to build, sustain, and grow their client relationships. I have leveraged its guiding principles and its exceedingly practical advice to reimagine what it means to demonstrate trust—and have urged the many colleagues to whom I have gifted the book to do the same. Twenty years since it was first published, The Trusted Advisor is more relevant and valuable than ever, helping professionals navigate constant disruption—so we can do the same for our clients." —Janet Foutty, U.S. executive chair, Deloitte

"A rich source of examples and experiences that guide the development of truly special relationships with one's clients." —Rich Lesser, CEO, Boston Consulting Group

"Full of both sage wisdom and applicable advice, The Trusted Advisor has helped elevate the work of an entire generation of advisors, and I know it will continue to be an invaluable resource for generations to come." —Kelly Grier, managing partner U.S. and Americas, EY

"For many years The Trusted Advisor has been Forrester's handbook for delivering outstanding customer service—whenever we lost our way, this book's wisdom and straight talk would snap us right back on track. This is my favorite book to give to clients—I'm so glad that I can now pass on an updated new edition." —George Colony, chairman and CEO, Forrester Research

"Maister, Green, and Galford share intuitive frameworks, evidence-based insights, and practical actions to grow from an expert to a trusted advisor. This book stands the test of time and is required reading for anyone who wants stronger professional (and personal) relationships." —John J. Kalamarides, president, Prudential Group Insurance

"The Trusted Advisor will be invaluable to all professionals, young and old. Anyone who earns his or her living by giving advice should read this book." — John Quelch, Leonard M. Miller University Chair Professor, University of Miami
Free Press, 9781982157104, 336pp.
Publication Date: February 2, 2021
About the Author
David H. Maister is widely acknowledged as the world's leading authority on the management of professional service firms. Beginning four decades ago, David has advised firms in a broad spectrum of professions, covering all strategic and managerial issues, spanning the globe. A native of Great Britain, David holds degrees from the University of Birmingham, the London School of Economics, and the Harvard Business School, where he was a professor for seven years. He is the author of the best-selling books Managing the Professional Service Firm and True Professionalism. He lives in Boston, Massachusetts.

Robert M. Galford is a Managing Partner of the Center for Leading Organizations, where he works with senior executives at the intersection of strategy, organization, and leadership. In addition to The Trusted Advisor, Rob has coauthored three books: The Trusted Leader; Your Leadership Legacy; and Simple Sabotage, and has been a frequent contributor to the Harvard Business Review, HBR.org, and numerous other business publications. His educational background includes Liceo Segre, Turin, Italy, a BA in Economics and Italian Literature from Haverford College, an MBA from Harvard Business School and a JD from Georgetown University Law Center.

Charles H. Green is a speaker and executive educator focused on trust in complex businesses and professional services firms. Charlie is founder and Chairman of Trusted Advisor Associates. In addition to The Trusted Advisor, Charlie wrote Trust-Based Selling, and coauthored The Trusted Advisor Fieldbook. He is a graduate of Columbia and of the Harvard Business School. He spent the first twenty years of his career with The MAC Group and its successor, Gemini Consulting. Charlie lives in Boca Raton, Florida.