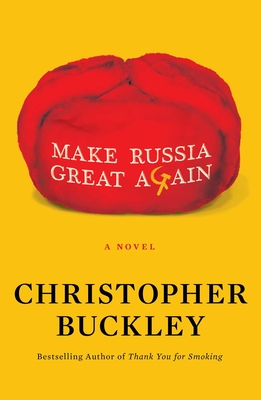 Make Russia Great Again
A Novel
Hardcover

* Individual store prices may vary.
Other Editions of This Title:
Digital Audiobook (7/13/2020)
Paperback (6/15/2021)
Compact Disc (7/14/2020)
Description
The award-winning and bestselling author of Thank You for Smoking delivers a hilarious and whipsmart fake memoir by Herb Nutterman—Donald Trump's seventh chief of staff—who has written the ultimate tell-all about Trump and Russia.

Herb Nutterman never intended to become Donald Trump's White House chief of staff. Herb served the Trump Organization for twenty-seven years, holding jobs in everything from a food and beverage manager at the Trump Magnifica to being the first general manager of the Trump Bloody Run Golf Course. And when his old boss asks "his favorite Jew" to take on the daunting role of chief of staff, Herb, spurred on by loyalty, agrees.

But being the chief of staff is a lot different from being a former hospitality expert. Soon, Herb finds himself deeply involved in Russian intrigue, deflecting rumors about Mike Pence's high school involvement in a Satanic cult, and leading President Trump's reelection campaign.

What Nutterman experiences is outrageous, outlandish, and otherwise unbelievable—therefore making it a deadly accurate account of being the chief of staff during the Trump administration. With hilarious jabs at the biggest world leaders and Washington politics overall, Make Russia Great Again is a timely political satire from "one of the funniest writers in the English language" (Tom Wolfe).
Praise For Make Russia Great Again: A Novel…
"The Trump satire we've been waiting for....The comic genius behind such classics as 'Thank You for Smoking' has now given us an outrageously funny novel equal to the absurdity roiling Washington.... Amid the twin economic and health catastrophes of our era, Buckley has done the impossible: Made Politics Funny Again. Laughter may not be the best medicine for covid-19, but it's a heck of a lot better than bleach." —Washington Post

"Cutting-edge political satire...[a] rambunctious roman à clef in the form of a memoir written in federal prison by President Trump's seventh chief of staff....Buckley's keenly informed, caustically ironic, and cheerfully raunchy comedy is both rollicking and hard-hitting in its outrage, a bold indictment perfectly targeted for this intensely polarized election year." —Booklist

"Buckley is an old hand at this....Topical lampoonery piles up quickly....Buckley is intelligent and ingenious and at times pitch-perfect. The book's stand-in for Kellyanne Conway has a voice described as 'meth-lab Lauren Bacall.' The C.I.A.'s advice to Nutterman about how to disappear blossoms into satisfying absurdity. And there's a standout (and almost standalone) chapter that describes a cult, the Ever Trumpers, who want the president to shoot them on Fifth Avenue."—New York Times Book Review

"Veteran Washington satirist Buckley skewers the Trump administration in a farce that imagines several all-too-credible political crises ahead of Election Day 2020....Buckley, a former White House speechwriter, adds comic spin to recent events, providing a plausible view of the crude, jury-rigged, stopgap daily carnival that is No. 45 at work....Buckley is a smart, entertaining observer."—Kirkus

"People working from home are in luck: While reading this, they can laugh out loud freely and not fear the strange looks of fellow commuters or diners. Then, too, all readers are in luck anyway, because Make Russia Great Again gives them a reason to laugh out loud again."—Newsweek



"Christopher Buckley skewers Trump hilariously....[Buckley] is the undisputed American master of the British art of using slashing humor to cut bloated egos down to size, as his pile of bestselling books attests....No satirist working can match his unbridled glee in helping us laugh at powerful blowhards."—San Francisco Chronicle
Simon & Schuster, 9781982157463, 288pp.
Publication Date: July 14, 2020
About the Author
Christopher Buckley is a novelist, essayist, humorist, critic, magazine editor, and memoirist. His books include Thank You for Smoking, The Judge Hunter, Make Russia Great Again, and The Relic Master. He worked as a merchant seaman and White House speechwriter. He has written for many newspapers and magazines and has lectured in over seventy cities around the world. He was awarded the Thurber Prize for American Humor and the Washington Irving Medal for Literary Excellence.