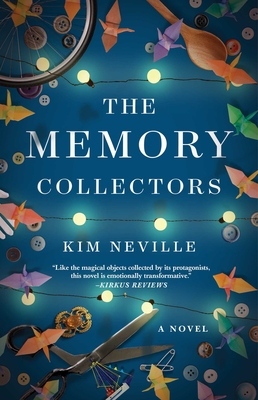 The Memory Collectors
A Novel
Paperback

* Individual store prices may vary.
Other Editions of This Title:
Digital Audiobook (3/15/2021)
Library Binding, Large Print (7/6/2021)
Compact Disc (3/16/2021)
Description
Perfect for fans of The Scent Keeper and The Keeper of Lost Things, an atmospheric and enchanting debut novel about two women haunted by buried secrets but bound by a shared gift and the power the past holds over our lives.

Ev has a mysterious ability, one that she feels is more a curse than a gift. She can feel the emotions people leave behind on objects and believes that most of them need to be handled extremely carefully, and—if at all possible—destroyed. The harmless ones she sells at Vancouver's Chinatown Night Market to scrape together a living, but even that fills her with trepidation. Meanwhile, in another part of town, Harriet hoards thousands of these treasures and is starting to make her neighbors sick as the overabundance of heightened emotions start seeping through her apartment walls.

When the two women meet, Harriet knows that Ev is the only person who can help her make something truly spectacular of her collection. A museum of memory that not only feels warm and inviting but can heal the emotional wounds many people unknowingly carry around. They only know of one other person like them, and they fear the dark effects these objects had on him. Together, they help each other to develop and control their gift, so that what happened to him never happens again. But unbeknownst to them, the same darkness is wrapping itself around another, dragging them down a path that already destroyed Ev's family once, and threatens to annihilate what little she has left.

The Memory Collectors casts the everyday in a new light, speaking volumes to the hold that our past has over us—contained, at times, in seemingly innocuous objects—and uncovering a truth that both women have tried hard to bury with their pasts: not all magpies collect shiny things—sometimes they gather darkness.
Praise For The Memory Collectors: A Novel…
"The Memory Collectors is a remarkable piece of magical realism, imaginative and vivid in its specificity. Seemingly trivial items offer enormous symbolic opportunities. Tender, electric, this story and its vibrant characters will stay with readers long after the pages have closed."
— Shelf Awareness (starred review)

"In The Memory Collectors, Neville creates a richly imagined world that seamlessly merges the magical with the everyday. Her characters will feel very real to anyone who has sensed the haunting power in objects and places that awaken deep emotions from their past. This inventive debut is a hopeful tale about the possibility of recovery after childhood trauma, and about learning how to trust and forgive—especially oneself. I guarantee you will never feel the same about that box of keepsakes stored in your attic after you read this book."
— Glendy Vanderah, Wall Street Journal bestselling author of Where the Forest Meets the Stars

"An old, horrifying crime; objects imprinted with emotions; two women hiding from their dark pasts—The Memory Collectors is thought-provoking and suspenseful, full of haunting secrets, twists, and turns. Kim Neville's beautifully-written debut lays bare the immense power of memories and how they can both hurt us . . . and heal us."
— Heather Webber, USA Today bestselling author of Midnight at the Blackbird Café and South of the Buttonwood Tree

"In this atmospheric and beautifully written novel, Neville weaves for us a world in which ordinary objects retain the imprint of strong emotions and influence the moods and actions of the people they touch. By turns heartbreaking, terrifying, and beautiful, The Memory Collectors is ultimately a triumphant tale of redemption and forgiveness."
— Kerry Anne King, bestselling author of Everything You Are and Whisper Me This

"An unforgettable parable about empathy, memory, and healing that builds to a heart-pulsing crescendo. Not only is The Memory Collectors an exquisite exploration of the ways family secrets bind us to the past, it's also one of the most magical novels I've read in a long time. An extraordinary debut."
— Kris Waldherr, author of The Lost History of Dreams

"Every object tells a story in The Memory Collectors by Kim Neville . . . [a] magical debut."
— Pop Sugar

"A psychic who can sense strong emotions left behind on others' personal effects and a woman who collects those items find themselves working together to prevent their lives from being consumed by those lingering feelings in Kim Neville's poignant new novel, The Memory Collectors."
— Bustle

"[T]he ability to feel these emotions at such a deep level serves as allegories of holding on to the past and using nostalgia as a crutch. It creates a narrative that is tinged with bittersweet yearning, and a hopefulness for the future as a means of freedom—beautifully written, with a magical realism that masterfully embodies everything that makes the genre so memorable."
— The Mary Sue

"Neville debuts with a tense meditation on trauma, family, and inheritance . . . Fans of introspective fabulism will love the concept."
— Publishers Weekly

"In her debut novel, author Kim Neville delivers a unique and intriguing mystery in The Memory Collectors. Readers discover that what most see as trash, a few see as treasure. Objects, like people, have a history and can be cherished, bringing people joy or sorrow, full of darkness and light."
— Booklist

"Like the magical objects collected by its protagonists, this novel is emotionally transformative."
— Kirkus

"At its best, which is pretty much all the time, Kim Neville's mesmerizing The Memory Collectors reminds me of the great M.J. Rose at her best. But Neville corners the market when it comes to gothic eeriness and a Stephen King-like sense of unease . . . an elegant and beautifully crafted tale."
— Providence Journal
Atria Books, 9781982157586, 400pp.
Publication Date: March 16, 2021
About the Author
Kim Neville is an author and graduate of the Clarion West Writers Workshop, where she found the first shiny piece of inspiration that became The Memory Collectors. When she's not writing she can be found heron-spotting on the seawall or practicing yoga in order to keep calm. She lives near the ocean in Vancouver, Canada, with her husband, daughter, and two cats. The Memory Collectors is her first novel.