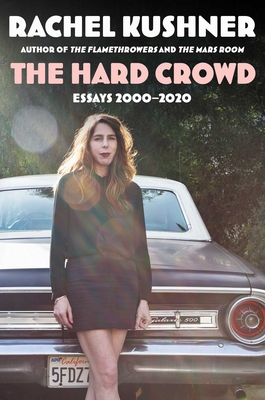 The Hard Crowd
Essays 2000-2020
Hardcover

* Individual store prices may vary.
Other Editions of This Title:
Compact Disc (4/6/2021)
Description
From a writer celebrated for her "chops, ambition, and killer instinct" (John Powers, Fresh Air), a career-spanning collection of spectacular essays about politics and culture.

Rachel Kushner has established herself as "the most vital and interesting American novelist working today" (Michael Lindgren, The Millions) and as a master of the essay form. In The Hard Crowd, she gathers a selection of her writing from over the course of the last twenty years that addresses the most pressing political, artistic, and cultural issues of our times—and illuminates the themes and real-life terrain that underpin her fiction.

In nineteen razor-sharp essays, The Hard Crowd spans literary journalism, memoir, cultural criticism, and writing about art and literature, including pieces on Jeff Koons, Denis Johnson, and Marguerite Duras. Kushner takes us on a journey through a Palestinian refugee camp, an illegal motorcycle race down the Baja Peninsula, 1970s wildcat strikes in Fiat factories, her love of classic cars, and her young life in the music scene of her hometown, San Francisco. The closing, eponymous essay is her manifesto on nostalgia, doom, and writing.

These pieces, new and old, are electric, phosphorescently vivid, and wry, and they provide an opportunity to witness the evolution and range of one of our most dazzling and fearless writers. "Kushner writes with startling detail, imagination, and gallows humor," said Leah Greenblatt in Entertainment Weekly, and, from Paula McLain in the Wall Street Journal: "The authority and precision of Kushner's writing is impressive, but it's the gorgeous ferocity that will stick with me."

"[Kushner] seems to work with a muse and a nail gun, so surprisingly yet forcefully do her sentences pin reality to the page." —Kathryn Schulz, New York magazine

"Kushner can really write. Her prose has a poise and wariness and moral graininess that puts you in mind of Robert Stone and Joan Didion." —Dwight Garner, The New York Times
Praise For The Hard Crowd: Essays 2000-2020…
Praise for THE HARD CROWD

"This is a book of attitude—attitude distilled so finely it becomes philosophy, a matter of telling truth from lie."
—Greil Marcus, Los Angeles Review of Books

"You need not have read Rachel Kushner's novels to appreciate her prismatic essay collection, The Hard Crowd. If you have, though, it's not hard to see the material preoccupations of her fiction refracted in the 19 essays here…Kushner writes with equal verve about the self's ecstatic movement into the world and the world's permeation of self."
—Anita Felicelli, Alta

"Tying together and making explicit all of Kushner's heady influences, The Hard Crowd acts like a code, and coda, to all that came before. It's an exemplary work of self-mythologizing, but by that point in the book you don't need it."
—Laura Adamczyk, AV Club

"The Hard Crowd will doubtlessly appeal to fans of her fiction, especially because the writing often explicitly deals with the novels, photographs, and movies that inspired her own work. But the book's appeal is not limited to existing fans, or even readers who share her interests; Kushner can spin a compelling story out of the most esoteric subjects or minute details… an engaging collection that demonstrates Kushner's skill at weaving together the anecdotes, personalities, art, and literature she has absorbed through her life. I wonder though if, years down the line, it will be remembered in the arc of her career not just as a moment of introspection, but as a pivot towards something more radical."
—Elliot Frank, Chicago Review of Books

"The Hard Crowd — a collection of essays written over the last 20 years — is testimony to the breadth both of Kushner's experience and of her intellectual convictions… gallant and moving…Her attraction is to chivalrous gestures, physical daring…and maybe also to lost causes… Kushner is unusual in combining her taste for 'the old, weird America' of desert highways, vintage cars, autodidact loners, with a grounding in 20th-century European thought, an interest in the ways in which working-class struggle on the Continent was filtered into industrial action, armed revolt or documentary art. These competing aesthetic/moral strands are what form the double whammy in Kushner's prose: a narrative voice that's hip, raspy, rich in caustic or deadpan one-liners, and an ethic of almost wide-eyed 'permeability,' of feeling painfully responsible for history's wrongs."
—Fernanda Eberstadt, New York Times Book Review

"Rachel Kushner, primarily known for her fiction, proves she's also a master essayist in THE HARD CROWD: 19 pieces of memoir and criticism that display her omnivorous tastes in literature, art and history… Throughout these essays, Kushner steals back subjects normally hopelessly tied to masculinity, like classic cars, dive bars, Marxism and motorcycles. Despite these essays spanning two decades, there's something essentially Kushner-esque threaded throughout, a sense of cool girl remove, which is tempered by her engaged activist interests in prison abolition and workers rights… Despite Kushner's reluctance to take center stage, the personal essays shine. For San Franciscans, the book's titular essay The Hard Crowd is worth the price of admission alone… In the closing essays she writes, 'I'm talking about my own life. Which not only can't matter to you, it might bore you.' Bore us? Hardly. Sounds exactly like something the coolest, smartest girl in the room might say, knowing full well we're under her spell."
—Anisse Gross, The San Francisco Chronicle

"In her first book of essays, THE HARD CROWD, the novelist Rachel Kushner reminds us that she writes as well as any writer alive about the pleasure of a good motor doing what it was designed to do… There are intuitive appraisals of writers such as Denis Johnson, Clarice Lispector, Marguerite Duras and Cormac McCarthy… There are a pair of long, moving essays about growing up semi-feral in San Francisco in the late 1970s and early '80s …But THE HARD CROWD swings back around to engines and to motion. The author had found wings; she meant to use them. We watch her move her soul around…[Kushner has a] wary voice, cool and wise, with real power and control…[and] typical aphoristic grace."
—Dwight Garner, The New York Times

"Novelist Rachel Kushner blends journalism, memoir and criticism in her new collection of essays. The 19 pieces, which are from the past 20 years of the author's career, are wide-ranging in scope. In one, Kushner recounts a visit to a Palestinian refugee camp; in another, she reflects on the music scene of her youth in San Francisco. Throughout, her energetic voice carries the reader through as she muses about art, nostalgia, writing and more."
—Annabel Gutterman, Time

"The two-time National Book Award nominee turns her inspiringly acerbic tongue on topics including her youth in 1980s San Francisco; a motorcycle race in Baja, Mexico; Jeff Koons; and a plethora of cultural moments in this essay collection of new, expanded, and previously published work."
—Selija Rankin, Entertainment Weekly

"Kushner is a two-time finalist for the National Book Award for Fiction, and her novel The Mars Room is a selection of Alta's California Book Club. Her new book gathers essays from the past two decades. She offers reportage—including an account of her visit to a Palestinian refugee camp—and literary journalism, memoir, and cultural criticism, interrogating figures such as Denis Johnson and Marguerite Duras."
—Alta

"Chronicling select writing over the last two decades, Kushner's latest offers up 19 essays that range from memoir to art criticism to journalism to political commentary. Accounts of visiting a Palestinian refugee camp and attending an illegal motorcycle race in Baja California are joined by stories of growing up in San Fancisco, insights on artist Jeff Koons and authors Marguerite Duras, Denis Johnson and Clarice Lispector and thoughts on the 2012 captain who crashed an Italian cruise ship. And for those who love Kushner's acclaimed "The Flamethrowers," the essay "Made to Burn" offers inspiration for the novel."
—Lesley Kennedy, CNN

"If you want to ride in a famous motorcycle race, then hang out with Keith Richards in 1990s San Francisco and finally consider the work of Marguerite Duras — and who wouldn't? — all you have to do is pick up this wide-ranging book of journalism from the novelist behind 'The Flamethrowers.'"
—Bethanne Patrick, The Washington Post

"Rachel Kushner's dauntless essays include pieces on Jeff Koons and Marguerite Duras, an illegal motorcycle race down Baja, and a Fiat strike, all propelled by a singular and ferocious curiosity; her sober, often sardonic, voice keeps the train on the tracks."
—Cornelia Channing, Vulture

"Kushner proves as shrewd and daring in her essays as she is in her fiction, and a reader gets the same sense of tagging along with an author who has slept rough, thought hard, and gotten into her car to drive out and witness an event with her own two eyes…[a] dazzling collection."
—Christopher Bollen, Interview

"Readers of Kushner's high-voltage novels, including The Mars Room, can't help but wonder about the source of her far-roaming and omnivorous imagination. Much is revealed in this vitalizing essay collection. Kushner's autobiographical pieces illuminate complicated aspects of her adventurous life and why and how she developed the skills to write about it with such breath-catching clarity and polished rigor, the literary equivalent of the fine-tuned mechanics of the motorcycles and classic cars she treasures…riveting…astute and vigorous…tell she does, steering her way through perilous curves with steely agility and purpose, leaving her passengers exultant and enlightened."
—Donna Seaman, Booklist, STARRED review

"Herein are collected two decades of literary journalism, cultural criticism, and memoir by the author of the lauded Telex from Cuba, The Flamethrowers, and The Mars Room. Come for the sharp portraits of Jeff Koons and Denis Johnson, the blistering reportage from refugee camps and illegal motorcycle races, or the light-with-laughter-yet-heavy-with-yearning paeans to classic cars and the San Francisco indie scene of the 1980s; stay for the opportunity to witness the maturation of one of the most intelligent and distinctive literary sensibilities of our time."
—Emily Firetog, Lithub

"Award-winning novelist Kushner... who's also turned toward criminal-justice-reform activism, shifts modes with an essay collection that promises something for all who love her work. (Yes, there will be motorcycles)."
—Entertainment Weekly

"The Hard Crowd is wild, wide-ranging, and unsparingly intelligent throughout."
—Taylor Antrim, Vogue

"[Kushner] seems to work with a muse and a nail gun, so surprisingly yet forcefully do her sentences pin reality to the page."
—Kathryn Schulz, New York Magazine

"Kushner can really write. Her prose has poise and wariness and moral graininess that put you in mind of Robert Stone of Joan Didion."
—Dwight Garner, The New York Times

"Rachel Kushner is astounding."
—Anne Tyler, The Guardian

"Kushner is brilliant."
—Griel Marcus

"She's going to be the one we turn to for our serious pleasures and for the insight and wisdom we'll be needing in hard times to come."
—Robert Stone

"I honestly don't know how she is able to know so much (about motorcycle racing, Italian radical politics) and convey all of it in such a completely entertaining and mesmerizing way."
—George Saunders

Praise for THE MARS ROOM:

"Like Denis Johnson in 'Jesus' Son,' Kushner is on the lookout for bent moments of comic grace…The Mars Room is a major novel."
—Dwight Garner, The New York Times

"Kushner uses the novel as a place to be flamboyant and funny, and to tell propulsive stories, but mainly as a capacious arena for thinking."
—The New Yorker

"[Rachel Kushner is] one of the most gifted novelists of her generation—on the same tier as Jennifer Egan and the two Jonathans, Franzen and Lethem…[The Mars Room is] a page turner… blackly comic…It's one of those books that enrage you even as they break your heart."
—Charles McGrath, The New York Times Book Review (Cover Review)

"The Mars Room affirms Rachel Kushner as one of our best novelists…her stories slink in the margins, but they have the feel of something iconic."
—Leah Greenblatt, Entertainment Weekly

"Kushner is a woman with the chops, ambition and killer instinct to rub shoulders with all those big, swinging male egos who routinely get worshipped as geniuses."
—John Powers, Fresh Air

"[A] tough, prismatic and quite gripping novel…wholly authentic…profound…surprisingly luminous."
—Sam Sacks, The Wall Street Journal

"A disturbing and atmospheric book...Ms Kushner makes the prison, and the world beyond its walls, vivid."
—The Economist

"A searing, tragic look at life in the prison-industrial complex, covering poverty, sex work, mass incarceration, education, trauma, suffering, love, and redemption. Somehow, Kushner's rapid-fire, imaginative prose makes it seems effortless."
—Vogue

"Potent…an incendiary examination of flawed justice and the stacked deck of a system that entraps women who were born into poverty…The Mars Room is more than a novel; it's an investigation, an exercise in empathy, an eyes-wide-open work of art."
—Kelly Luce, Oprah

"[An] electrifying take on the chaos of 1980s San Francisco."
—Sloane Crosley, Vanity Fair

"Phosphorescently vivid."
—Megan O'Grady, T Magazine

"Superb and gritty… Kushner has an exceptional ability to be in the heads of her character."
—Eve MacSweeney, Vogue

"A powerful undertow pulls the reader through the book. I didn't consume it so much as it consumed me, bite by bite..."
—Laura Miller, Slate

"Kushner's characters are so authentic and vividly drawn that with each new novel, it's easy to assume she's tapped out. Yet in The Mars Room, she brings to life another remarkable heroine."
—Time Magazine

"Kushner is a masterful world-creator, and her accomplishment here is unparalleled."
—Nylon

"Kushner's writing and thinking are always invigorating, urgent, and painterly precise."
—Vulture

"Stunning… a gorgeously written depiction of survival and the absurd and violent facets of life in prison."
—Buzzfeed

"Gorgeous…The Mars Room sings."
—Sasha Frere-Jones, Bookforum

"A revelatory novel about women on the margins of society…it's a true feat of Kushner's extraordinary writing that such profound ugliness can result in such tumultuous beauty."
—Maris Kreizman, Vulture

"Stunning…Heartbreaking and wholly original."
—Bustle

"A probing portrait of contemporary America."
—Entertainment Weekly

"Unflinching."
—Elle

"Kushner's great gift is for the evocation of a scene, a time and place."
—Harper's

"Reading The Mars Room is a profoundly affecting experience, very nearly overwhelming, and yet it absolutely must be read. Kushner's first two novels (Telex from Cuba, The Flamethrowers) were National Book Award finalists. It would be baffling if The Mars Room does not win this year's."
—Cory Oldweiler, amNewYork

"[A] stunning new book… Kushner deploys the masterful storytelling she's known for…an unmistakable voice. "
—Town and Country

"Brilliant and devastating…Kushner doesn't make a false move in her third novel; she writes with an intelligence and a ferocity that sets her apart from most others in her cohort. She's a remarkably original and compassionate author, and The Mars Room is a heartbreaking, true and nearly flawless novel."
—Michael Schaub, NPR.org

"An essential novel...Kushner is a bit of a magician, exploring bleak territory with pathos and urgency that makes it nearly impossible to stop reading."
—AM New York

"Kushner is both tough and darkly funny in writing about her characters' situations, and she writes not so much for us to empathize with them, but rather to understand them. The Mars Room is a captivating and beautiful novel."
—BookPage

"Kushner's writing is clipped and sharp, as she tells the story of [Romy's] adjustment to life behind bars — and how she got there."
—The Week

"An enormously ambitious project profoundly rooted in a particular time and place… Kushner's greatest achievement in this unique work of brilliance and rigor is to urge us all to take responsibility for the unconscionable state of the world in which we operate blithely every single day."
—Jennifer Croft, The Los Angeles Review of Books

"Rachel Kushner cements her place as the most vital and interesting American novelist working today...The Mars Room makes most other contemporary fiction seem timid and predictable."
—Michael Lindgren, The Millions

"[Kushner's] best book yet, another big step forward."
—Jonathan Franzen, The Guardian

"Uniquely informed, empathetic…an addictive novel, laced throughout with a bracing intelligence…this is an extraordinary book."
—Joshua Ferris

"The whole history of the novel is alive in Rachel Kushner's hands, making her an indispensable contemporary. I look to her books to see what fiction can do now."
—Ben Lerner

"The Mars Room is mysterious and irreducible. The writing is beautiful—from hard precision to lyrical imagery, with a flawless feel for when to soar and when to pull back."
—Dana Spiotta

"Absorbing…The Mars Room is impeccably researched without ever seeming dry or preachy… insightful…authoritative…haunting."
—Alexis Burling, San Francisco Chronicle

"Kushner's got the talent to justify the hype…The Mars Room builds to a redemption that comes from hard truth, sharp and broken and shaped by an author of exceptional power and grace."
—Jeff Baker, The Seattle Times

"The book is beautifully written, without sentimentality or agenda, and at times even [with] a sly and dark humor."
—Holly Silva, St. Louis Post-Dispatch

"Readers will savor every detail of Ms. Kushner's descriptive passages, which bring ferocious beauty to even the ugliest surroundings."
—Leigh Anne Focareta, The Pittsburgh Post-Gazette

"[Kushner is] an exceptionally talented and philosophically minded writer."
—Jessica Zack, The San Francisco Chronicle

"Heartbreaking and unforgettable… [The Mars Room] deserves to be read with the same level of pathos, love, and humanity with which it clearly was written."
—Publishers Weekly, Starred Review

"Kushner, an acclaimed writer of exhilarating skills, has created a seductive narrator of tigerish intensity… This is a gorgeously eviscerating novel of incarceration writ large."
—Booklist, Starred Review

"A searing look at life on the margins…This is, fundamentally, a novel about poverty and how our structures of power do not work for the poor, and Kushner does not flinch…gripping."
—Kirkus Reviews

"Kushner is back with another stunner…without a shred of sentimentality, Kushner makes us see these characters as humans who are survivors, getting through life the only way they are able given their circumstances."
—Library Journal
Scribner, 9781982157692, 272pp.
Publication Date: April 6, 2021
About the Author
Rachel Kushner is the author of internationally acclaimed novels The Mars Room, The Flamethrowers, and Telex from Cuba, as well as a book of short stories, The Strange Case of Rachel K. She has won the Prix Médicis and been a finalist for the Booker Prize, the National Book Critics Circle Award, and was twice a finalist for the National Book Award in Fiction. She is a Guggenheim Foundation Fellow and the recipient of the Harold D. Vursell Memorial Award from the American Academy of Arts and Letters. Her books have been translated into twenty-six languages.